Cyclists aim big in South Asian Games despite dearth of domestic opportunities
Lack of proper equipment and course is holding Nepali cyclists back. But they still expect to perform well in the upcoming South Asian Games.

Cyclists during their training session at Seto Gumba in Kathmandu. Anish Regmi/TKP
bookmark
Published at : October 17, 2019
Updated at : December 1, 2019 09:27
Kathmandu
For beginners, cycling is an expensive sport. "Cycles are very expensive and it is difficult to start with," says cyclist Okesh Raj Bajracharya. Another cyclist Usha Khanal says cycling, especially, cross country is also risky and not everyone can afford it given the high expenses in maintaining the cycle and purchasing necessary gears.

Bajracharya, Khanal and around 14 other cyclists are currently in closed camp training for the upcoming South Asian Games where they hope to win some medals in the sport. Cyclists Bajracharya and Khanal will both contest at the mountain bike competition in the upcoming South Asian Games from December 1-10 in Nepal. They say they are training well and aim of winning the medal. "There are a number of factors one should consider to win and I can't say I am going to win simply because I am training well. But I will give my best and hopefully win something," said Bajracharya.
Khanal too is optimistic about winning the medal as they have been in the closed camp for well over three months now. "We have been preparing well during this time. We hope to put on a good display in our race," said Khanal.

Their coach Prayas Raj Tamang said they pinned high hopes from cyclists in the mountain bike competition. "When it comes to road race, I don't think we are very good at it. But our mountain cycling team is a good one," said Tamang.
Tamang said lack of a good team in road event was largely due to the lack of a proper place to train. "We need to train on the road for that event. But given our road conditions, it is very risky for one to train. We can't ask cyclists to train outdoors with such a threat looming over them. We do conduct indoor training though," he said. Tamang said they don't expect to win gold in road cycling but are hopeful to win either silver or bronze in the event.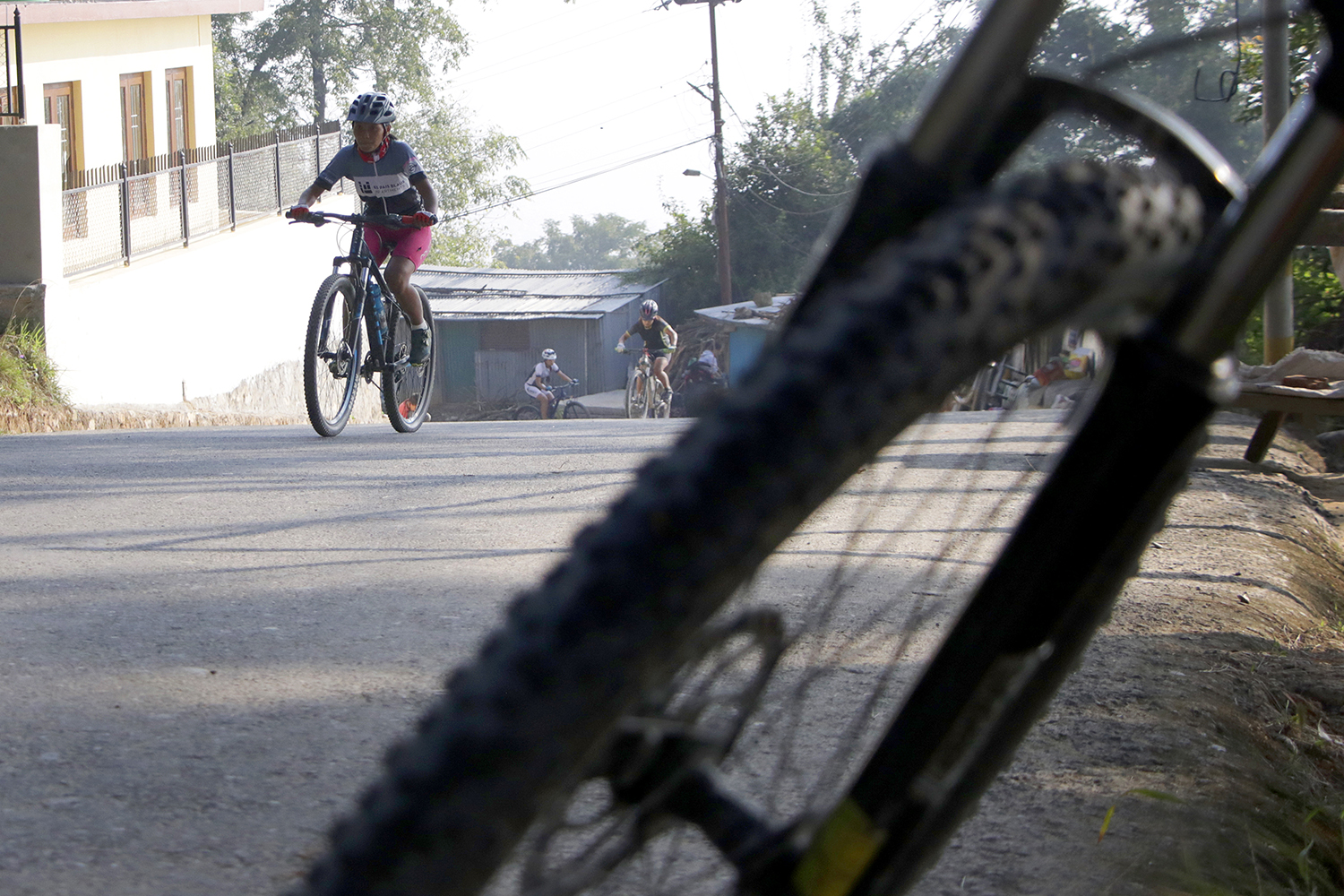 Lack of proper equipment has affected the training. Anish Regmi/TKP
Cyclists for cross country and downhill events have been training in Chovar, Seto Gumba, Dhulikhel and other areas around the capital city as part of their preparations. They also undertake regular indoor training sessions. "It would have been easier for us if the cycling course in Gokarna was completed on time. That is making difficult for us to train," said Tamang.
The cycling course in Gorkana was previously used for the national championship. Nepal Cycling Association said they wanted to upgrade the course for South Asian Games. But delay in budget release by the National Sports Council is halting the work.
All Bajracharya, Khanal and Tamang say is that there are not enough competitions in the country for cyclists to take part in. "Without competition it is difficult to stay in shape. However, we train regularly and that helps us maintain our stamina required for the sport," said Khanal. Khanal who started cycling initially for fun or to commute in her schooling days later became a full-timer in the sport.
Bajracharya also started cycling as a hobby and even won his first cross country race he had taken part in. "In 2012, I won the first race I had taken part in and the victory encouraged me to start cycling," he said, who is also a Nepal Army soldier. He also won gold in the Eighth National Games and thinks there are not enough tracks to train and the association is not able to provide the cyclists with proper gears and equipment.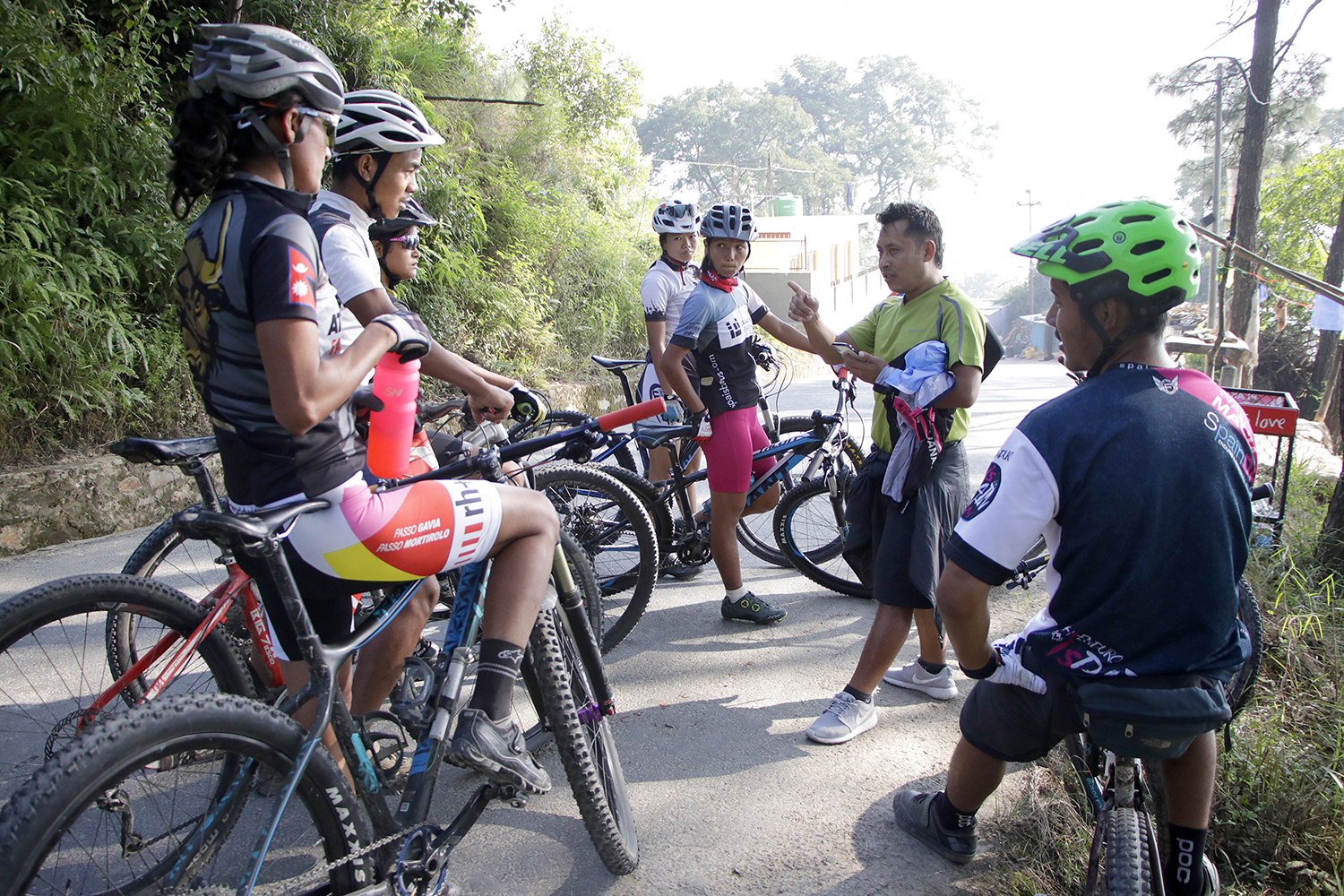 Coach Tamang (center) instructs cyclists during a training session in Seto Gumba. Anish Regmi/TKP
Tamang says the completion of cycling course in Gorkana would be a huge boost for their medal ambitions in mountain cycling. "We can expect to win only after we get a chance to train in that track," said Tamang. He says not much have been done in developing road cycle events in the country. "It is difficult to promote road cycling events in a country where the roads are in pity condition."
Nepal Cycling Association President Gopal Sunder Lal Kakshapati admits they have not been able to promote events or provide gears to cyclists largely due to budget crunch. "We are doing as much as we can but we need adequate funding to provide better facilities to our cyclists which we severely lack," said Kakshapati.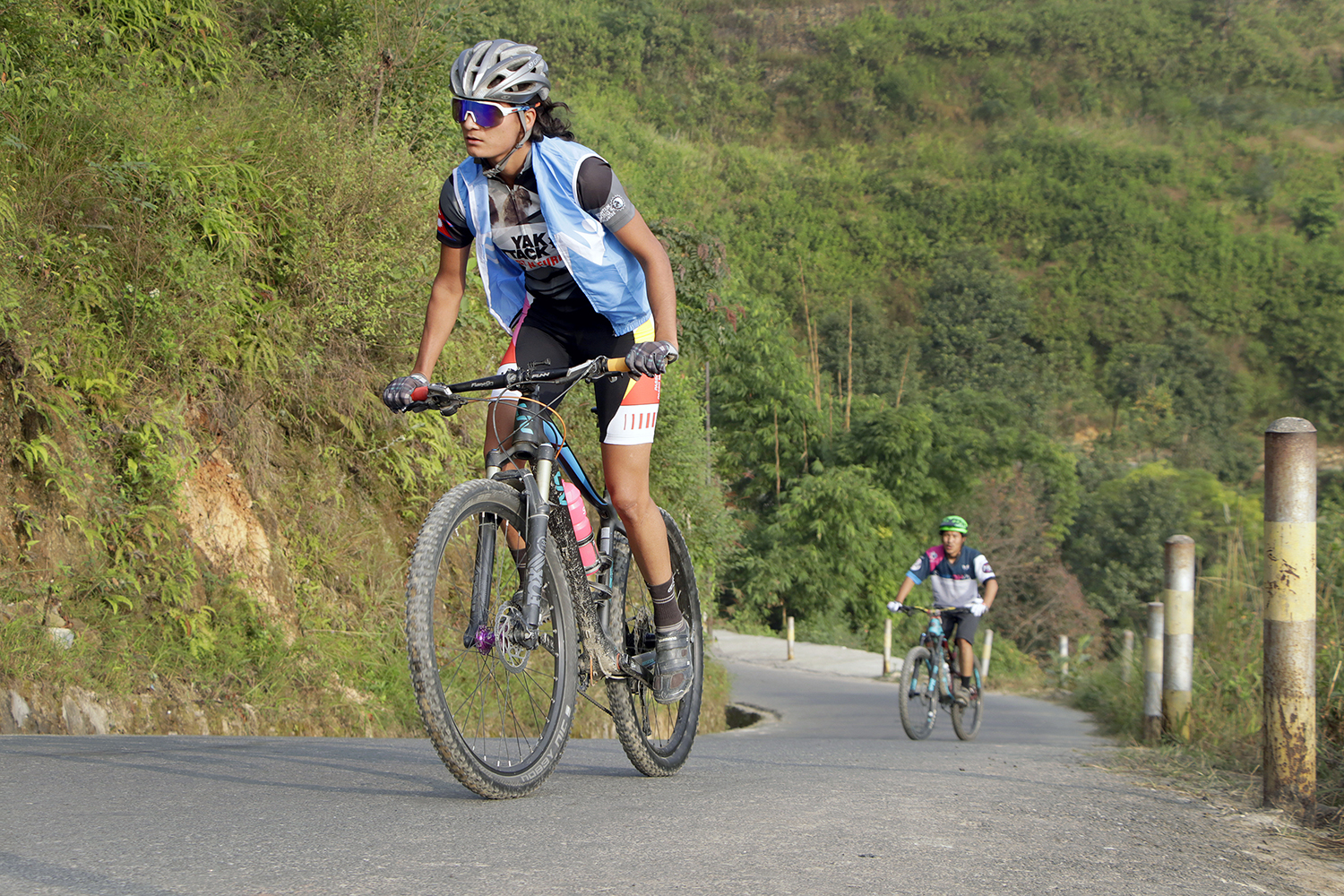 Cyclists hope the completion of cycling course in Gokarna would became a boon for their South Asian Games preparations. Anish Regmi/TKP
He said the previous leadership in the National Sports Council did not seem particularly keen on promoting cycling in the country but this might change with new leadership at the apex body responsible for regulating sports in the country. "We have asked for funds which they have positively responded to. Let's hope it gets released without any further delay," he said.
President Kakshapati said they have already created a roadmap to promote cycling and conduct regular events in the future. He said the only thing due was to discuss and endorse it with their district representatives. "We need to call our friends from the district and discuss the events. We are moving ahead to conduct at least a dozen events starting next year," he said.
---
---