Judoka Indra Shrestha hoping to strike gold
The 20-year-old has overcome numerous hassles in his life to start Judo, now he wants to win a gold medal at the South Asian Games.

Indra Shrestha (right, in white) trains with a fellow judoka at Multi purpose Covered Hall in Nayabazar, Kathmandu. Keshav Thapa/TKP
bookmark
Published at : October 12, 2019
Updated at : October 12, 2019 19:37
Kathmandu
Judoka Indra Shrestha is hard at training for the upcoming South Asian Games to be held in Nepal. The 20-year-old said his training and preparations are going well and he also expects to win a medal for his country. But he believes, lack of practice matches, especially with foreign judokas, are limiting his chances.

Shrestha was very young when his father, also the sole breadwinner of the family of six, was jailed. The struggles of his family began. "We had problems making ends meet and studying. I don't remember my age but I was very young. I didn't know what to do," said Shrestha.

Shrestha took shelter at the Prisoners Assistance Mission, an organisation that takes care of prisoners and their children. One day, the chairperson of the organisation asked judo coach Surya Narayan Shrestha if the children could train for the game. Shrestha was chosen to train. "I am not so sure but I think I was 9 or 10 when I started playing the game," he remembers.

As training started, Shrestha, slowly, fell in love with the game. "I know football and cricket are more popular in the country and a lot of people follow them. But I had trained for judo. So taking up other sports didn't come to my mind as I grew up," he said. A decade after starting the game, Shrestha's sole focus now is to win a medal for his country in the 13th South Asian Games slated for December 1-10.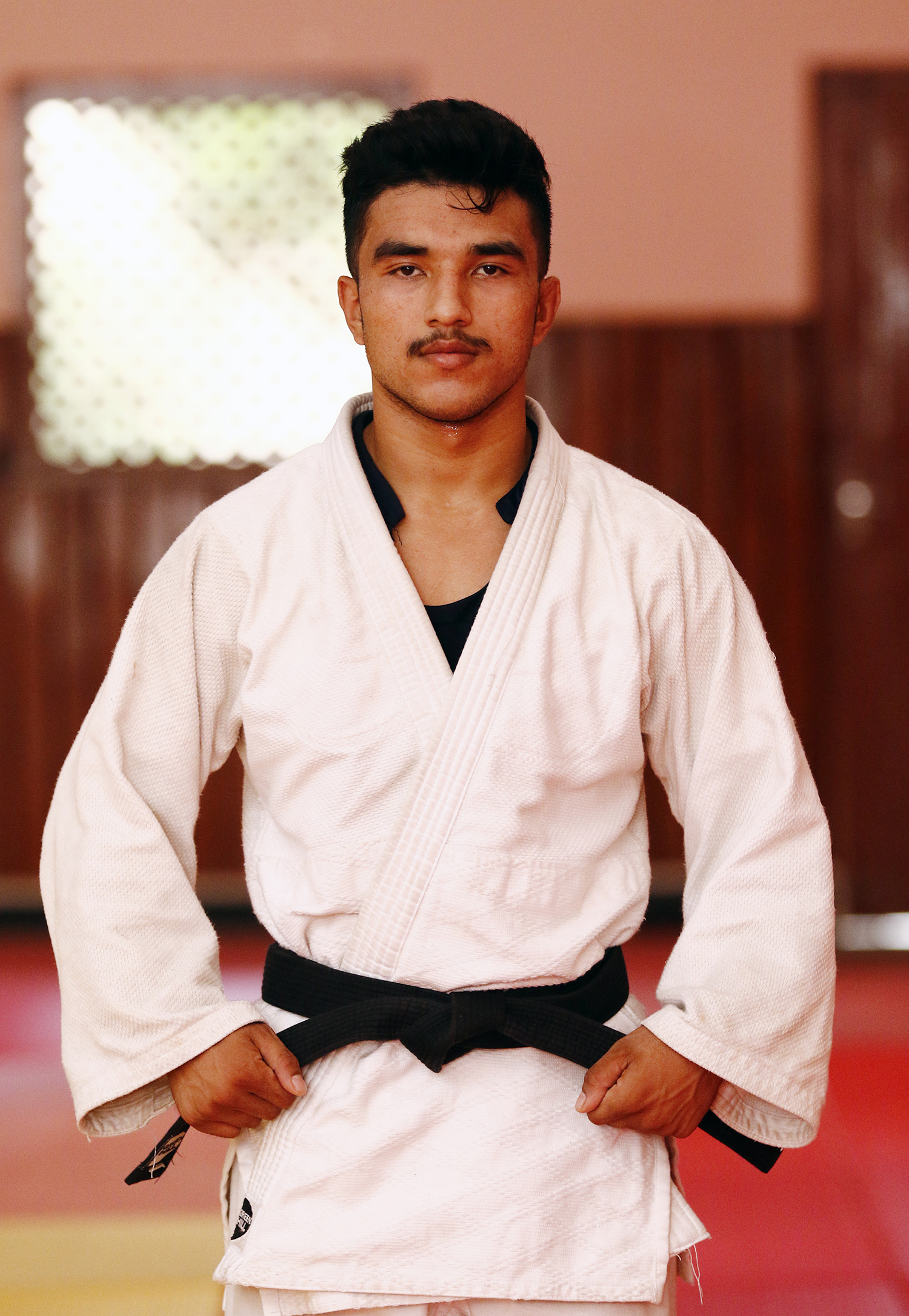 Indra Shrestha Keshav Thapa/TKP
Shrestha won the gold medal in his weight category in the seventh and eighth National Games. He also won gold in the South Asian Judo Championship in 2018. He said his training is going well, but is concerned by the lack of practice matches. "We mostly play against fellow players. We train together and know their strengths and weaknesses. So there is not much new to learn in those matches," he said. He says training and playing matches against better foreign players would increase players' chances of winning medals.
Shrestha's coach Prithvi Alok agrees the player requires better exposure to hone his skills. "Shrestha is a good hard-working player. He has good technique, but he has to get more practice matches to increase his chances of winning a medal," said Alok.
Alok said they hope to win at least four gold medals in the upcoming regional tournament. But their preparations are hampered by lack of proper equipment. "We have written to the National Sports Council to make available the most essential equipment. Hopefully, they will provide us in time to boost our training," Alok said.
Shrestha and Alok share a common voice when it comes to the dearth of tournaments in Nepal. "There are not too many tournaments. There should be more events for players to develop their game," said Shrestha. "We are giving our best in training. But a player will not be able to implement those if he cannot take part in real match situations," he said.
Alok believes judo is gradually making its mark in the country. To help players get acquainted with new techniques, Nepal Judo Association is preparing to send judokas for training in Japan and Mongolia, informed the coach. "The date for abroad training is not finalised yet but hopefully it will be immediately after the Dashain festival," said Alok.
As for Shrestha, he strongly believes better sparring partners, especially the foreign athletes, would boost his chances of a medal in the regional meet. "I want to win a gold medal for my country. If I succeed in winning the gold, it will also justify my decision to adopt judo as sports.
---
---