Rasailee blames conventional coaching for Nepal's downfall
The karateka has never lost a single bout at the national meet and claimed gold medal hat-trick at South Asian Karate championships from 2014 to 2017.

Nabin Rasailee Hemanta Shrestha/TKP
bookmark
Published at : October 2, 2019
Updated at : October 3, 2019 08:15
Kathmandu
Nabin Rasilee has a habit of winning. The 23-year-old karate player has won every national tournament he has participated in till date. "I have not lost a single national tournament I have taken part in," he said. And his winning is not limited to the domestic front alone. He has won at international tournaments as well. He is now keen on maintaining the record in the 13th Asian Games, which is scheduled for December 1-10 in Kathmandu and Pokhara.
Rasailee remembers playing karate for the first time at the age of 12. Born at Tamankhola in Baglung district, he says his early playing days were solely focused on learning self-defence. "Back then I didn't take the game seriously," he said. After coming to Kathmandu at the age of 11, Rasailee went to a local karate training centre with his friends. There he saw some senior karatekas with their medals and trophies. "They were taking photos and being cheered by everyone," he recalls. It was only after seeing those players with their prizes, it struck on Rasailee that karate was much more than just a self-defence game. He wanted to be one of those players.
Rasailee won a gold in 67kg category in the Eighth National Games. He also completed a hat-trick of wins in the South Asian Karate tournament—twice in India and once in Sri Lanka between 2014-2017. He also finished with bronze medal in the Thailand Open Karate tournament in 2018. The game also provided the player with opportunities to travel several nations and he rarely returned empty-handed. He is currently working hard, hoping to add to his winning tally in the upcoming regional Games.
Rasailee's coach Kushal Shrestha believes the karateka is one of the very few who they can bank on winning a gold medal in December. "He has been training really well. He is a technically very sound athlete and is also disciplined and hardworking," said coach Shrestha. Shrestha said they are working to get Rasailee physically strong, which, he said, remains his only weak point. "I believe he is physically a little weak. But we have plenty of time to fix it. He can surely get better," said Shrestha.
Nepal's biggest achievement in karate was in the Eighth South Asian Games where Nepal won 14 gold medals. Results, however, declined in the ninth edition where they won only one gold medal. Nepali karatekas also did not fare well in the 10th and 11th editions winning just two and three golds respectively. "One of the reasons, I believe, was that we took our opponents too lightly, buoyed by dominant display in the Eighth South Asian Games. The consequence was just one gold medal in the next tournament," said Shrestha.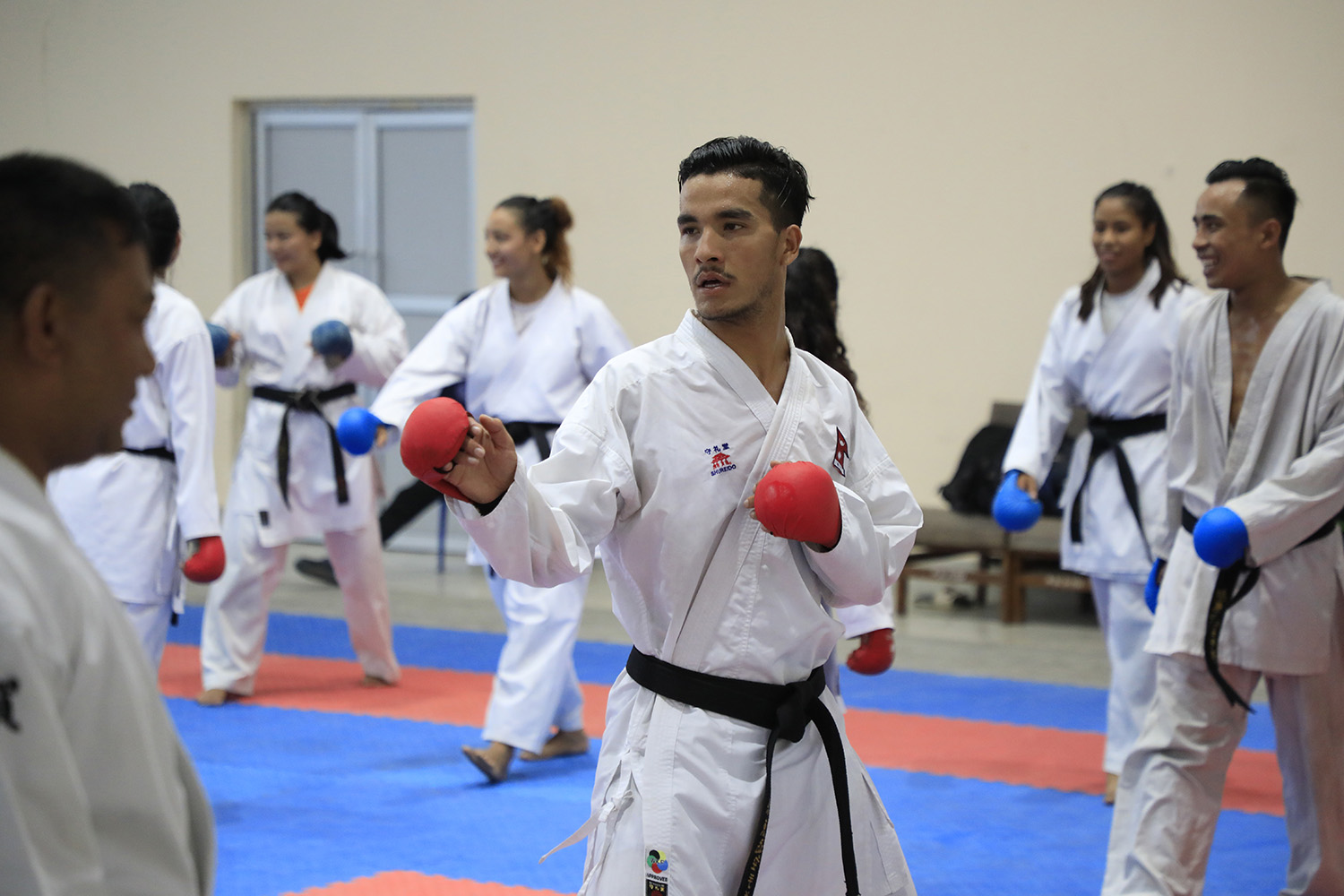 Nabin Rasailee trains with fellow players. Hemanta Shrestha/TKP
Shrestha thinks other South Asian nations have raised the bar. "Other countries have long started implementing sports science while training karatekas. That's the reason many nations have pipped us since the eighth South Asian Games," he said. Another argument for Nepal's dismal performance, Shrestha believes, is the internal wranglings in Karate Association. Rasailee also partly blames the internal conflict in Karate Association for the poor results in the Regional Games.
"A lot of karate coaches don't have a valid licence and do not even bother to update themselves with the latest trend. Yet they still take up the coaching responsibilities," said Rasailee. "Under such circumstances, how can anyone expect to produce better players?" questions Rasailee.
Both Rasailee and the coach voice for a need to increase the number of quality tournaments to produce better players. "I have not lost any national tournaments which clearly indicates that I do not have any real competition. Then why not invite quality foreign karatekas so that we test ourselves and increase our standards," Rasailee said. Rasailee and his coach also believe they can resurrect the glory days by winning around 6-7 medals in the upcoming Games.
Karate was excluded from the 12th South Asian Games but is back this time. "But for Nepal to clinch 6-7 gold medals, internal conflict needs to be resolved. We might get hold of a few this time but cannot expect good results in the long run if the internal conflict doesn't end sooner," said Rasailee.
Rasailee said the Association has to ensure only the licensed coaches are allowed to train the players. "A coach has to understand the ability of a player and train by targeting his weak points. He should also know something about team management," said Rasileee. "Simply possessing numbers of black belts and calling oneself a coach doesn't mean you are a good coach," he added.
---
---