Meet Sushmita, the young shooting prodigy
The 18-year-old hopes to win a medal for Nepal in the 13th South Asian Games at home.

Susmita Nepal trains at the Satdobato Shooting Range in Lalitpur. Hemanta Shrestha/TKP
bookmark
Published at : October 1, 2019
Updated at : October 1, 2019 15:52
Kathmandu
Sushmita Nepal is only 18. She also got in shooting just three years ago. But despite her young age and relatively little experience in the game, Sushmita has gone on to be one of the brightest prospects of the sport in Nepal.
Sushmita's involvement in shooting came due to a chance rather than will. She was in Grade 9 when her principal at Shantipuri Boarding High School in Talchikhel was told about an inter-school shooting competition. Sushmita was sent to take part in the competition. The inter-school competition was the first time she got involved in a game. Since then, Sushmita has taken part in training in a foreign land and also represented the country on multiple occasions including in the 2018 Asian Games in Jakarta.
She has also won a gold medal in the Eighth National Game in Nepalgunj setting a national record to her name breaking the previous mark set by Sneha Rajya Laxmi Rana in the 10-metre air rifle. Now preparing for the 13th South Asian Games, Sushmita hopes to represent and win a medal for her country.
Sushmita previously trained at Nepal Army Physical Training and Sports Centre in Lagankhel for over a month as the shooting range in Satdobato was undergoing renovation. Now the range at Satdobato is complete and training has been going well. "In Lagankhel, lack of proper equipment affected our training. But that is not the case at Satdobato," said Sushmita. "Training is good and more equipment are arriving," she added.
Her coach Upendra Thapa believes lack of proper training facilities has severely hindered shooters from honing their shooting skills. "We only have three firing ranges across the country in Nepalgunj, Biratnagar and Kathmandu. Having just three ranges across the country is not adequate," said Thapa.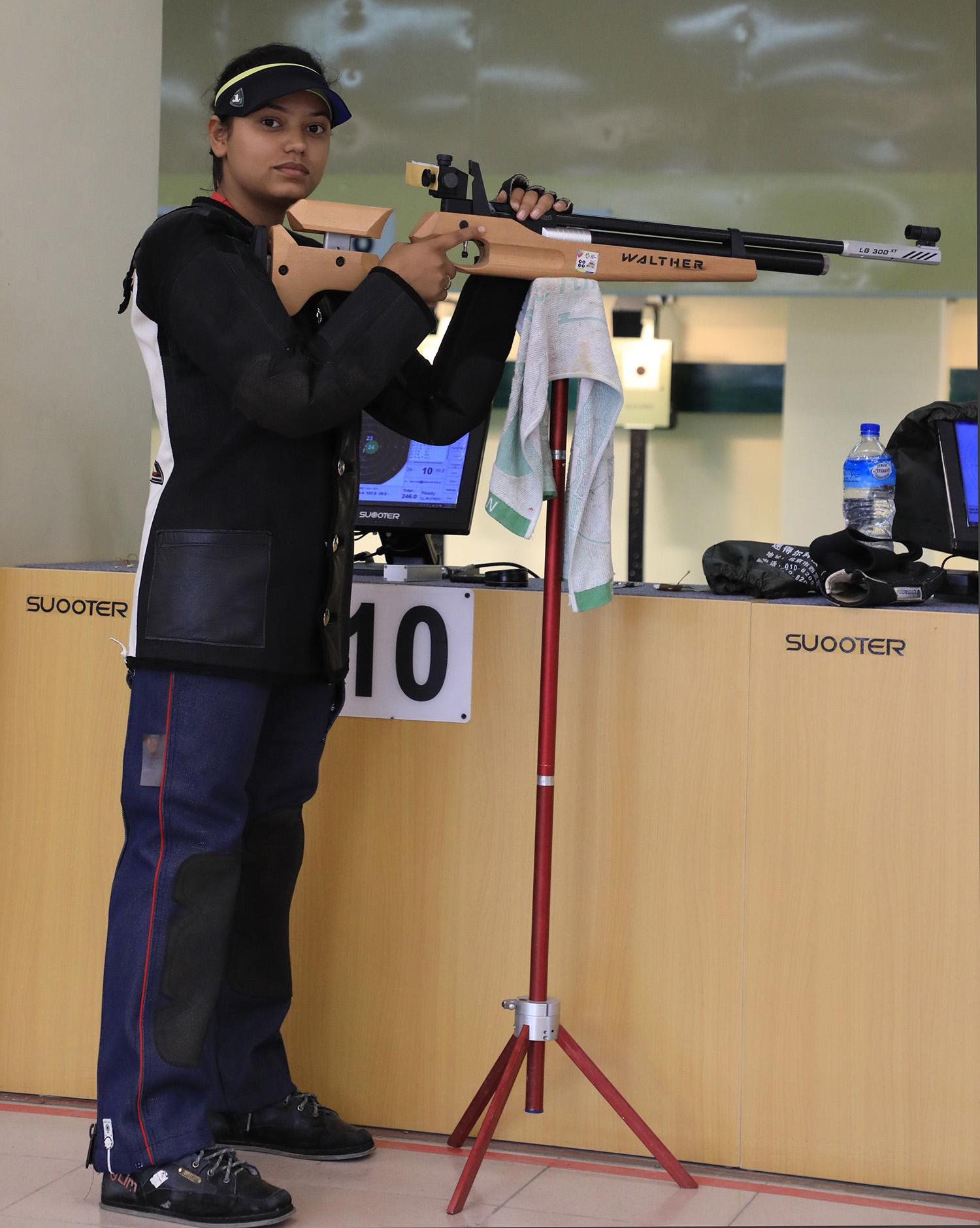 Hemanta Shrestha/TKP
Thapa believes Nepal can do better in the South Asian Games but there should be proper facilities built back in the country. "We take India as our main competitor. As they have taken great strides in the sport, they are the favourites. We hope to win silver medal in the tournament," said Thapa.
There are not much competitions organised for shooters like Sushmita to make much in the sport in Nepal. "You have to wait almost a year for a tournament. The number of tournament has to increase," said Sushmita. Their preparations for such national tournament are again hampered by lack of equipment. "Shooting is an expensive sport. The cost of guns and rifles is high. Plus the country charges heavy customs on such guns. That further makes it expensive for a player to get their hands on such rifles and guns," said coach Thapa. "Take India for example. It is easy for a player to get access to shooting equipment but one has to go through lengthy paperwork to get their hands on one here in Nepal," said coach Thapa.
The shooting range in Satdobato, now nearing completion, is one solution to end the scarcity of place and equipment for shooters to train. "We hope to get better training once we move to Satdobato shooting range," said Sushmita with a voice of optimism. "We are also told we will be trained by international coaches once the range opens," she added.
As a player herself, Sushmita doesn't think shooting has much scope in Nepal. "There is not much to make and still lot to be done in shooting," she said. "Government and association have to make sure the shooting range in Satdobato has proper equipment. Or else it is just going to be a building without any particular purpose". Despite a bleak future, she still plans to continue in shooting. "I was fascinated by army since my childhood. I hope to join the army and continue my shooting dreams," she said.
---
---