The Post's Weekly News Quiz: Deputy Speaker, measles outbreak, rhino poaching, BBC documentary
How closely did you follow the news this week? Take our quiz and find out.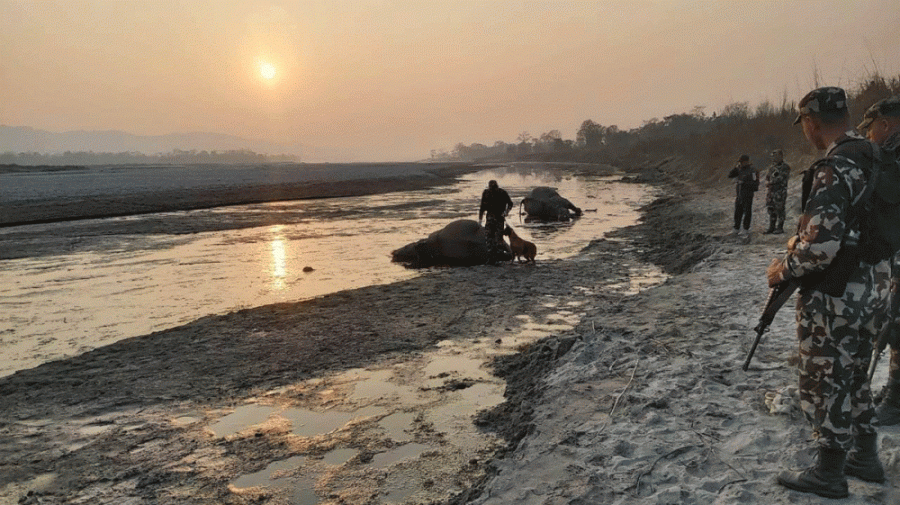 bookmark
Published at : January 28, 2023
Updated at : January 28, 2023 21:21
Kathmandu
1 of 18
Who is the chief whip of the Nepali Congress in the House of Representatives?
Ramesh Lekhak
Gagan Thapa
Pradip Poudel
Bishwa Prakash Sharma
2 of 18
King Mahendra Shah had dissolved the first democratically elected parliament in which year?
1957
1958
1959
1960
3 of 18
When was the first Free Students Union election held?
1961
1962
1963
1964
4 of 18
Chinese app TikTok is owned by which tech giant? a) Alibaba b) Tencentc) ByteDanced) HuaweiAns: c
Alibaba
Tencent
ByteDance
Huawei
5 of 18
Health authorities in Banke have sought help from religious leaders in the ongoing immunisation drive against which disease?
Covid-19
Malaria
Dengue
Measles
6 of 18
Indira Rana Magar, the newly-elected deputy Speaker of the House of Representatives, is a lawmaker from which party?
Rastriya Swatantra Party
CPN-UML
Nepali Congress
Rastriya Prajatantra Party
7 of 18
The government increased the basic salary of public officials by how much percent through the budget for the fiscal year 2022-23?
5 percent
10 percent
15 percent
20 percent
8 of 18
The government has lowered the eligibility age to receive an elderly allowance from 70 years to ______?
68
65
58
55
9 of 18
According to data from Chitwan National Park, in the past five fiscal years, a total of how many one-horned rhinos have died either due to natural calamities, electric shocks, by falling into pits, or disease?
100
165
200
150
10 of 18
Who won the federal election from Saptari-2 in the November 20 polls, defeating Upendra Yadav, the leader of the Janata Samajbadi Party?
Jay Prakash Thakur
Nawal Kishor Shah Sudi
Chandra Kanta Raut
Dinesh Kumar Yadav
11 of 18
A BBC documentary on which Indian prime minister has been barred from airing in India?
Narendra Modi
Manmohan Singh
Rajeev Gandhi
Lal Bahadur Shashtri
12 of 18
Football's governing body FIFA has suspended which South Asian country's national federation, a month after issuing it with a "red notice" over governance issues?
India
Sri Lanka
Bangladesh
Pakistan
13 of 18
Which provincial government cut the number of ministries from 12 to seven?
Province 1
Bagmati
Karnali
Gandaki
14 of 18
When is the 19th edition of the annual NSJF Pulsar Sports Award slated?
March 5
March 6
March 7
March 8
15 of 18
Who is the author of Mau Jang Babu Saheb Ko Coat?
Bhawani Bhikshu
Bairagi Kainla
Bhairav Aryal
Bhupi Sherchan
16 of 18
21 new cases of which disease, including one indigenous case, have already been reported from various districts throughout thecountry since the start of 2023?
Influenza
Cholera
Malaria
Dengue
17 of 18
The price of which medicinal herb has hit an all-time high of Rs1,000 per kg on soaring demand in India?
Gurjo lahara
Chiraito
Haroo
Kurilo
18 of 18
Which country has offered Sri Lanka a two-year moratorium on its debt and said it will support the country's efforts to secure a $2.9 billion loan from the International Monetary Fund?
India
South Korea
Japan
China
---