Patients at Lumbini hospital are being treated on the floor
The provincial hospital receives around 1,200 patients on a regular basis.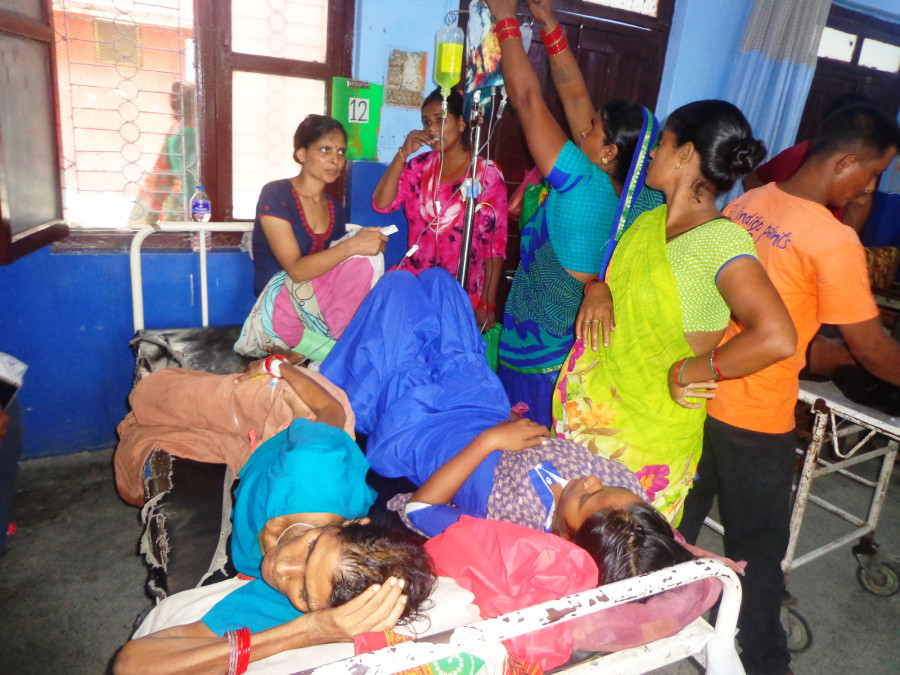 The emergency room is the most crowded in the hospital, with many patients having to share one bed. Amrita Anmol/TKP
bookmark
Published at : September 12, 2019
Updated at : September 12, 2019 08:03
Butwal
Ashma Monihar of Mayadevi Rural Municipality in Kapilvastu district delivered a child at Taulihawa Hospital on Monday morning. The following morning on Tuesday, her baby's health deteriorated and was referred to Lumbini Provincial Hospital in Butwal.

When Monihar reached the emergency ward of the hospital, there were no beds available. Her baby was treated on the floor.
Maya Yadav of Gangoliya from Tilottama Municipality, who has been bedridden due to high fever for the last seven days, was also taken to the provincial hospital on Tuesday. She, too, was treated on the floor along with several other patients.
Lumbini Provincial Hospital receives patients from 12 districts of Province-5 and also from Syangja and Baglung districts of Gandaki Province. The hospital, which receives 1,200 patients in a daily average, has witnessed a rise in the number of patients in the last two weeks, said Dr Krishna Khanal, medical superintendent at the hospital.
"The hospital has been receiving 1,500 patients daily. The health workers have been referring patients to other hospitals due to lack of beds here," he said.
According to one hospital official, though the hospital had purchased 100 beds a year ago, they remain unused due to a lack of space.
"We have beds but we don't have space in the hospital. We haven't opened the new hospital building yet" said Khanal.
The provincial government has been planning to upgrade the 135-bed hospital to a 300-bed hospital, but the plan is yet to come to fruition. The hospital also has an ultrasound and an echo machine, but they also remain unused.
Ramesh Khanal, former chairman of the hospital, said that medical superintendent and administrator should be responsible for the smooth operation of the hospital.
"The medical superintendent and administrator of the hospital are supposed to provide effective health services to the patients. They need to do their jobs well," he said.
Bipin Chhetri, administrative chief of the hospital, admitted to the hospital's inability to extend full services to patients.
"There are 530 employees at the hospital currently. We also have the necessary equipment but haven't been able to provide full service to the patients. But we are making concrete efforts to reform the hospital and its operations," he said.
---
---