Geological study finds 13 settlements of Bahrabise at high risk of landslides, floods
The study team has recommended the relocation of 5,000 households in several settlements that are at risk.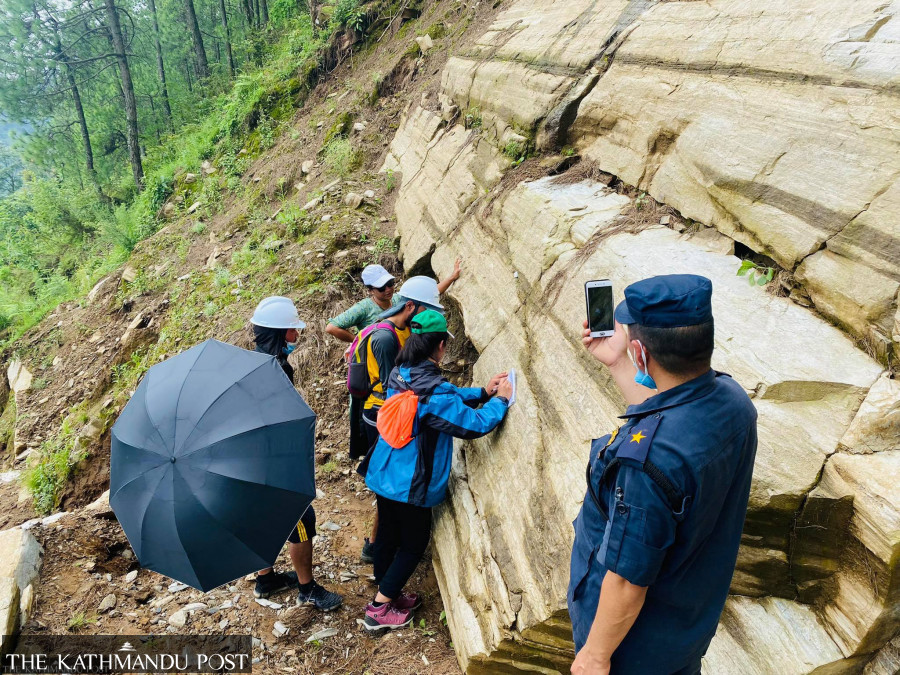 A six-member technical team visited more than 50 settlements of Bahrabise Municipality for the geological study. Anish Tiwari/TKP
bookmark
Published at : August 16, 2021
Updated at : August 16, 2021 09:31
Sindhupalchok
A geological study conducted recently in Bahrabise Municipality has pointed out that 13 settlements of the local unit are at high risk of landslides and floods.
A six-member technical team, including geologists Lekh Prasad Bhatta and Govinda Pathak, visited more than 50 settlements of the municipality for the geological study.
"Thirteen settlements in wards 1 to 9 in Bahrabise Municipality are at high risk of landslides and floods. These settlements should be relocated as soon as possible to protect lives and properties," Bhatta told the Post.
The geologists from the National Disaster Management Authority in Kathmandu conducted the study with the technical support of Pratibaddha Pariyojana, a project working in Sindhupalchok district to mitigate the risk of natural disasters.
The technical team has listed around 5,000 households of 13 settlements, including Nagpuje, Karthali, Jambu, Bukam and Sotang, as being at high risk of landslides and recommended the authorities concerned to take initiatives for their relocation.
"Based on the report of the technical team, a team of geologists and professors will soon visit the affected areas. The team will carry out another detailed geological study and submit its reports to the government," said Sita Bhujel, the district advocacy coordinator of the project.
Following the geological study in Bahrabise Municipality, the technical team is now working in various wards of Bhotekoshi Rural Municipality, another landslide-hit local unit in the district.
According to Sushila Pakhrin, the deputy mayor of Bahrabise Municipality, around 100 families have been shifted to safer locations this year, as their houses are at high risk of landslides and floods. They are now taking shelter under tents at various locations.
"The geological survey was conducted to identify the settlements at risk of natural disaster. Efforts are underway to shift the endangered settlements to safer places," said Pakhrin.
Sindhupalchok is one of the hardest-hit districts by natural disasters. A devastating landslide had swept away Nagpuje and BK Tole of Ghumthang in Bahrabise Municipality Ward No 7 on September 13, 2020, in which 15 villagers were killed while 16 others are still missing. Likewise, two people were killed and 17 others had gone missing when another landslide struck Jambu in Bahrabise Ward No 5 on July 9 of the same year.
In the last year alone, as many as 73 people died in different landslides in Bahrabise Municipality, Melamchi Municipality, Bhotekoshi Rural Municipality and Jugal Rural Municipality in the district while forty-two people went missing. In 2014, the Jure landslide killed 145 people.
This year, the flooded Melamchi river wreaked havoc in Helambu and Melamchi areas, killing at least five people while 20 others are still missing. The floods and landslides destroyed around 300 houses and displaced hundreds of families. The risk of floods and landslides in the area has not decreased yet, as multiple landslides have been reported in Bhemathang and other places above the settlements.
---
---