Death toll in Sindhupalchok landslide reaches 22; 17 still missing
The landslide hit Lidi village in Jugal Rural Municipality Ward No. 2 on Friday morning.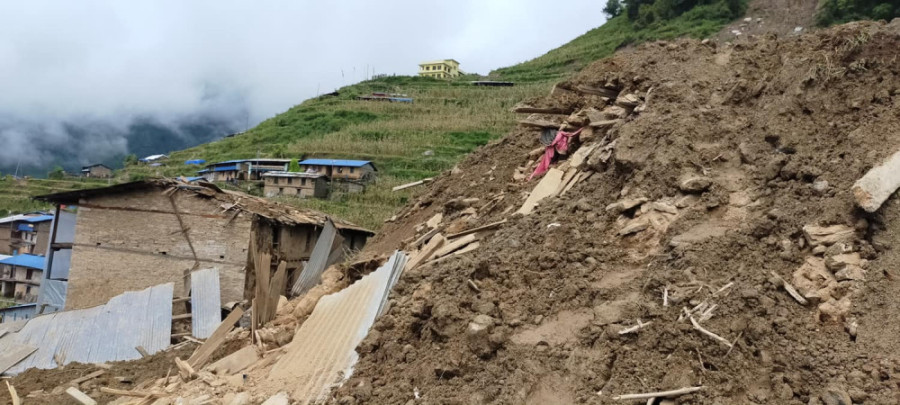 Photo courtesy: House of Representative Speaker secretariat
bookmark
Published at : August 17, 2020
Updated at : August 17, 2020 12:46
Sindhupalchok
The death toll in the Sindhupalchok landslide has reached 22.
A search team had recovered the bodies of 19 individuals until Sunday evening.
Three more bodies were recovered from the landslide debris on Monday morning, according to the District Police Office.
The landslide hit Lidi village in Jugal Rural Municipality Ward No. 2 on Friday morning which destroyed 17 houses and damaged 37 others.
[Read our editorial: The Sindhupalchok landslides have exposed the government's failure in disaster risk reduction.]

Six people were injured in the disaster.
One of the critically injured women is receiving treatment in Civil Hospital in Kathmandu while four others are admitted in District Hospital in Chautara. A nine-year-old boy was discharged from the district hospital on Saturday.
[Read: 'We had long been asking the authorities to move us to safer locations']

A team of 55 security personnel from Nepal Army, Nepal Police and Armed Police Force is involved in the search operation. However, the operation has been slow as the road leading to the village has been disrupted by floods and landslides, according to Deputy Superintendent Madhav Prasad Kafle. "We haven't been able to bring excavators to the incident site since the road is blocked in several places," he said.
According to security personnel at the incident site, seventeen villagers are still missing. The 135 families displaced by the landslide are currently taking shelter under makeshift tents in Lapsedanda near Lidi.
---
---