Government school in Meghauli adopts smart learning classes
Since the introduction of digital learning in classes, learning has become fun and effective, say students.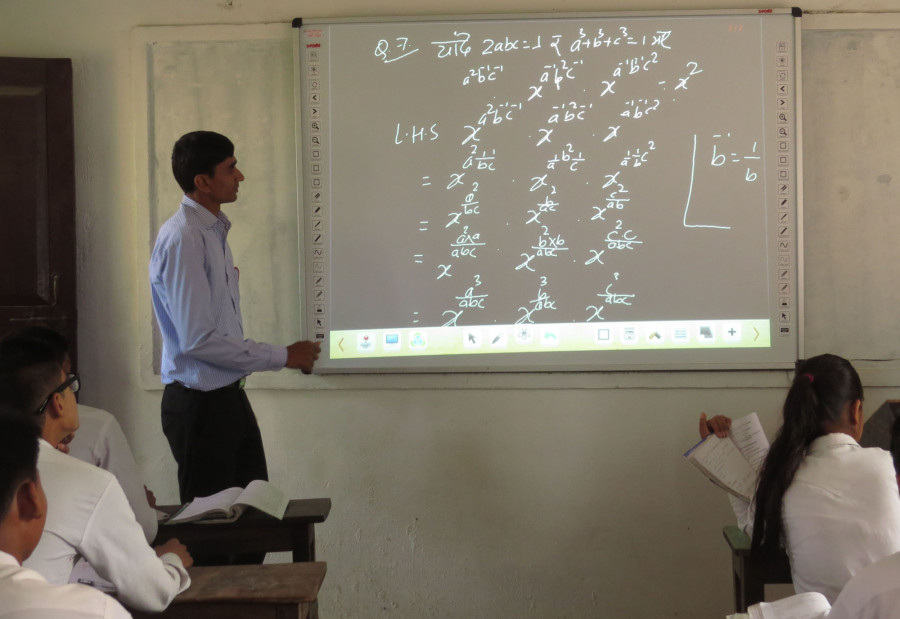 The federal government is currently running smart classes in at least one government school in each province. Ramesh Kumar Paudel/TKP
bookmark
Published at : November 7, 2019
Updated at : November 7, 2019 08:13
Chitwan
In a bid to make education interesting for students, Sajhapur Secondary School, a government school in Meghauli, has introduced the concept of 'smart classes'.

The classes in Sajhapur Secondary School are "smart" in that students are taught with the help of technology. The school administration has done away with writing boards and has installed a projector and a sound system.
"The school has introduced an audiovisual learning system. I think this helps us concentrate more, and it's a fun way of learning," said Indira Rijal, a ninth grader.
Another student, Nishan Basnet, a 10th grader, said it's become easier for him and his classmates to understand lessons.
"Theoretical, as well as practical learning, has become interesting now. We understand subjects like Science better with the help of audiovisuals," said Basnet.
The federal government is currently running smart classes in at least one government school in each province. In Province 3, Sajhapur Secondary School in Bharatpur Metropolis, which was established 65 years ago, is the first one to be selected for 'smart classes'. The school started running smart classes five months ago.
Tejendra Prasad Bhusal, the school headmaster, said the Ministry of Communication and Information Technology helped the school start smart classes.
The ministry had provided 12 smart boards, 14 projectors, 12 sound system, 16 CCTV cameras and 60 computers, according to Bhusal.
"The ministry provided us with equipment worth Rs 8.3 million," he said.
Bharat Babu Dhakal, a science teacher at the school, said the government's move to introduce smart classes in community schools is praiseworthy.
"We live in the world of information and technology. It's essential for students to get used to technology and its benefits from an early age," he said. "It is equally important for teachers to understand new and more effective ways of teaching."
Currently, students of grade 7 to 12 are learning their lessons through the digitalised teaching process. Lalmaya Adhikari, the chairperson at the School Management Committee, said that guardians too have shown interest in the way their wards are being taught in the school.
---
---