Enraged locals protest sluggish work at Jaleshwore-Janakpur road section
Protesters warned of demonstrating for one hour every day if their demands are not addressed.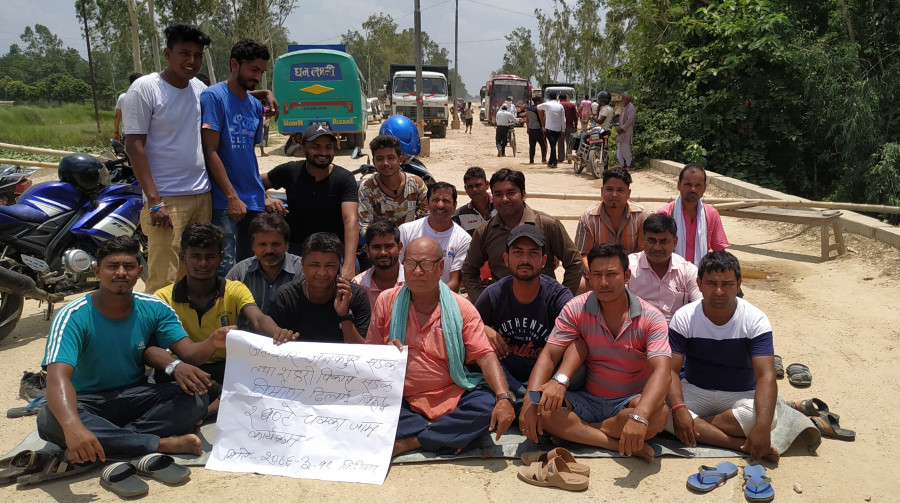 Protesters warned of demonstrating for an hour every day if their demands are not addressed. Post Photo
bookmark
Published at : July 7, 2019
Updated at : July 7, 2019 09:30
Mahottari
Jaleshwore locals have taken to the streets to protest sluggish work in the construction of Jaleshwore-Janakpur road section. Sloganeering against the contractors tasked with the construction, the locals on Friday obstructed the road at Zero Mile in Jaleshwore.
Speaking to the Post, protesters warned of demonstrating for an hour every day if their demands are not addressed.
Barun Dahal, the chief of Jaleshwore Ward-2 who coordinated the protest, said that the demonstration was against the sluggish work and to push the contractors to make significant progress before monsoon sets in.
"If the road is not complete by the start of monsoon, it will become a nightmare for the locals," Dahal said. "Since the work shows no signs of progress, we are compelled to protest."
According to Dahal, the contractors had earlier promised to complete the one-lane road stretch from Zero Mile to Khayera Chowk by mid-June but a month past the deadline the work is yet to be completed.
The contract for the 18km-long Jaleshwore-Bhittamode road was signed on August 2016. As per the contract, the work was supposed to be completed by August 2019. But as the deadline approaches, only 70 percent of the total work is complete. Locals squarely ascribe this fiasco to the negligence of contractors.
Many locals have filed a complaint against the contractors at the District Administration Office but Chief District Officer Umesh Dhakal said his office doesn't have the authority to punish the perpetrators.
"We have, however, pressured them to complete the work," Dhakal said.
The responsibility to oversee the progress of road construction falls under the Hulaki Highway Directorate.
According to officials at the directorate, the road will be upgraded to four lanes once it's complete while there will be extra 'service lanes' at three spots along the way.
The company YP JV was provided the contract for the 9km road stretch from Janakpur to Bighi Bridge in Mahottari. The contract was worth Rs435.4 million in total. The Ashish Pappu Roshan JV had got the contract for the stretch linking South Jaleshwore with the Indian border for Rs 498.9 million.
---
---