Losing presidency will add to Deuba's woes
Congress leaders unsure prime minister will support their presidential candidate despite Dahal's tricky ties with Oli.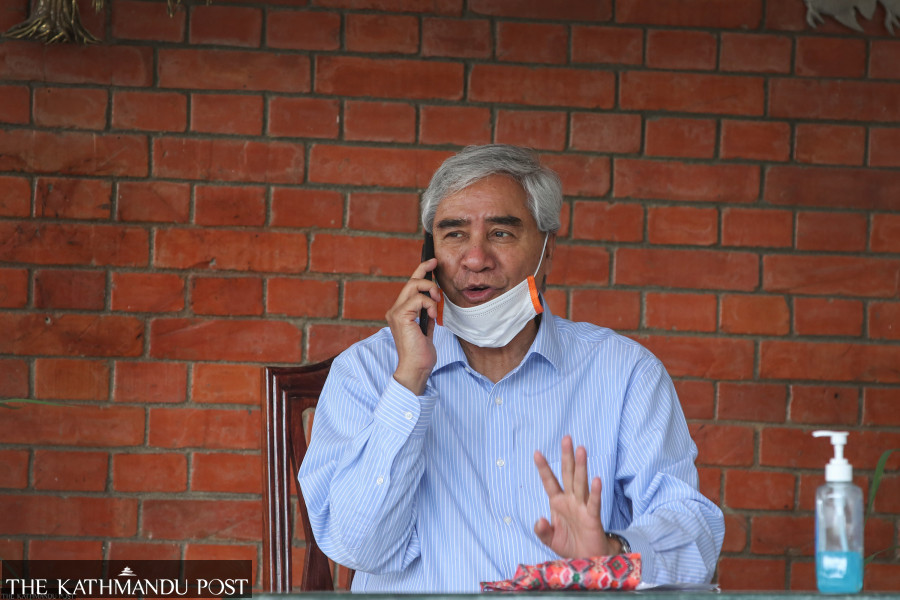 Post File Photo
bookmark
Published at : January 25, 2023
Updated at : January 25, 2023 04:57
Kathmandu
Former prime minister and Nepali Congress President Sher Bahadur Deuba, who managed to make his party the biggest in Parliament, is currently facing severe criticism from in and outside of the party for failing to save the electoral alliance and thus keeping the party out of power.

Party insiders and observers believe that after losing both the Speaker and deputy Speaker posts, the upcoming national presidential elections could be a kind of litmus test for Deuba. If the Congress fails to elect a candidate of its choice as new President, Deuba's sway in the party could gradually decline.
Though Deuba, with the help of his coalition partners, managed to win 57 first-past-the-seats last November, up from 23 seats in 2017, he could not stop CPN (Maoist Centre) chair Pushpa Kamal Dahal from deserting the coalition, thereby losing power both at the federal and provincial levels.
After failing to secure Congress' place in government, Deuba decided to give a confidence vote to Prime Minister Dahal, which created confusion about whether the Congress could now actually be termed the main opposition.
Now, the presidential election could be a turning point for Deuba to gain power within the party and also the state power.
"Presidential polls will be a litmus test for our party president," said Shankar Tiwari, a Congress leader and political analyst. "Losing the battle could lead to further erosion of Deuba's authority in the party."
This authority might be hard to regain as the party's statute will prevent Deuba, 76, from contesting the top leadership position again.
A fierce critic of the party's current leadership, Tiwari said this is the first time in Congress history that the party had to stay out of power even after becoming the largest in Parliament.
Leaders and cadres of the party take sides in the party depending on the power equation among top leaders. If a leader is seen as toothless, they will gradually lose their supporters as well.
"I have reports from different districts that party leaders and cadres close to Deuba are unhappy and thinking of switching sides after he failed to save the coalition," Tiwari told the Post. "If he fails to install a Congress nominee as President, there could be even more of such switches away from the Deuba camp."
Some other party leaders say that even though there might be a kind of tacit understanding between Deuba and Dahal, they are not confident Dahal will support the Congress candidate despite his difficult equation with Oli, who had twice before ditched Dahal.
After Oli refused to hand over prime ministership to Dahal in 2016 by going against their previous agreement, the Maoist chief joined hands with Deuba to bring down the Oli government. Something similar happened in 2021 when the UML chief denied Dahal the premiership.
"Look, Dahal very well understands the difficulty of working with Oli in the long term. But that may not be enough for him to walk away from the ruling coalition," said Bhimsen Das Pradhan, a Congress leader and former minister. "In that case, Deuba's bid to break the coalition through the presidential election will fail, which in turn will lead to an erosion of his clout in the party."
Pradhan, however, said the Congress would continue to wait and look for options to break the alliance as it knows very well Dahal is unhappy with Oli's dominance therein.
"If we lose the presidency, we may have to wait for some more time as there could be another chance when Dahal will have to hand over the government's helm to Oli," Pradhan told the Post.
Some party insiders say Deuba made another mistake by giving a confidence vote to the prime minister which created confusion over the party's main opposition status and led to a "pathetic situation" where the party had to write to the parliament secretariat seeking clarification about its status in the Parliament.
"All these activities have already weakened Deuba in the party. But he could regain his waning control if he is able to secure the post of President for the Congress," Tiwari said.
Yet there are still those who think Deuba, who has the backing of the majority in the Congress parliamentary party, is still a strong leader, and will continue to be strong in the foreseeable future.
"It's obvious that Deuba will gradually become weak if Congress fails to install its nominee as President," said Pradip Paudel, an influential leader of the party. "But it's also true that he to this day has a strong grip on the party."
Puranjan Acharya, a political analyst close to Congress, also reckons Deuba's authority in the party structure may not shrink much, even though his legitimacy and moral authority could significantly erode in case he loses the presidential election.
"There is confusion in the dissident Shekhar-Gagan faction on who should lead the party after Deuba," Acharya said. "There is also no established leader in the opposition faction to take over the party's leadership."
---
---