Dahal promoting daughters at the expense of party leaders
Dissatisfaction is growing in the CPN (Maoist Centre) due to the party chief's manifest bias towards his family members. He has always handpicked party officials.

Maoist chief Pushpa Kamal Dahal (left) and his daughter Ganga visit UML chief KP Oli at the latter's residence in Balkot, Bhaktapur on December 25. Photo courtesy: KP Oli secretariat
bookmark
Published at : January 3, 2023
Updated at : January 3, 2023 09:04
Kathmandu
On December 25, an interesting photo was published in different media outlets, in which Ganga Dahal, the youngest daughter of Prime Minister Pushpa Kamal Dahal, is seen shaking hands with CPN-UML chair KP Sharma Oli and the Maoist Center chair is seen talking to Oli while pointing at Ganga.

The photo taken at the Balkot-based residence of Oli, speaks a lot as Ganga, according to leaders of both parties, had played the role of a key interlocutor and helped thaw the relations between the two leaders— arch-rivals until just a few days before.
"The photo captures a moment when Chairman Dahal was telling Oli that Ganga was his fan and someone who was always in favour of left unity," said Yubaraj Chaulagain, a Maoist Centre leader, who got elected to the Bagmati provincial assembly from Ramechhap 1(B) in the November polls. "It seems that Dahal wants to push daughter Ganga [in active politics], even though she has not held any important party position besides her work in his personal secretariat."
It was not only at the Dahal-Oli Balkot meeting that she was seen along with her father; she is present almost everywhere Dahal goes to attend important meetings and events.
If one looks at Dahal's itinerary over the past three weeks when the Maoist chairman was busy in make-or-break talks with various political parties, Ganga was present in nearly all those vital inter-party negotiations. She accompanied the party chief in public gatherings in districts as well as his meetings with foreign diplomats.
Leaders said even the organisers of such functions gave her high priority and placed her accordingly.
On December 29, Dean R Thompson, the ambassador of the United States to Nepal, met the prime minister. The next day, the Indian Ambassador to Nepal Naveen Srivastava as well as Wang Xin, charge d'affaires of the Chinese Embassy, called on the prime minister. Ganga was present in all three meetings.
Dahal dearly misses his son, Prakash, following the Maoist chair's appointment as prime minister, leaders close to him said. When alive, Prakash used to coordinate Dahal's secretariat. On many occasions, Dahal has publicly praised what he considered an "incomparable contribution by Prakash" for the success of his second stint as prime minister (2016-17).
The sudden death of Prakash at the age of 36 in November 2017, while the parties were busy campaigning for the 2017 polls, jolted Dahal.
Dahal is now supported by his two daughters in discharging his public obligations. His eldest daughter, Gyanu, died of cancer in March 2014. After the death of Prakash, the health of Dahal's wife has also been deteriorating.
Dahal promoted his daughter Renu by fielding her as the mayoral candidate of Bharatpur Metropolitan City, twice—each time forging a coalition with the Nepali Congress to secure her election.
Renu was active during the Maoist movement and the 'people's war' besides Dahal's daughter-in-law Bina Magar, who was tortured at Nepal Army's notorious Bhairavnath Battalion.
With Renu twice being elected as mayor of Bharatpur Metropolitan City, Dahal is now trying to groom his youngest daughter Ganga for a career in politics. She has started taking on the responsibilities of running his personal secretariat. At present, she assists Ramesh Malla who looks after the prime minister's secretariat as Dahal's chief personal secretary.
Earlier, despite criticism from within and outside the party, Dahal sent his daughter-in-law Magar to the Oli-led cabinet. Some party insiders, however, say that Magar's case is different. She can fall back on her own contributions to the party and the movement to land positions of power. Active in student politics and in the Maoist insurgency, Magar was a known figure in politics and she has also worked in her constituency in the far-western Kanchanpur district.
Magar, who got elected from the constituency in the last election, however, lost the November 20 polls.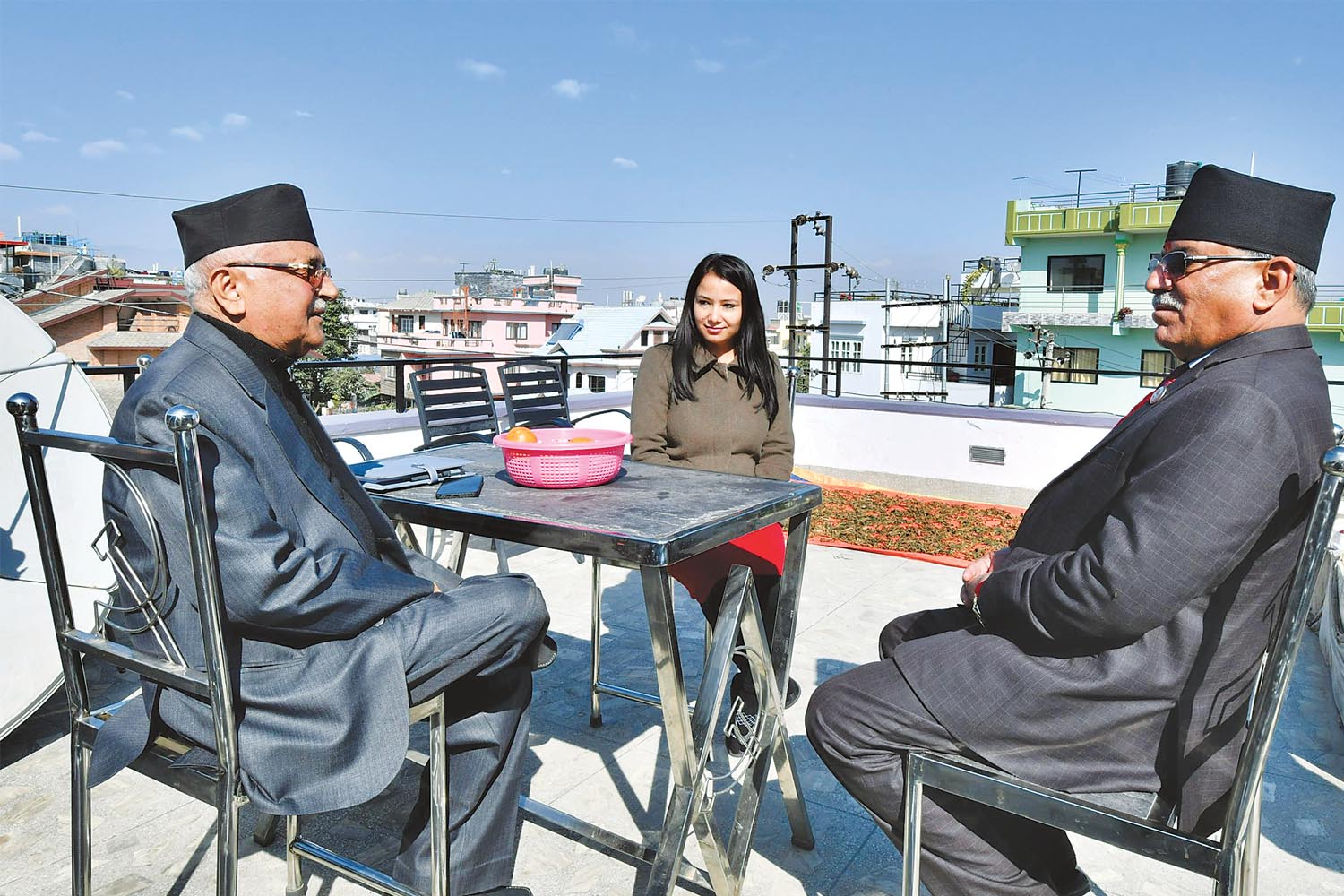 CPN-UML chief Oli (left) and Maoist Centre chair Dahal hold talks at the latter's residence in Khumaltar, Lalitpur in the presence of Dahal's daughter Ganga (centre) on December 28. Photo courtesy: Dahal's secretariat
Dahal's dedication to promoting his family members in mainstream politics is not new, attracting widespread criticism. As the supremo of the Maoist movement that claimed the lives of more than 15,000 people and rendered thousands of people injured, Dahal is criticised for failing to take care of those needy combatants who suffered for the party. Many survivors lament that their party chief couldn't think beyond his family members and a narrow circle of people.
"There are thousands of Maoist leaders and cadres who sacrificed their entire lives for the party and the movement, but Dahal seems to be focused only on the betterment of his daughters," said Prem Rimal, a former secretary of the Maoist Centre-affiliated Buddhijivi Parishad [intellectual council]. "Renu has worked a lot for the party and the movement, but in the case of Ganga, her only qualification is that she is Dahal's youngest daughter."
As a member of his personal secretariat, Dahal takes Ganga everywhere he goes and in most high-level meetings, she can be seen by his side. She is not only involved in crucial meetings. Dahal, according to party insiders, had also sent her to India for political meetings along with Renu. There are many meetings in which Dahal has kept Ganga by his side, with Renu occupied in her role as mayor of Bharatpur Metropolitan City.
"This shows how Dahal is actively grooming his two daughters in politics," Rimal told the Post. "I think Dahal wants to eventually hand over the party's reins to them. Other leaders in the party won't stand a chance."
But party leaders remain unconvinced about Ganga's role in national politics, at least when compared to her elder sister Renu.
"It seems that Dahal is trying to push Ganga into politics, but I don't think she has in her to be a top-level politician," said a politburo member of the Maoist Centre. "Establishing yourself in politics requires a lot of hard work and dedication."
Party leaders often criticise Dahal for failing to promote his own party colleagues to succeed him. As the Maoist supremo, he has been leading the party continuously for over three decades. Dahal's renewed focus on his daughters has alarmed many in the party.
Not long ago, when two strong leaders of the party Barshaman Pun and Janardan Sharma laid claim to the post of party general secretary—considered to be the most powerful positions after the chairman—Dahal instead chose Dev Gurung, without holding an election. This suggests Dahal still likes to handpick party's top officials.
In the Nepali Congress, both Gagan Thapa and Bishwa Prakash Sharma became party general secretaries through elections. Also, a second-rung leader, Dhanraj Gurung, was elected party vice-president. The vibrancy and new-found enthusiasm even among young party members is palpable in the grand old party, mainly after the election of young leaders in powerful positions.
Some Maoist Centre leaders are displeased that as Dahal does not invite members of the party's international department while dealing with foreign leaders, he makes it a point to have his daughter in the room.
"The chairman does not take us seriously when we ask him to invite leaders of the international department while meeting foreign leaders," said Standing Committee member Ram Karki, who is also a member of the party's international department, which is currently led by senior Vice-chair Narayan Kaji Shrestha. "This clearly suggests he wants to groom his daughters in domestic and international politics."
At least three top leaders of the Maoist Centre, including Karki, expressed serious dissatisfaction with the way Dahal has been conducting high-level meetings. They said his team members like Ganga, who are present in various meetings with top diplomats, simply don't have the experience to understand the finer points of diplomacy.
---
---