Raghubir Mahaseth as pick for deputy prime minister and foreign minister surprises many
His choice is for UML to gain influence in the Madhes and for his potential ability to procure Russian vaccines, observers say.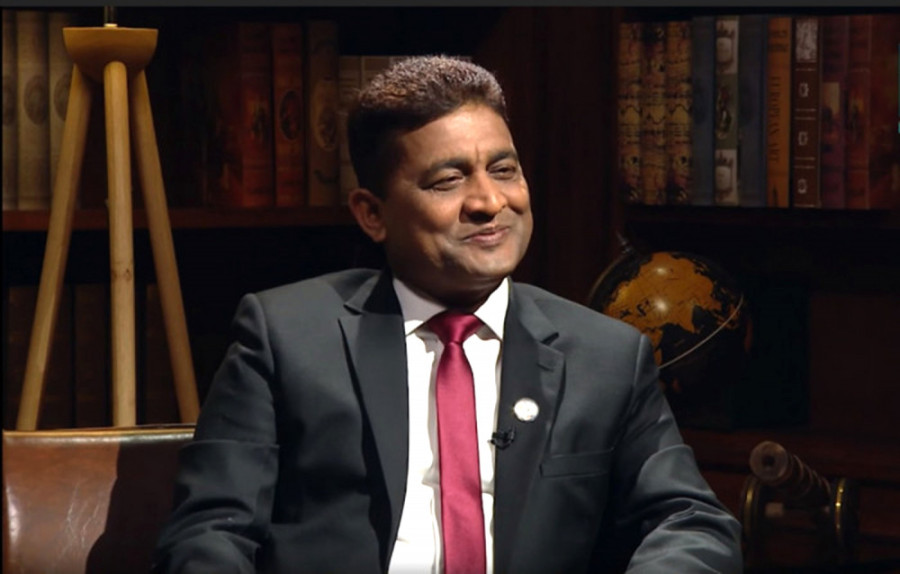 Photo courtesy: Kantipur Television
bookmark
Published at : June 6, 2021
Updated at : June 7, 2021 00:40
Kathmandu
The country is hit hard by the Covid-19 pandemic pushing the health infrastructure to the brink of collapse.

But Prime Minister KP Oli who leads the caretaker government is busy in Cabinet reshuffle. On Friday, he reshuffled his Cabinet for the 18th time since he became prime minister in February 2018.
Fighting the pandemic has never been a priority for him or his government for the last 15 months.
The role of the foreign minister and the country's diplomatic missions, which the ministry directs, has become crucial to procure the vaccines against Covid-19, to ensure emergency supplies and critical medical support from the outside world.
Geo-politics has also become increasingly important with different world powers jousting for influence in Nepal, according to experts and diplomats.
But Oli's choice of foreign minister in the latest reshuffle caught observers by surprise.
CPN-UML Standing Committee member Raghubir Mahaseth was not only made foreign minister but also one of the three deputy prime ministers.
He does not have much experience in diplomacy and international relations.
Besides, he had been removed as minister of Physical Infrastructure and Transportation in November 2019 after serving in the post for 18 months for his poor performance. He had even opposed Oli's decision to dissolve Parliament in December last year,
But while assuming office on Monday, Mahaseth said that rather than ministers, it is the civil servants that make a government a success or a failure.
But his role as the leader of the Ministry of Foreign Affairs is crucial, given Nepal's political instability, and if Nepal tries to indulge in the geo-politics game, especially regarding the procurement of Covid-19 vaccines, it would be disastrous and expensive for the country in the long run, observers say.
"Our top most priority is to keep the house in order. No one has confidence when there is political instability and as a result we have very little to show on the international front at present," Madhuraman Acharya, former foreing secretary and ambassador, said.
"Our key traction, challenges and opportunity is geo-politcs. So we should be careful while playing off the geo-politics competition at this critical juncture when there is uncertainty inside the country and outside too."
But many people inside the Oli administration believe that it is Oli himself who runs the foreign ministry, sets foreign policy and takes major decisions including ambassadorial appointments.
Besides, there are some other faces including some members of the Oli's kitchen Cabinet, some retired ambassadors and some party leaders who have great interest in the foreign ministry, according to a former minister,
"Several decisions were made against the interest of outgoing Foreign Minister Pradeep Gyawali in the past," he told the Post on condition of anonymity.
Oli and his team are also aware of the activities deemed undiplomatic of ambassadors in key missions in New Delhi, Beijing, Washington DC, Tokyo, London, New York and some other Capitals but no action was taken, another outgoing minister said.
"Even we are aware about the activities of our ambassadors who have been given ministerial-level designation, but Oli and Gyawali always closed their eyes in their extra-diplomatic activities," he said.
The former minister was also critical of the growing number of political appointees as ambassadors.
"They are surely ruining the country's image," he said.
Mahaseth's appointment is not a good sign, said another outgoing minister.
"In this context of mismanagement inside Nepali missions abroad, increasing geo-political rivalry and competition, we see a very sorry picture of our diplomacy and status of international relations. I have very little hope for the new minister who has a tainted background, someone who had become a controversial figure in the past as the Minister for Physical Infrastructure and Transportation," another outgoing minister said.
According to some ruling party leaders, Oli had some compulsions to induct Mahaseth and promote him to counterbalance the appointment of Rajendra Mahato who has been made another deputy prime minister from the the Janata Samajbadi Party.
Mahaseth and Mahato are third and fourth in protocol in the Cabinet after Oli and Deputy Prime Minister and Finance Minister Bishnu Poudel who was also elevated on Friday.
Both Mahaseth and Mahato are from Dhanusha, a district in Province 2, where Oli's party, the CPN-UML, has a poor organisational base.
"There is no alternative to Mahaseth as he is the only leader besides Minister for Law and Parliamentary Affairs Lilanath Shrestha to win the 2017 general elections from Province 2," Bishnu Rijal, deputy chief of UML's Foreign Relations Department, said.
Rather than for his expertise in diplomacy, it was for political reasons that Mahaseth has been included in the Cabinet with a promotion and an important portfolio, he said.
"In Nepal, we do not have a tradition of choosing ministers on the basis of expertise, qualifications and prior working experience," Rijal said. "I cannot comment on what differences Mahaseth will bring in the Foreign Ministry, but one thing is sure that he was appointed to balance out Mahato's appointment."
There are also speculations that Mahaseth was brought in the Foreign Ministry for procuring Sputnik-V Russian Covid-19 vaccine, as some of his relatives are said to have good connections in Russia.
"Who knows but maybe he was brought to procure the Sputnik vaccine from Russia as Mahaseth has deep business connections," an official from the Prime Minister's Office (PMO) said. "We do not believe that new Health Minister Sher Bahadur Tamang would be able to demonstrate the capability to procure vaccines."
Nepal needs to procure nearly 40 million vaccine doses to inoculate the rest of the population above 18 years.
"Vaccine procurement is a big issue and the prime minister might think that Mahaseth could be the right person for the job," the official at PMO said.
But experts say there are other long-term issues that the country's foreign policy has to take note of.
According to them, Nepal needs a robust and balanced foreign policy based on trust and this applies to any foreign minister and it is the need of the hour too.
"Foreign policy is all about earning the trust," Prakash Chandra Lohani, former foreign and finance minister, said. "If someone understands vital national interests, then such individuals can really serve the country and protect the national interest. Foreign governments also tend to trust such individuals."
"But who will trust us if we swing here and there? And, if someone seems to be failing to protect the national interest, then chances of compromise will be there. Foreigner powers will also try to influence such people and try to use them," Lohani added. "So earning trust is a vital instrument while conducting the foreign policy and this I see as the biggest challenge for us."
---
---