After Nepal Communist Party, now CPN-UML heading towards vertical split
Oli constitutes a 19-member Standing Committee excluding leaders close to leader Nepal in an indication that the two leaders are prepared to go their separate ways.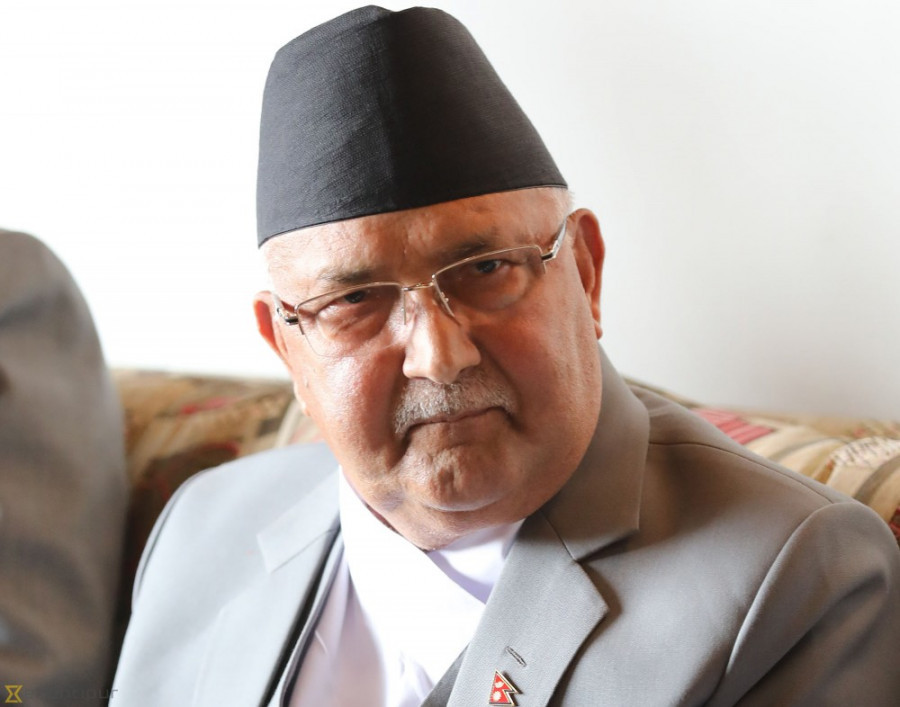 Post File Photo
bookmark
Published at : April 24, 2021
Updated at : April 24, 2021 08:40
Kathmandu
After what looked like their last-ditch effort to read each other's mind and demonstrate that they made genuine efforts to patch up differences, KP Sharma Oli and Madhav Kumar Nepal, who are leading separate factions in the CPN-UML, are back to regular business–attacking each other.
As things stand now, it looks like the party is headed for a split.
Oli, who chairs the party, on Friday took yet another drastic step. He constituted a 19-member Standing Committee. Not even a single leader from the Nepal faction was accommodated. Oli, however, has appointed four former Maoist leaders–Ram Bahadur Thapa, Top Bahadur Rayamajhi, Lekhraj Bhatta and Mani Thapa–to the Standing Committee. Party Vice-chair Bamdev Gautam and Oli's lieutenants are members.
Oli's move follows his two back-to-back meetings with Nepal at an upscale hotel in Kathmandu on Wednesday and Thursday. Both leaders refused to budge from their stances.
Oli has already suspended Nepal and leaders like Bhim Rawal, Surendra Pandey and Ghanashyam Bhusal as general members of the party for six months. He has now entrusted the newly constituted Standing Committee to initiate "necessary action" against as many as 27 lawmakers from the Nepal faction.
"It is evident now that Oli is employing a strategy to push the Nepal faction out of the UML," said a Standing Committee member close to Nepal. "He will try to cultivate leaders from our faction. Through recent meetings [at a hotel], he just wanted to show that he had made attempts to mend fences."
Oli used the 10th national convention organising committee meeting on Friday to constitute the new Standing Committee.
Friday's meeting also removed four leaders who had defied the party whip last week in Karnali as party members and members of the Karnali Provincial Assembly. All these leaders are also from the Nepal faction.
On April 16, four UML leaders and members of the Karnali Provincial Assembly, Prakash Jwala, Kurma Raj Shahi, Ammar Bahadur Thapa and Nanda Singh Budha, had crossed the floor to save Maoist Centre's Chief Minister Mahendra Bahadur Shahi.
Pradeep Gyawali, party's spokesperson who is a close confidante of Oli, said Friday's move is an indication of what the party leaders could face if they violate party's orders.
"Those who return to the party will get appropriate responsibility and respectable treatment," said Gyawali after Friday's meeting.
Gyawali has indicated further action against leaders close to Nepal if they refuse to return to the party's meetings and continued with formation of parallel committees.
On Friday, Nepal hit out at Oli, saying he is the cause of all the crisis in the party.
"Oli does not want unity in the party," said Nepal in Janakpur. "Yes, our party is going through a serious crisis, but it's because of Oli."
With the new developments in UML, leaders close to Nepal have said now they have no option ahead to form a new party but they have not said anything about the possible timeframe.
"Oli had already split the party through his March 12 and 20 decisions," said Beduram Bhusal, a Standing Committee member close to Nepal. "When he has already split the party will the leaders who spent all their lives in politics will stay idle?"
As part of the preparations, Bhusal added a nationwide organisational structure has already been formed which won't surrender to Oli.
The Nepal faction has not yet decided when to register their party at the Election Commission but they are mentally prepared for it. Some leaders have already started to say that they could even have a different party name and election symbol.
"We can participate in the by-elections with independent candidates but by the time another election is announced a new party will be registered," said Bhusal, who is also a member of the National Assembly. "We have already developed a new force and it is stronger than Oli's party."
The leaders from the Nepal faction have taken Oli's move of seeking clarification from 27 lawmakers and five members of the Karnali province as an attempt to push the party towards a split.
Asked about the possible loss of their leaders as more and more leaders have joined Oli each passing day, another Standing Committee member Ghanashyam Bhusal said that it won't matter much as there are many people who keep on changing sides for power.
"Once Oli falls from the government, everyone will join us. So we are not concerned about it," Bhusal told the Post.
---
---