Maoist Centre strips four ministers who have sided with Oli of party membership
The Parliament Secretariat has been informed of the party's decision and they will no more be lawmakers once the Parliament meeting is informed, officials said.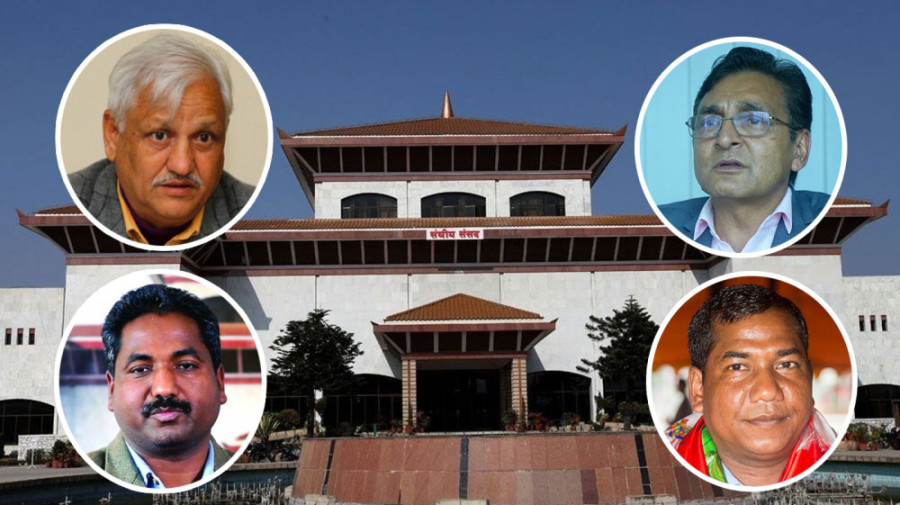 Post file photo
bookmark
Published at : April 6, 2021
Updated at : April 6, 2021 19:36
Kathmandu
The Communist Party of Nepal (Maoist Centre) has suspended four ministers in KP Sharma Oli government from the party's general membership and the decision has been registered at the secretariat of Federal Parliament today.

With the decision of the party, Energy Minister Top Bahadur Rayamajhi, Industry Minister Lekhraj Bhatta, Urban Development Minister Prabhu Sah and Labour Minister Gaurishankar Chaudhary will now lose their positions as lawmakers.
"Since the lawmakers refused to abide by party's decision and furnish clarifications as per the central committee's decision of March 14 and 15, the party has decided that they [Rayamajhi, Bhatta, Sah and Chaudhary] have abandoned the party as per the Political Parties Act 2017," states the letter registered at the parliament secretariat signed by party chair Pushpa Kamal Dahal. "The party has also decided to strip their party general membership."
Rayamajhi, Bhatta and Chaudhary had refused to furnish clarification issued by their party Maoist Centre while the party has stated that Sah's clarification was not satisfactory.
"Maoist Centre has registered its decision at the Parliament secretariat and the decision will be informed at the meeting of the Parliament," a secretary of the Federal Parliament told the Post on condition of anonymity. "Once the Speaker informs the Parliament about the decision they will be relieved of their position as lawmakers."
Rayamajhi, Bhatta and Sah are central committee members of the party while Chaudhary was a province committee member of the Maoist Centre. Besides the four ministers, Standing Committee members —Ram Bahadur Thapa (Home Minister) and Mani Thapa (Water Supply Minister), central member Dawa Lama (Youth Minister) have also defected to Oli led CPN-UML. The seven ministers were nominated to UML Central Committee on March 12.
Home Minister Thapa is a member of the National Assembly but Thapa and Lama were not lawmakers.
Home Minister Thapa was also asked for a clarification but he did not furnish a reply. His status has not been conveyed to the National Assembly as the leader of the Maoist Centre in the upper house is out of Kathmandu, according to sources in the Maoist Centre.
Water Supply Minister Thapa and Youth and Sports Minister Lama were too asked for clarifications and they too did not furnish replies.
The four leaders, however, can continue as ministers for six more months but they must become lawmakers if they wish to continue more than that.
---