As Oli skates on thin ice, ruling party meetings come thick and fast
Oli, who rarely steps out of Baluwatar, goes to Khumaltar to 'convince' Dahal and then drops by Thapa's residence amid pressure to withdraw the ordinance.

On Saturday morning, Prime Minister Oli went to Khumaltar to meet Pushpa Kamal Dahal. Hemanta Shrestha/TKP
bookmark
Published at : December 20, 2020
Updated at : December 20, 2020 10:08
Kathmandu
Nepal Communist Party chair and Prime Minister KP Sharma Oli barely steps out of Baluwatar. Especially since he underwent a second kidney transplant on March 4 and given the pandemic, most of the party and Cabinet meetings are held at his official residence. But sometimes Oli does venture out. And this happens whenever he is in a deep crisis.

Just as the opposing faction led by other chair Pushpa Kamal Dahal prepared to turn up the heat on Oli to abide by party decisions or step down, he decided to turn on the charm.
On Saturday morning, he went to Khumaltar to meet with Dahal.
According to Dahal's private secretariat, Oli urged the other chair to withdraw the political document.
Dahal's political document presented at the November 13 Secretariat meeting has levelled serious charges against Oli and the latter does not want that to be formally discussed at party committees.
"But Dahal conveyed to Oli that since the document has already become the property of the party, the party committee should decide its fate," said a member of Dahal's secretariat.
Party insiders say Oli seems to have run out of options and hence was making a last-ditch effort to reach a deal with Dahal ahead of Sunday's Standing Committee meeting, which is expected to discuss Dahal's political document as well as Oli's rebuttal.
But if Oli does not withdraw the ordinance before the meeting, that will become the major agenda and Oli will face censure for refusing to abide by Wednesday's party decision, according to leaders.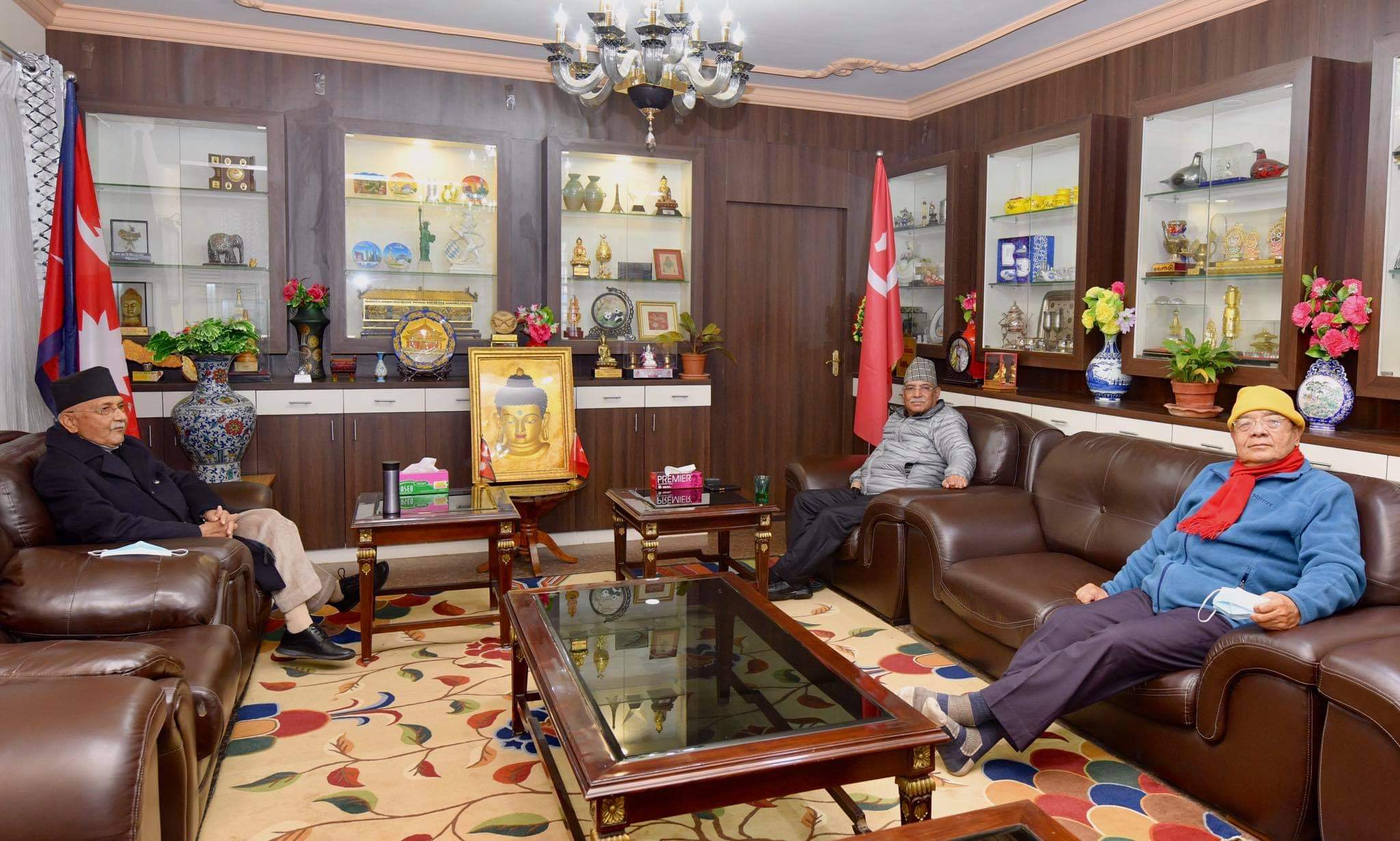 Ruling Nepal Communist Party chair and Prime Minister KP Sharma Oli (left), other chair Pushpa Kamal Dahal (centre) and vice-chair Bamdev Gautam at Dahal's residence in Khumaltar on Saturday morning. Photo Courtesy: Prime Minister's Secretariat
Oli's sudden move on Tuesday of bulldozing an ordinance to amend some clauses of the Constitutional Council Act, making it easier for him to call the Council meetings and taking decisions attracted widespread opprobrium. Many have said Oli committed fraud on the constitution.
Insiders say Oli is now making the ordinance a tool, saying he would withdraw it only if Dahal obliges to his demand.
A leader said the party has had enough of Oli now and no one is in a mood to tolerate his mischief.
"Some might find Oli's visit to Dahal's residence as a display of flexibility on his part," said Matrika Yadav, a Standing Committee member close to Dahal. "But it is not. He is a master at pulling a fast one on anyone. This is his yet another tactical manoeuvre."
According to party insiders, Oli never hesitates to use different means to win over leaders.
The last time Oli had left Baluwatar was in July when he visited party vice-chair Bamdev Gautam's house in Bhaisepati. Then too he was under pressure in the party.
Oli, who is known for making tongue-in-cheek remarks, is also known by long-time party members as a master politician, who is not only vindictive but also unpredictable.
Many say Oli might have been trying to gauge Dahal's mood after his refusal to withdraw the ordinance and assess whether Dahal would be ready to make concessions.
After his refusal to withdraw the ordinance, Oli has already invited confrontation in the party. Dahal, along with Madhav Kumar Nepal and Jhala Nath Khanal, on Friday held a gathering at Paris Danda with party members close to him to devise future strategy against Oli. Party vice-chair Bamdev Gautam, who is currently with the Dahal faction, however, skipped Friday's Paris Danda gathering.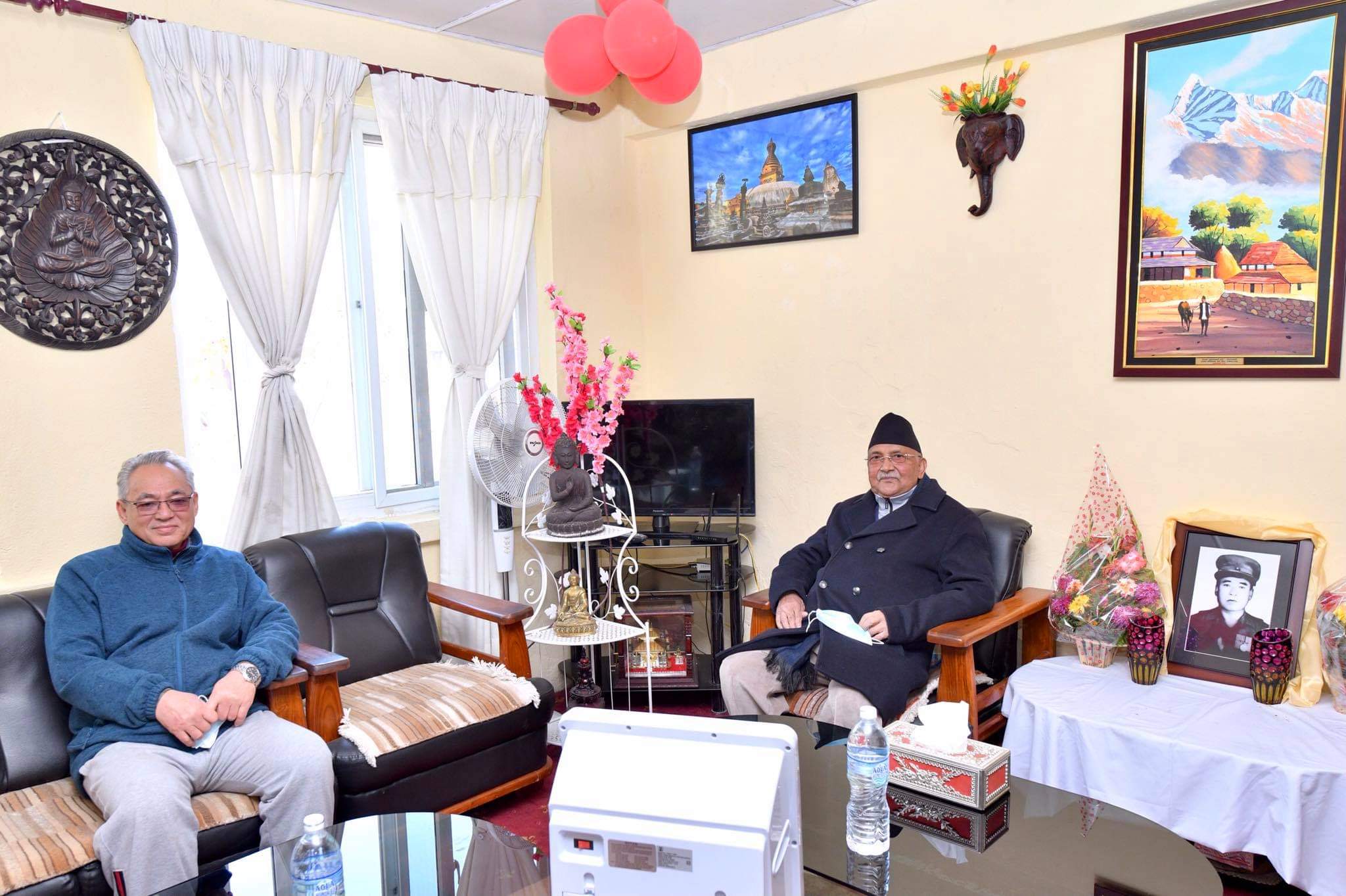 After leaving Khumaltar, Oli headed to Pulchowk to meet Ram Bahadur Thapa, a Secretariat member and the home minister. Photo Courtesy: Prime Minister's Secretariat
But Gautam did visit Dahal's residence on Saturday morning when he was holding talks with Oli. Oli left Khumaltar after Nepal arrived, according to leaders and headed to Pulchowk to meet Ram Bahadur Thapa, a Secretariat member and the home minister.
During the meeting, leaders said, Oli asked Thapa to play a role in making Dahal withdraw his political document.
Oli's two loyal ministers—Bhanubhakta Dhakal and Padma Aryal—joined in.
Party insiders say Oli may have been feeling the heat, but he does not look like in a mood to retreat anytime soon.
Speculations are also rife that Oli could take some drastic political steps, including the dissolution of Parliament, though it is not provisioned by the constitution, and reissuing the ordinance on Political Parties Act to amend clauses to split a party. Oli had issued the ordinance in April this year only to withdraw it within five days after massive criticism.
Later in the evening, Oli went to meet with President Bidya Devi Bhandari.
One of the advisers to the President described the meeting as "regular".
"The prime minister usually briefs the President on political developments and Cabinet decisions," the adviser, who did not wish to be named, told the Post. "Given what is going on, he may also have talked about the ordinance related to the Constitutional Council."
The adviser refused to elaborate.
A Standing Committee member said Oli has become even more unpredictable lately and it is difficult to say what moves he can make.
The ordinance comes as a good example, as Oli brought it suddenly on Tuesday, agreed to withdraw it on Wednesday but then decided to call a Council meeting on Thursday without withdrawing it. Though Oli later cancelled the meeting, he has not withdrawn the ordinance yet.
"No one knows what Oli is up to. He may withdraw the ordinance or may even come up with another ordinance related to party split," the Standing Committee member told the Post. "Anyway Oli in the past too had introduced both the ordinances."
There, however, is one concern that could make Oli waffle. Since Tuesday's ordinance has already dragged the President into controversy, Oli might hesitate to reissue the ordinance to amend the Political Parties Act.
President Bhandari's act of swiftly approving the ordinance, which was once repealed, has raised questions over her role, with many saying she has become a rubber stamp of Oli and brought disgrace to the high office.
A Standing Committee member who has emerged as the most vocal critic of Oli said that the party chair and prime minister has no option than to take back the ordinance before Sunday's meeting.
"If Oli does not withdraw the ordinance, it will automatically become the top agenda of Sunday's Standing Committee meeting," Bhim Rawal, a Standing Committee member, told the Post.
Rawal, along with Pampha Bhusal on Wednesday had reached Sheetal Niwas with signatures of as many as 83 lawmakers to demand a special House session to discuss the ordinance.
"Things are getting serious," said Rawal. "Let's see what Oli does before the Sunday meeting and how he presents himself at the meeting."
But Oli, according to leaders close to him, has not decided yet whether he will participate in Sunday's meeting. As far as the ordinance is concerned, there is no point in discussing whether it will be withdrawn or not as the party has already taken a decision.
"The party's Standing Committee has already decided that the government should withdraw it. So it's not an issue," said Subas Nembang, a Standing Committee member close to Oli, refusing however to explain why it has not been withdrawn even four days after the decision. "There has not been any decision on whether Oli will attend the Standing Committee meeting."
---
---