Oli goes on the offensive as he responds to Dahal's allegations
In a 38-page rebuttal, Oli reminds his fellow chair of his actions, past and present. He, however, has left some room for reconciliation, calling on all to work to save the unity.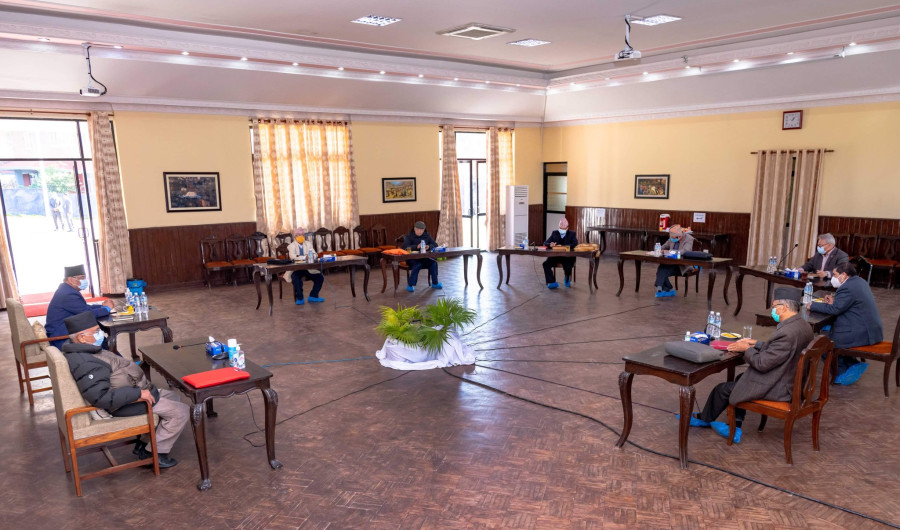 The Secretariat meeting of the ruling Nepal Communist Party held at Baluwatar on Saturday. Photo Courtesy: Surya Thapa/Twitter
bookmark
Published at : November 29, 2020
Updated at : November 29, 2020 10:36
Kathmandu
Coercion, threat, persuasion, arm-twisting and more. Nepal Communist Party chair and Prime Minister KP Sharma Oli has used all that was available in his armoury, as he responded to the other chair Pushpa Kamal Dahal on Saturday. He, however, has left some room for reconciliation.

Oli presented his political document, which was keenly awaited by the party members, the media and public, at Saturday's Secretariat meeting.
Referring directly to Dahal, he has once again made an attempt to assert that he is the one who calls the shots in the party. He went on to make some remarks that are too personal and even questioned his fellow leader's political and social standing.
In his 53-point rebuttal, Oli has tried to respond to every allegation that Dahal had made in his political document presented at the November 13 meeting.
Oli started his response calling Dahal's document a collection of artificial indictments that reflected nothing but his personal grudges, unbounded frustration and vested interest.
"This, prima facie, deserves rescindment," Oli wrote in his document, a copy of which was obtained by the Post.
Oli accuses Dahal of turning the disagreements into enmity, thereby pushing the communist movement towards a grave crisis.
He also took the credit for saving Dahal's politics by agreeing to a merger in 2018 with his party despite the fact that Dahal had broken the existing promise to lead the government for a second time in 2016.
In his document, Oli has also tried to remind Madhav Kumar Nepal, who has become his bete noire, that how Dahal once scuttled his prospects of becoming the President.
In quite a personal attack, he also questioned how Dahal's party had to resort to shenanigans for the sake of his daughter who was contesting for the post of Chitwan mayor during the 2017 local elections.
Oli also touched upon the transitional justice process, the Baluwatar land grab scam, and politicians' fancy lifestyles, among others, in an apparent indication that he still has some cards up his sleeve if he were to act vindictive.
In his 41st point, talking about the transition justice process, Oli says he has always been supportive of concluding it. He, however, has a word of warning too.
"This [transitional justice] is a very sensitive issue. This is an issue with which Nepal's commitment and credibility are attached… it concerns victims' feelings and there is international community's interest and concern," said Oli. "What is the meaning of your statement that you will 'take the responsibility for the deaths of just 5,000 people'?"
During the Dahal-led People's War from 1996-2006, around 13,000 people had died. The transitional justice process is yet to conclude and victims have been awaiting justice for the last 14 years. Dahal faces the accusation of delaying justice for thousands of conflict-era victims. In January, at a public function in Kathmandu, Dahal said that he would take responsibility for only 5,000 insurgency-era deaths. Failure to deliver justice to victims has become an albatross around Dahal's neck.
Oli on Saturday seemed to have used his political document to remind Dahal that the transitional justice process continues to hang above his head like the sword of Damocles.
"Be aware that such statements by you could complicate the matter further," said Oli. "Don't make the mistake of taking it lightly."
Though Oli has reminded the Secretariat of the past agreements, especially the September 11 decisions that had effected a ceasefire, in what looks like a hint that there could still be space for moving together, he has not given any other clear indication of retreating.
Rather, he has employed his typical impudent style to take a swipe at Dahal.
"In politics, one is allowed to agree and disagree. One can dissolve an existing party and can form a new party," he said. "One can join an existing party as well. All the more, if one is dispirited and dejected, one can quit politics… one can even retire."
Observers say as Oli has not only made light of almost every allegation Dahal had leveled against him but also rejected outright Dahal's political document, the ball is now in the latter's court. Or else, the likelihood of the two chairmen walking together is low, according to them.
"Oli appears to have reached a conclusion that he can no longer move ahead together with the other chair," said Hari Roka, a political analyst. "Going by the statements of some of his close leaders, Oli could now try to withdraw both the documents and bring a single one."
According to Roka, Oli has not taken any of the allegations seriously and has tried to cover up all of them, including the issues regarding socialism, corruption, the Millennium Challenge Corporation and the party's ideological issues, through his long-winded document.
Oli has also tried to play victim over allegations that he failed on the government front.
"Despite leading a strong government, Dahal created troubles, making me feel like a prime minister of a coalition government," said Oli.
On the party front, responding to allegations that he failed to run the party properly, Oli calls Dahal's competence into question, saying the latter desperately failed to complete the party unification despite promising, in the capacity of the executive chair, to do it "within three months".
The Nepal Communist Party (NCP), born out of a merger between Oli's CPN-UML and Dahal's CPN (Maoist Centre) in May 2018, has yet to conclude the unification completely. Over the last two years, it has faced a crisis so deep as many times that it has been quite close to implosion.
Dahal's document at the November 13 Secretariat meeting levelling fierce charges against Oli came this time around as a harbinger of a party split.
Over the past few weeks, Oli and Dahal have not only engaged in a shouting match but also have not stopped short of making personal attacks at each other.
Party insiders say the game of allegations and counter-allegations now has become "official" as both leaders' documents now have formally entered the party committee.
Barshaman Pun, a Standing Committee member, said he is not hopeful about the party remaining intact with the way Oli has presented his document.
"I had been lobbying for resolving all the issues through a joint document, but with Oli's document, I'm not very hopeful," Pun told the Post. "I don't see the party unity will remain intact now as Oli has refused to realise his weaknesses."
According to Pun, rather than making a resolve for protecting the party unity, Oli has decided to take a jab [at Dahal].
Saturday's Secretariat meeting concluded with the decision to hold the next meeting on Tuesday.
"Both the documents are now with the Secretariat," Naryan Kaji Shrestha, a Secretariat member and also the party spokesperson, told reporters after Saturday's meeting. "Both the documents will be discussed at the next meeting."
There is no clarity if both chairmen will sit down and hammer out issues so as to bring one political document or decide to gradually part ways.
Dahal, according to a Secretariat member, termed Oli's coming up with a document a positive move.
"We have yet to study the document," the member quoted Dahal as saying. "But the document did not have an iota of self-criticism."
It was not clear if it was a coincidence or a deliberate move, Oli's rebuttal to Dahal's 19-page document has exactly the double number of pages–38.
A Standing Committee member, who is close to Madhav Nepal, described Oli's document as extremely convoluted—one that reeked more of vengeance than a response to his fellow comrade's political paper.
"It would have been nice if Oli had come up with a political response without taking questions asked to him at the personal level," the member said. "Even though Oli has described Dahal's document as a collection of allegations, his is no less when it comes to heaping criticism on Dahal."
Towards the end of his rebuttal, Oli, however, has called on his fellow comrades to work to protect the party unity.
"Don't sow the seeds of division. Don't spread negativity," said Oli. "Today, we are one party, legally, but emotionally we have been divided. Isn't it time to end this?"
He, however, has ended with one last dig at Dahal, borrowing from Marx.
"It is said history repeats itself twice, the first time as tragedy, second time as farce," said Oli. "History has already repeated itself as tragedy. Are you [Dahal] waiting for another farce?"
---
---