US Embassy seeks clarification after Beijing says Nepal 'disapproves' of Indo-Pacific Strategy
The US ambassador will be meeting with the foreign secretary to confirm if China's statement citing Pushpa Kamal Dahal's stance on the Indo-Pacific Strategy reflects Nepal's official position.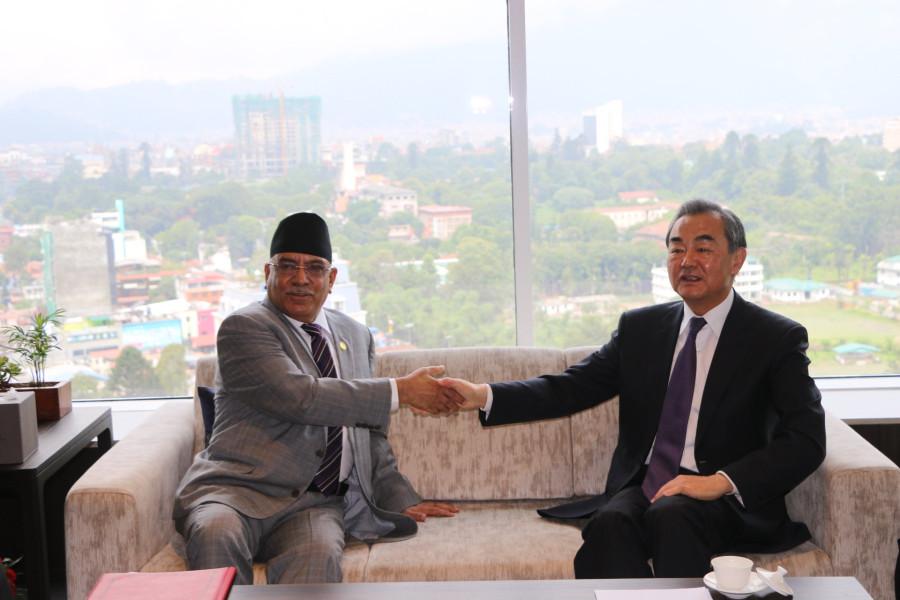 Nepal Communist Party Co-chair Pushpa Kamal Dahal meets Chinese Foreign Minister Wang Yi in Kathmandu on Tuesday. Courtesy: @cmprachanda via twitter
bookmark
Published at : September 11, 2019
Updated at : September 11, 2019 20:13
Kathmandu
The US Embassy in Kathmandu has sought clarification from the Ministry of Foreign Affairs after a statement released by Beijing summarising a meeting with Pushpa Kamal Dahal, a co-chairman of the ruling Nepal Communist Party, said Nepal "disapproves" of the US-led Indo-Pacific Strategy.
"We are seeking a clarification from the Ministry of Foreign Affairs," a US Embassy spokesperson told the Post on Wednesday. "We await the Nepali government's official clarification and we have asked our Embassy in Beijing to verify the statement issued there. If true, it is bewildering that we now learn about Nepal's positions from statements issued from Beijing."
The contents of the statements released by the Chinese foreign ministry were reported by The Post on Wednesday. According to one of the statements, in a meeting with Chinese Foreign Minister Wang Yi, Dahal said that Nepal firmly adheres to the non-alignment policy, disapproves of the so-called 'Indo-Pacific strategy', and opposes any attempt to stop the development of China.
Wang was in Kathmandu for a three-day visit to lay the groundwork for a potential stopover by Chinese President Xi Jinping. Wang held talks with President Bidya Devi Bhandari, Prime Minister KP Sharma Oli, Foreign Minister Pradeep Gyawali, and two former prime ministers—Dahal and Sher Bahadur Deuba.
A member of Dahal's private secretariat confirmed to the Post on Wednesday that Dahal told Wang that Nepal disowns any policy or strategy targeted at any nation in general and a neighbouring country in particular.
"If Indo-Pacific Strategy is to target China, we cannot accept it," Dahal told Wang, according to Dahal's press coordinator Bishnu Sapkota, who participated in the meeting. "If the Indo-Pacific Strategy is targeted at any country, it is not acceptable to us. Nepal has long been pursuing a policy that any plan or strategy should not target our neighbours. We want to make it clear that this is our party and our government's policy too."
Randy Berry, US Ambassador to Nepal, will be meeting with Foreign Secretary Shankar Das Bairagi on Thursday to verify if such a statement was made, and if so, what will that mean for Nepal's position in the Indo-Pacific Strategy, according to the Foreign Ministry and the US Embassy in Kathmandu.
Nepal's inclusion in the US-led Indo-Pacific Strategy came to light when Foreign Minister Gyawali travelled to Washington, DC in December and held talks with the US Secretary of State Mike Pompeo. The two leaders reportedly discussed the US' Asia policy, also known as the Indo-Pacific Strategy, and Nepal's key role in a free and open Indo-Pacific.
Gyawali, however, later refuted the US State Department statement that said Nepal is part of the larger US-led initiative. Holding a press conference days after he returned from Washington, Gyawali told media persons that though Nepal's role in the Indo-Pacific region was discussed during his meeting with Pompeo, they did not talk particularly about the Indo-Pacific Strategy.
"Since Nepal is the SAARC chair and a member state of BIMSTEC, the US reckons that Nepal can play a crucial role in the Indo-Pacific region. But reports about the US including Nepal in its Indo-Pacific Strategy are false," he said during the press meet last December, emphasising the fact that that 'region' and 'strategy' are two different things.
Later, two US officials who visited Kathmandu categorically reiterated that Nepal is very much part of the US-led initiative. In June, a report from the US Department of Defense also stated that the United States seeks to "expand" its defence relationship with Nepal under the 'State Partnership Program in the Indo-Pacific.'
***
What do you think?
Dear reader, we'd like to hear from you. We regularly publish letters to the editor on contemporary issues or direct responses to something the Post has recently published. Please send your letters to [email protected] with "Letter to the Editor" in the subject line. Please include your name, location, and a contact address so one of our editors can reach out to you.
---
---