Civilisational linkages
Since both Nepal and India are culturally rich republics, their relations need to be mutually beneficial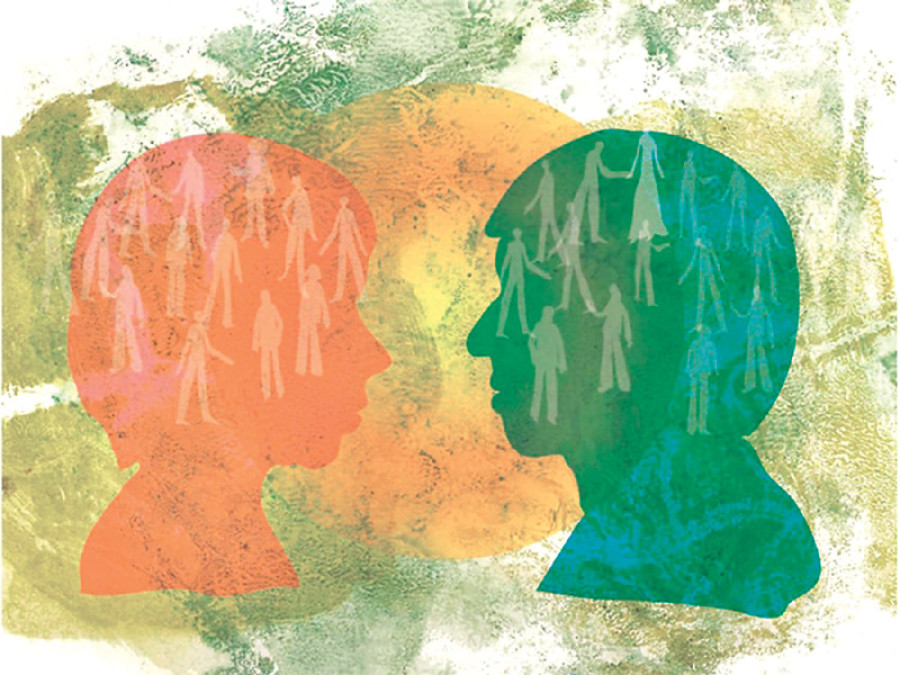 bookmark
Published at : November 7, 2016
Updated at : November 7, 2016 19:36
I had been asked to speak on civilisational links between Nepal and India at a seminar held during the recent Nepal visit of Indian President Pranab Mukherjee. The two countries possess common cultural traditions that transcend religion, culture, societal rituals and practices. But I am also reminded of an essay included in Tribhuvan University's BA syllabus entitled 'What civilisation is not'. In the given context, however, civilisation is taken in a narrower sense. It is conventionally discussed as being part of religion, culture, common societal traits and rituals. Art, architecture and literature are also considered to be symbols of civilisation.
These commonalities are believed to have enriched the bonds of friendship, brotherhood and a sense of belongingness. The very spirit of 'Jambu Dweepe, Bharata Khande' and so forth and recitations invoking the names of holy rivers join the South Asian region into a cultural zone. Despite a 1000-year history of Muslim and Christian rule, India's distinct civilisational identity was not dislocated. On the contrary, emperor Akbar recognised the essence of religious harmony and formed a group of nine talented men known as 'Navaratna' (nine jewels) in his court.
Diversity galore
Nepal, in contrast, enriched itself with the comingling of different cultural and religious trends that gave a distinct identity to Nepali society. The Kathmandu Valley, in particular, is not only rich in creating and preserving a synthetic cultural tradition that has been able to maintain cultural and religious harmony as of today.
It has been said that "a distinctive civilisation evolved in the valley, moulded in part by the interplay of diverse cultural and intellectual influences originating beyond its borders, but bearing above all the unique impress of the gifted Nepali people". Although Nepal has been able to retain such a strong 'synthetic tradition' because of its strong roots in creating social harmony, it is now being challenged due to the negligence of politicians. It is still surprising to observe that despite a fractured and weak leadership, the traditional bonds remain undisturbed.
Nepal's tribal/ethnic groups (Adivasi/Janajati), Madhesis, Tharus and Muslims seem to be conscious about maintaining the social harmony, but at the same time, asserting their rights to social justice. Some think that such assertions may give rise to national disintegration and conflict, but others think it is a fallacious argument that goes against the spirit of political accommodation and social pluralism. An old political mindset and religious colouration have worked against the very spirit of political inclusion, which to my mind, is also the way for empowerment of all sections of people regardless of caste, ethnicity, religion and region.
The Indian context is slightly different from that of Nepal as India is more diverse in the religious, regional and cultural sense. A long history of foreign invasion and rule has not only widened the scope of civilisational boundary but also sowed the seeds of conflict, which Samuel P Huntington calls 'The Clash of Civilisations', though his focus is more on religious conflicts across the world. Indian civilisation is richer than many other world civilisations because of both philosophical and moral roots. The Vedas, Gita, Puranas and Upanishad, to mention a few, and the contributions made by saints, philosophers and preachers have continued to synthesise cultural values. The universality of Buddhism, moderate Islam, nearness of Sikhism to Hinduism, Suphism and Jainism and others have contributed to making India rich in this tradition. The social changes and religious reforms initiated by reformers and thinkers are being reinvigorated with newer interpretations. It is, therefore, a culture creation as well as a culture preservation process that helps to preserve India's 'unity in diversity'.
Since Nepal is an integral part of this great sub-continental tradition, its civilisational identity cannot be isolated from the great Indian tradition. Nevertheless, the two are separate nation-states with their own respective historical traditions and political trajectories. India's long and broad civilisation and historical wilderness for centuries and its political and cultural formations are not so similar to those of Nepal. Gandhi, who played the dual role of a political leader and a social reformer, made a good mixture of politics and social reform agendas that contributed to comprehending the Indian socio-cultural mosaic. Even while becoming a devout Hindu in appearance, he took the banner of an anti-caste system and anti-capitalism. Gandhi became progressive without being hostile to other religions. Thus, supported by his colleagues, he laid the foundation of secularism in India despite its being a predominantly Hindu state.
Nepali politicians need to understand why the leaders of India accepted it. Hinduism as a moderate and tolerant religion is well accepted, but maintaining social and political harmony without recognising pluralism and the aspirations of various communities is another matter. Each member of society should have a feeling that he or she is as integral to societal cohesion as any other member.
Real democracy
Going much beyond the conventional understanding of civilisation, I want to relate this concept to society, polity and the economy. To make a society highly civilised, the existing social disparities—perpetuated by caste divisions, religious bigotry, monopolised education system (too much elitist) and its consequences of continued deprivation of the poor and less-privileged sections—must end. How can the existing disparity gaps that deny access to quality education and routes of empowerment contribute to creating a new civilised society? Education creates culture, and culture produces an atmosphere of harmony that produces a cooperative society.
Similarly, democracy itself is a civilisation if practiced properly. Ironically, democracy today is increasingly becoming an arena of cultural destruction or uncivilised practices. Today, democracy is understood only in terms of elections as if electocracy is democracy. Instead of creating a good political culture, elections are being hijacked by evil forces whose ultimate objective is to grab power and money by using the instruments of the state and by taking shelter under the most unscrupulous elements of society. Since culture is civilisation, any kind of culture, political or otherwise, is related to the evolution of civilisation. Democracy, if practiced rationally, makes people conscious and creative. Its perverted forms produce all other forms of social perversions that destroy the very essence of civilised society.
Civilisation is thus an inclusive concept. In today's world, civilisation is cross-fertilised making it broad-based and multi-dimensional. Nepal and India are in that process besides being in an advantageous situation because of their similar cultural traditions and roots despite being two separate independent countries. Since both are culturally rich republics, their relations need to be mutually beneficial.
Baral is a professor and former Nepali ambassador to India
---