Talking about trading
The way things are, earning money from carbon trading seems to be a distant dream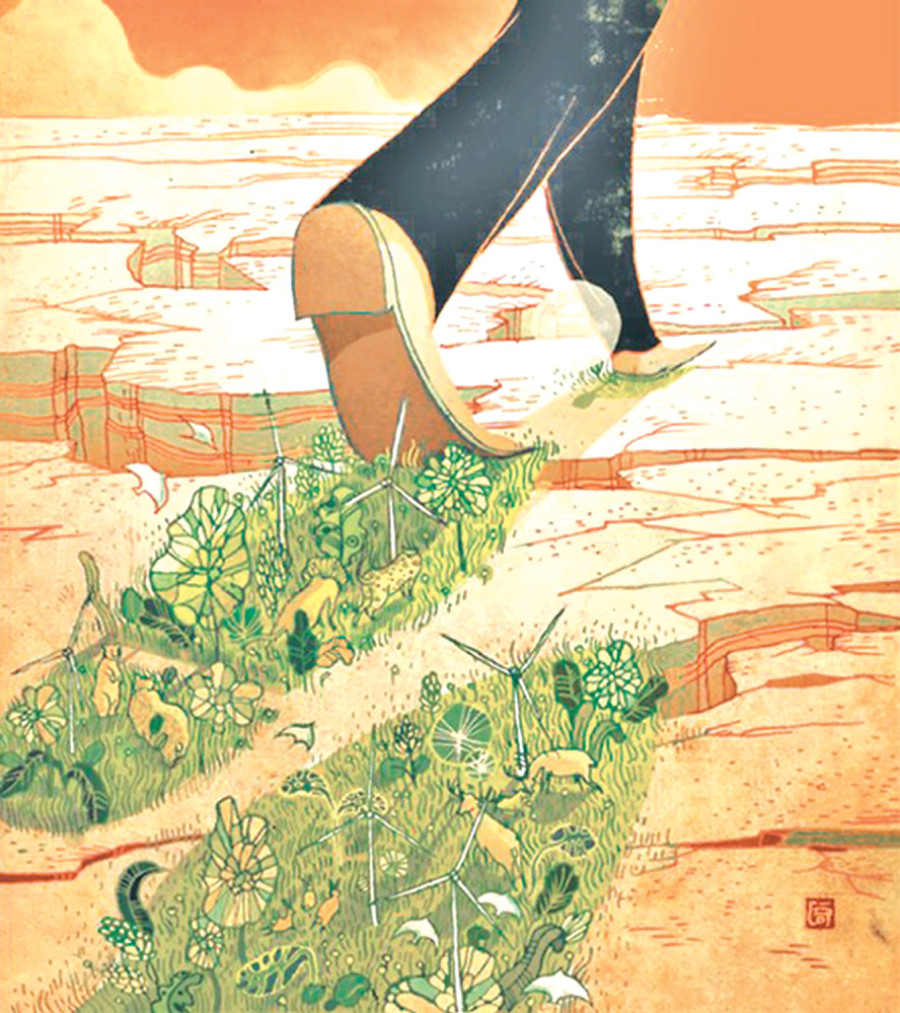 bookmark
Published at : May 27, 2016
It has been over eight years since Nepal started talking about forest carbon trade, but the question that remains is whether the country will really benefit from the idea of Reducing Emissions from Deforestation and Degradation (REDD+). Between 2011 and 2013, more than 100 community forest user groups in the three hill districts of Dolakha, Gorkha and Chitwan received about Rs30 million from an experimental project in REDD+ financed by Norway.
This transfer of funds had raised hopes in Nepal of the potential of earning money from carbon trade under the REDD+ scheme. However, these user groups have not received any money since then. We are not aware of any other group in the country receiving such carbon payments either. What we hear instead is only talk about carbon among REDD+ experts, NGOs, donor agencies and government officials in Kathmandu. The media and academic discourse is rife with optimistic analysis of REDD+ in Nepal. Yet, the actual trade of carbon and flow of money to those who conserve forests still appears to be a distant dream.
Idea of REDD+
In fact, the implementation of the REDD+ scheme has not been straightforward. Since the idea evolved at the United Nations convention on climate change in 2007, REDD+ has become a controversial issue worldwide. The promoters of REDD+ believe that it will incentivise forest owners and governments in forest conservation. On the contrary, there are others who argue that REDD+ will instead destabilise forest governance and reverse the trend of decentralisation. According to this view, REDD+ will undermine community autonomy. Nepal has made remarkable achievements in decentralised forestry; and if REDD+ leads to recentralisation, that will cause insurmountable damage to people-centred forest management. In such a situation, any money that may come as carbon revenue will not be enough to repair the institutional damage.
The idea of REDD+ is that if you protect forests and avoid cutting trees, you will be rewarded with an equivalent amount of carbon value preserved in the forest. The carbon market is evolving globally, and currently it sells for about Rs500 per tonne. Nepal possesses nearly 1 billion tonnes of forest carbon, and this can mean a substantial amount of revenue. But it all depends on baseline, verifiable evidence of carbon sequestration and the actual REDD+ market structure. A recent government report shows that Nepal's forest area has increased from 39 to 43 percent, raising hopes of potential benefits from REDD+.
Not ready yet
Nepal has a long way to go before it can receive money. Its REDD+ work seems to be focused on the easiest part, and the most challenging part has not even been touched. The REDD+ readiness work has concentrated on community forests and reversing deforestation, most of which are situated in the hills. But the tricky part is when a baseline will be set for measuring carbon. More importantly, little has been done in the Tarai and Chure where the deforestation rate is higher and the carbon revenue potential greater. Forests in the Tarai and Chure are facing deforestation due to poor governance and law enforcement. The current system of forest governance is not strong enough to control deforestation and forest degradation, hence implementing REDD+ is challenging. A more dynamic, effective, transparent and deliberative approach to forest governance is required where both science and voice underpin forest management and policy decisions.
Another problem is inadequate technical capacity to fulfil the requirement of carbon buyers for concrete evidence validated by external monitors of the increment in carbon stocks. This is the most difficult part for a country like Nepal which lacks consistent and comparable baseline data. Moreover, the country has weak institutional capacity in terms of both managerial efficiency and human resources to produce reliable and verifiable carbon data acceptable to global carbon buyers.
Selling carbon would bring more money, but there are trade-offs. It is not clear how REDD+ will reconcile the presumed trade-offs between carbon sequestration and the livelihoods of communities. Forests in Nepal are part of the local livelihood system, and an emphasis on carbon is likely to threaten the existing practices of forest use. If you cut down trees and use the wood to build a house, your carbon revenue will decline (unless replenished by a higher rate of forest regeneration). Forest user groups will have to decide how many trees they want to cut down to meet their members' demand and how many they want to save to earn carbon units. Maximising carbon revenue from forests is also likely to undermine biodiversity conservation. We thus need strong social and biodiversity safeguards.
How to share the expected REDD+ revenues equitably presents a formidable challenge. The issue of equity is extremely important in the context of Nepal's highly divided and exclusionary socio-economic environment. It is crucial that the revenue from REDD+ be distributed equitably among local communities, local governments and the national government. The question is how decisions regarding the implementation of REDD+ will ensure democratic and inclusive involvement of diverse stakeholders, particularly the communities who will be most affected by the consequences.
Dismally low chances
Who frames the REDD+ agenda and how the voices and concerns of local communities and indigenous people are incorporated into governance processes have become important concerns worldwide. It is also important to ensure that community ownership is retained as a fundamental aspect. Ensuring social safeguards to protect the rights of the poor and marginalised groups is important. A robust mechanism is necessary to ensure accurate measurement, reporting and verification of the existing levels and changes in carbon stocks.
Governing REDD+ is even more challenging in Nepal's proposed federal governance structure. It is unlikely that forest governance reform will get the political priority that it deserves. Discussions among experts and NGOs about REDD+ are not likely to lead to carbon trade (and subsequently transfer of money) unless there is political buy-in. This is especially important considering Nepal's federal transition where the possibility of the current REDD+ readiness activities influencing policy and institutional change remains dismally low.
Ojha is a public policy expert; Khatri is a researcher associated with ForestAction Nepal
---
---