Vital registrations of refugees on cards
IDs will help them with essential tasks like school enrolment and opening bank accounts.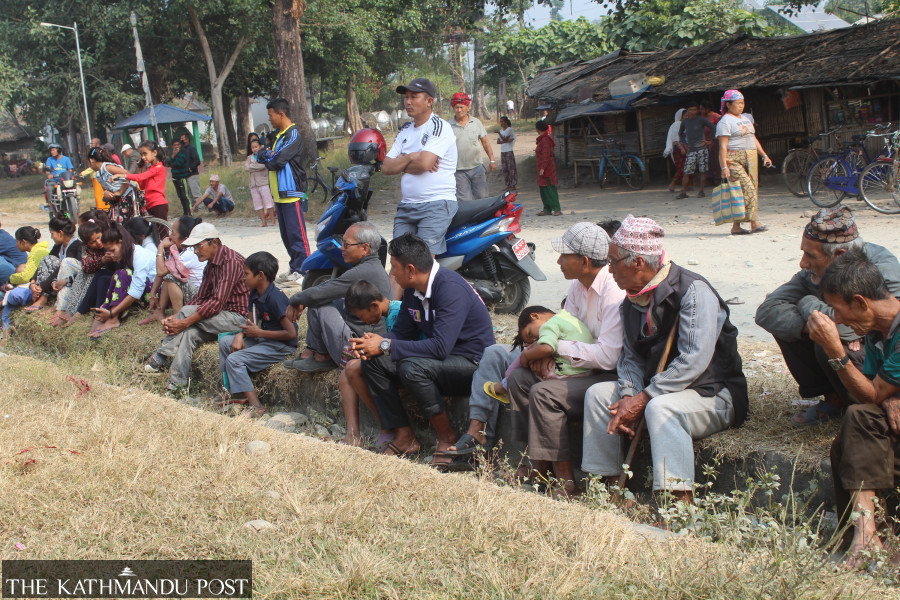 Around 6,365 Bhutanese refugees are still living in Nepal in two camps at Beldangi and Sanischare of Jhapa district, according to the UN refugee agency. Post File Photo
bookmark
Published at : May 3, 2023
Updated at : May 3, 2023 07:44
Kathmandu
For the first time, the Department of National Identity Card and Civil Registration is considering registering the births, deaths and other vital events of the refugees living inside the country. Although the legal framework and parameters for this are being discussed, officials said both the home ministry and the department are positive about the civil registration of refugees.

"Refugees living inside the country are facing problems and we are looking for a way to address them," Navaraj Jaisi, director at the civil registration department, told the Post.
As of now, the government only allows the birth registration of refugees. As per the directive of the home ministry after 2006-7, refugee children can be registered in the respective ward offices, but other events are not recorded. "We need to bring those matters under the legal framework and parameters and are in discussion with other line agencies on how that can be done," one official at the department said.
The Nepal government has given refugee status to thousands of persecuted Tibetans and Bhutanese people. After third-country resettlement, the number of Bhutanese refugees living in camps in Jhapa has come down to around 6,300 even as the exact population of Tibetan refugees is unknown. Tibetan refugees with identity cards are 'documented' while those who have not obtained the refugee cards are 'undocumented' ones. A home ministry official said the number of Tibetan refugees living in Nepal stands around 12,000.
"As we don't have the law for the vital registrations of refugees," said Jaisi, "we only maintain their records." Refugees face many difficulties in the absence of vital registration, he added.
There were talks of providing refugee identity cards and permanent account numbers (PAN) to Bhutanese refugees when Sher Bahadur Deuba was the prime minister, but that did not materialise.
Separately, the Ministry of Law, Justice and Parliamentary Affairs has also consulted legal experts and human rights defenders on how to initiate vital registrations of refugees, its advantages and disadvantages and other legal procedures. "I was invited to the consultation process on Tuesday, but I could not attend due to my busy schedule," said Indra Aryal, former chairman of the Human Rights Organisation of Nepal. "I will visit the ministry this week."
The distribution of identity cards to Tibetan refugees has been halted since 1995, but some governments, under pressure from Western countries, have tried to restart the process. But Chinese pressure has prevented the resumption of the process. "This should not be seen as resumption of identity card distribution to Tibetan refugees," a home ministry official said referring to the government plan to start vital registration of refugees.
According to ministry sources, the local administration does renew refugee identity cards every year, but very few of them have come for renewal of their cards this year. According to the UN refugee agency (UNHCR), the country hosts around 20,000 refugees, including those from Tibet, Bhutan and other states.
Earlier, it was often said that there were around 20,000 Tibetan refugees in the country but going by the data of the home ministry and the Tibetan community, the current population of the Tibetan refugees stands at around 12,000.
Between 2007 and 2016, the UNHCR helped resettle more than 113,500 Bhutanese refugees in eight different countries in one of the largest resettlement programmes globally, said the UN refugee agency.
As many as 6,300 Bhutanese refugees are currently living in Jhapa and Morang districts. But the local administrations in Jhapa and Morang had already begun the vital registrations of Bhutanese refugees living in the two districts in 2017.
As per the home ministry data, as many as 9,101 Tibetan refugees are living in various places in Kathmandu Valley, but very few of them have come for renewal of their refugee identification, the ministry official said. This number includes the Tibetan refugees living in Bauddha, Swayambhu, Pharping, Jawalakhel and Jorpati.
As per the latest documentation, as many as 4,546 Tibetan refugees are living in the Bauddha area. There are Tibetan refugees also in Kaski, Solukhumbu and Baglung, among other districts of Nepal.
The need for vital registrations of refugees became acute after the recent busting of a ring that illegally provided Nepali citizenship certificates to Tibetan refugees, the home ministry official said. "If we could give them some kind of identity, they would not indulge in such a crime."
In the first week of April, the Nepal Police arrested some middlemen, one Tibetan refugee and one junior official of Kathmandu District Administration Office involved in providing Tibetans Nepali citizenship through fake affidavits.
Jaisi said that an identification would help refugees get school admission, do business, and open bank accounts, besides accessing other services. "We are also discussing the advantages and complexities that can arise after we open vital registrations for refugees," said Jaise.
Some human rights defenders have welcomed the proposal. "Earlier, refugee cards were proposed for all undocumented Tibetans living in various refugee settlements, as well as PAN (permanent account number) cards so that they could work," Gopal Siwakoti, chairman of INHURED International, a human rights NGO, said. "If the refugees are registered, their number and identity will be under the state's purview. As per the constitution, the government should register everyone born inside Nepal's borders," said Siwakoti. Registration and identity cards are their rights, he added.
As per Article 11 (4) of the constitution, "every minor found within Nepal's borders, the whereabouts of whose father and mother are unknown, shall, until the father or the mother of the child is traced, be a citizen of Nepal by descent".
---
---