Nepali Congress decides to join government
A central work execution committee meeting of the party also decides to vote for Prime Minister Dahal in the floor test.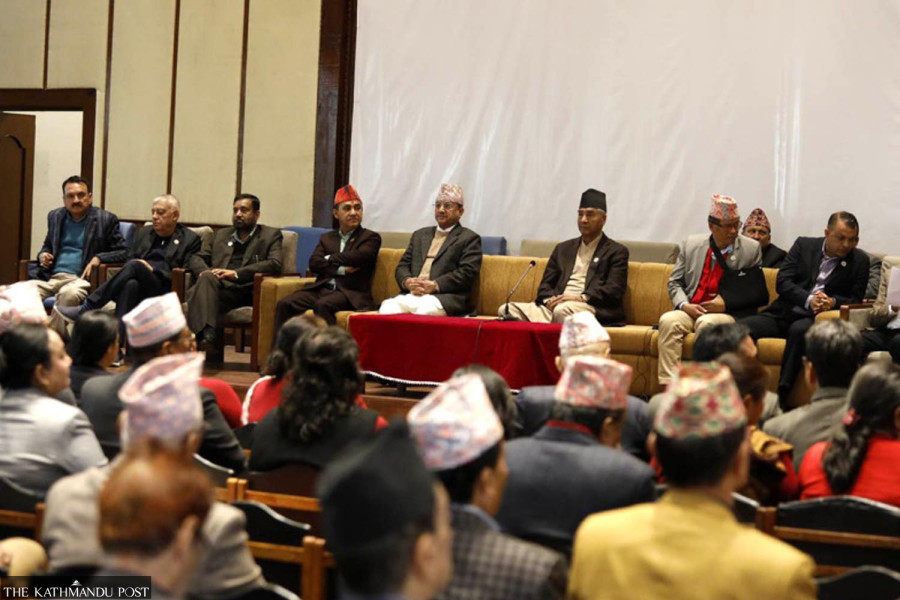 Nepali Congress leaders attend a central work execution committee meeting on Sunday. Angad Dhakal/TKP
bookmark
Published at : March 19, 2023
Updated at : March 19, 2023 13:20
Kathmandu
The Nepali Congress has decided to join the incumbent government.

A central work execution committee meeting of the party held on Sunday morning decided to join the Pushpa Kamal Dahal-led government and vote in favour of the prime minister in the floor test.
The prime minister is scheduled to take a vote of confidence at the meeting of the House of Representatives on Monday.
Congress lawmakers will shift to the ruling benches from a House meeting slated for Sunday, said Prakash Sharan Mahat, the party's spokesperson.
On March 1, the meeting of the lower house was postponed to March 19 after Congress lawmakers refused to leave the opposition benches.
Mahat said a concrete discussion on the number of ministerial berths and names of ministers from the party will be held from Monday.
After the CPN-UML and two other forces–the Rastriya Prajatantra Party and the Rastriya Swatantra Party-left the government following the breakdown of the alliance formed on December 25, Dahal is all set to take the Nepali Congress on board as the largest coalition partner.
More parties including the CPN (Unified Socialist) will join the government but power-sharing negotiations will only begin when Dahal wins the vote of confidence.
According to one Congress office bearer, someone senior will lead the party in the government with the portfolio of deputy prime minister. That could be party Vice-president Purna Bahadur Khadka, Shekhar Koirala, Bimalendra Nidhi or Prakash Man Singh, Congress leaders said.


As Vice-president Khadka played a key role in negotiating between Dahal and Deuba and removing the UML from the alliance, he could be the frontrunner to lead the party in the government. Khadka, who once served as home minister, is interested in joining as deputy prime minister and home minister.

---