More street protests: What do they signal?
They hint at public frustration, mounting since 2015 quakes, observers say. Lack of delivery has made things worse.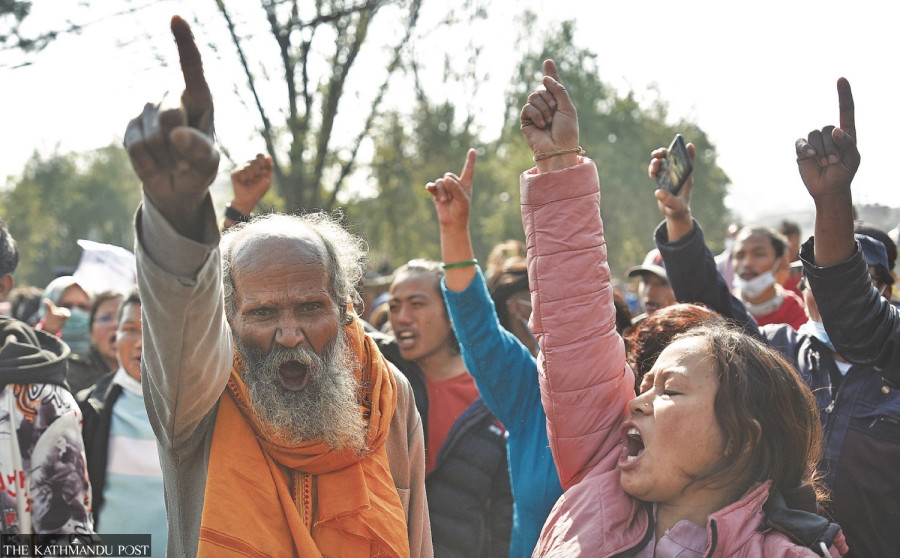 The frequency of protests has increased markedly after the formation of the new government following the November 20 general elections. Post File Photo
bookmark
Published at : February 2, 2023
Updated at : February 2, 2023 00:35
Kathmandu
After the January 25 death of Prem Prasad Acharya, who had set himself on fire in front of the Parliament building at New Baneshwar a day earlier by accusing the government, in an over 6000-word Facebook post, of promoting corruption and making things difficult for entrepreneurs, scores of activists and commoners took to the streets under the banner "Kathmandu Uprising" as they rallied behind Acharya's cause.

The demonstrators gathered at Maitighar Mandala and marched up to New Baneshwar, where the Parliament is located. They labelled Acharya's death 'a murder, not a suicide.'
Four days later, on Sunday, a large number of people again gathered at Maitighar with placards to protest the ongoing demolition of 'illegal' private structures and 'indiscriminate' use of bulldozers by the Kathmandu Metropolitan City.
Sunday's protest was led by Suman Sayami, an independent candidate who had unsuccessfully contested for Kathmandu's mayoral seat last year. Sayami even supported the new mayor Balen Shah briefly, but has now been leading protests against the mayor's 'high-handedness'.
"We are protesting against Mayor Shah who has been running a demolition campaign without a legal mandate and acting dictatorially," Sayami said.
Similarly, last Friday landless squatters marched to New Baneshwar from Maitighar Mandala to protest the City's attempts to clear the squatter settlement along the Bagmati riverbanks at Thapathali. The squatters demanded that the authorities provide them an alternative place to live before removing the settlement.
In late November, the KMC had tried to forcefully evict the Thapathali squatters, but backtracked after strong resistance from various quarters.
Similarly, over the past few months, street vendors, who have been banned from the streets, have been in protest demanding an alternative place for doing business.
Likewise, several rights activists including Ruby Khan have been staging a sit-in at Maitighar Mandala for weeks demanding action against those involved in the suspicious disappearance of Banke's Nirmala Kurmi. They have been staging protests at Maitighar since December 29, 2022, seeking justice for Kurmi. Earlier, in October 2021, the group had walked all the way from Nepalgunj to Kathmandu, covering a distance of over 500 kilometers in 20 days.
Several other protests have been ongoing in Kathmandu demanding justice for victims of rape and other forms of sexual violence.
These protests indicate citizens' growing dissatisfaction with poor governance. The frequency of protests has significantly increased after the formation of the new government following the November 20 general elections.
"It's been 34 days since we started a sit-in seeking justice for Nirmala Kurmi, and in this period I have seen over 15 protests by squatters, street vendors and businessmen, among others, at this place [Maitighar]," said activist Ruby Khan, whom the Post scribe met on Tuesday at Maitighar.
"These protests are a sign of the government's failure to ensure social justice, and growing lawlessness in the country," she said. Khan argued that the country successfully held two different elections within a year, but when it came to giving justice to common people like Nirmala Kurmi, state agencies disappointingly failed. "But we are not ending our protest until Kurmi gets justice," said Khan.
Observers say the Nepali public, who faced a series of disruptions in their lives due to the big earthquake of 2015 and subsequent economic blockade, followed by the recent Covid pandemic, is extremely frustrated as most people did not get any government support even during difficult times. The political parties, all the while, have been busy in power games and rather indifferent to the common man's plight.
"In both the local and federal elections, citizens showed huge interest in new political parties and candidates, but they too have started acting like old parties, increasing people's frustration," said Guman Singh Khatri, an assistant professor at the Tribhuvan University's Central Department of Sociology.
He gave examples of the leaders who took part in last year's local and federal elections. Their actions after being elected are in stark contrast to the commitments they made in their election manifestos, he said.
For instance, Kathmandu's mayor Balendra Shah, added Khatri, would sing songs like 'Gariba Ko Chameli Boldine Koi chhaina (there is no one to speak for the poor) before the elections, but after getting elected launched a crackdown on the urban poor such as footpath vendors and squatters.
Similarly, he criticised Rabi Lamichhane, who recently resigned as home minister after his citizenship was found invalid, as a 'self serving politician'.
"He talked of transparency and the rule of law, but then contested the election by using an invalid citizenship. He launched a 'No not again!' campaign against regular political faces, but later joined hands with the same politicians and parties. Even after the court invalidated his election, he wants his Cabinet position back. Isn't this an irony?" said Khatri.
Meanwhile, political analyst Hari Sharma says there is a possibility of another political movement as Nepal has been witnessing uprisings and political changes every ten years or so since the advent of democracy in 1951.
"We witnessed a major agitation in 1979, which forced the king to hold a referendum on the system of government, the 1989 movement restored multiparty democracy, and the 2006 movement led the country to republicanism," said Sharma. "Nepali society always strives for change."
He also questions the metanarratives that certain sections of society are trying to create. "These days, anyone talking about good governance and accountability is accused of working at the behest of NGOs [non-governmental organisations]," he said.
Sharma said the ongoing protests and demonstrations are important as they question the government and their actions and should be seen as an attempt to make the authorities more accountable. "But these small movements do not have a desired impact for the lack of effective coordination."
On Acharya's self-immolation, Sharma says it was an attempt to show his pessimism at the entire Nepali society.
"For me, at this point in time, Nepali society seems to be dead. Whatever is happening around is not triggering us morally," said Sharma. He drew parallels between the self-immolation by a fruit seller in Tunisia in 2010 that triggered the Arab Spring and Acharya's case last week.
Assistant Professor Khatri says there is a possibility of individual frustrations taking the form of a mass protest. "There is also a chance of the agitating groups connecting with each other," said Khatri.
"And this could challenge the whole political system," added Khatri.
---
---