A long and arduous walk for justice
The 20-day journey by 14 people, including 11 women, to Kathmandu from Nepalgunj on foot reflects the labyrinthine red tape inhibiting the Nepali justice system and exposes how the state is failing its citizens.

Relatives of Nakunni Dhobi who walked all the way from Nepalgunj, in Kathmandu on Wednesday. They want justice for Dhobi, who they claim was murdered, and Nirmala Kurmi, who's been missing. Sanjog Manandhar/TKP
bookmark
Published at : October 8, 2021
Updated at : October 8, 2021 00:54
Kathmandu
On Wednesday, 14 people, including 11 women, arrived in Kathmandu from Nepalgunj—walking all the way, over 500 kilometres. After being denied justice by local authorities, the group decided to march to the Capital, on foot, to hammer home but one point—they want justice.

Their demand is fair investigation into the death of Nakunni Dhobi and disappearance of Nirmala Kurmi.
Nakunni, 38, was found dead under suspicious circumstances at her home on July 20 in Ward 2 of Janaki Rural Municipality in Banke.
Nirmala, 52, had gone missing in January 2010 from the same rural municipality. Her disappearance came just two years after her two teenage sons were murdered within the span of one week. Neighbours and villagers say Nirmala owned a great deal of property, making her disappearance and the murder of her two sons suspicious. But police never took the case of her disappearance seriously.
When local residents and activists pressured police to investigate her whereabouts, the District Police Office, Banke on December 1 last year turned them away saying there was no point investigating the matter as Nirmala was already dead.
When the relatives and neighbours of Nakunni and Nirmala tried to lodge complaints with the district police with the support of the Banke chapter of the National Women Rights Forum in August this year, police once again refused to investigate the cases.
The relatives and neighbours of the two women say authorities refused to pay heed to their calls for justice despite a 19-day protest (from August 29 to September 16) in front of the District Administration Office.
The district administration instead presented a post-mortem report of Nakunni, saying she died by suicide. Her relatives have dismissed the report. As they continued their protest, the district administration used force to chase them away.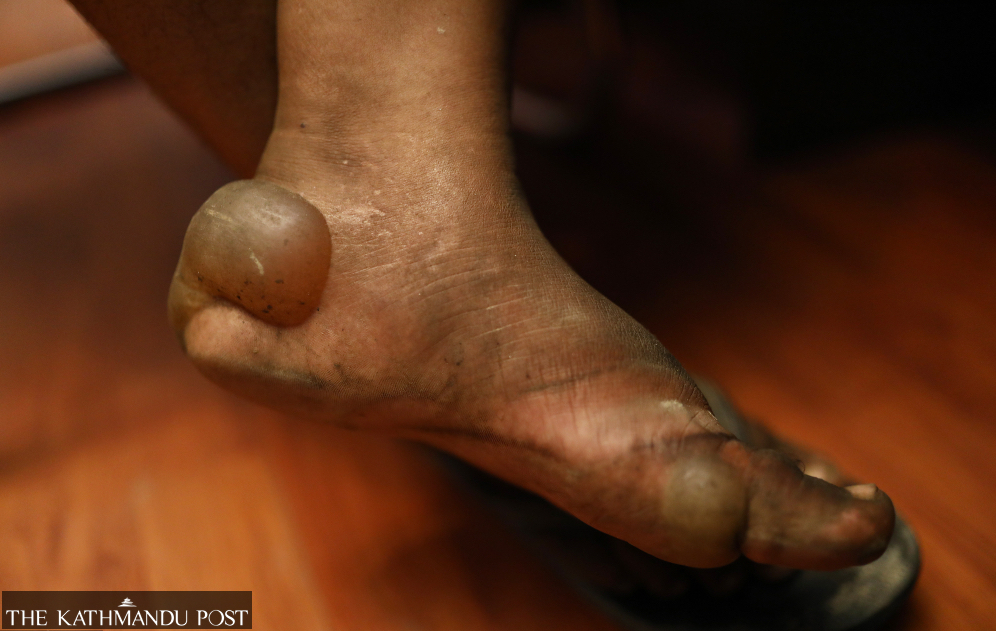 Some of them got enormous blisters as a result of relentless walking for weeks. Sanjog Manandhar/TKP
On Thursday, the relatives and neighbours of the two victims were resting in the shed of a petrol pump, next to the Dashrath Stadium at Tripureshwar. They were tired. Their feet were swollen. Some had huge blisters on their feet because of walking for 20 days.
"We decided to walk to Kathmandu after we lost our hope for justice from the local authorities," said Pitta Dhobi, 45, elder sister of Nakunni. She said Nakunni's husband Ram Kumar was responsible for her death, as he used to beat her up for not bringing a motorcycle in dowry.
All those who have walked to Kathmandu say they hope justice will be delivered because the President lives in Kathmandu, the prime minister lives in Kathmandu, the home minister lives in Kathmandu and the chief of Nepal police lives in Kathmandu.
They, however, are not certain if they can really meet with the people in power in Kathmandu, but their long walk to the Capital from Nepalgunj for justice exposes the state's labyrinthine red tape inhibiting the justice system and how the marginalised continue to remain marginalised when it comes to getting the state's support.
That they walked all the way is not the only thing that puts the spotlight on the state's apathy towards its citizens, that the people from the margins still have to come to Kathmandu for justice even today is indicative of how the state is failing, rights activists say.
"This issue cannot be taken for granted. This issue exposes how the Nepali state is not even doing the bare minimum when it comes to delivering justice to its citizens," said Mohna Ansari, a former human rights member. "This matter should have been resolved at the local level, and by denying justice, the state has committed a fraud on its people."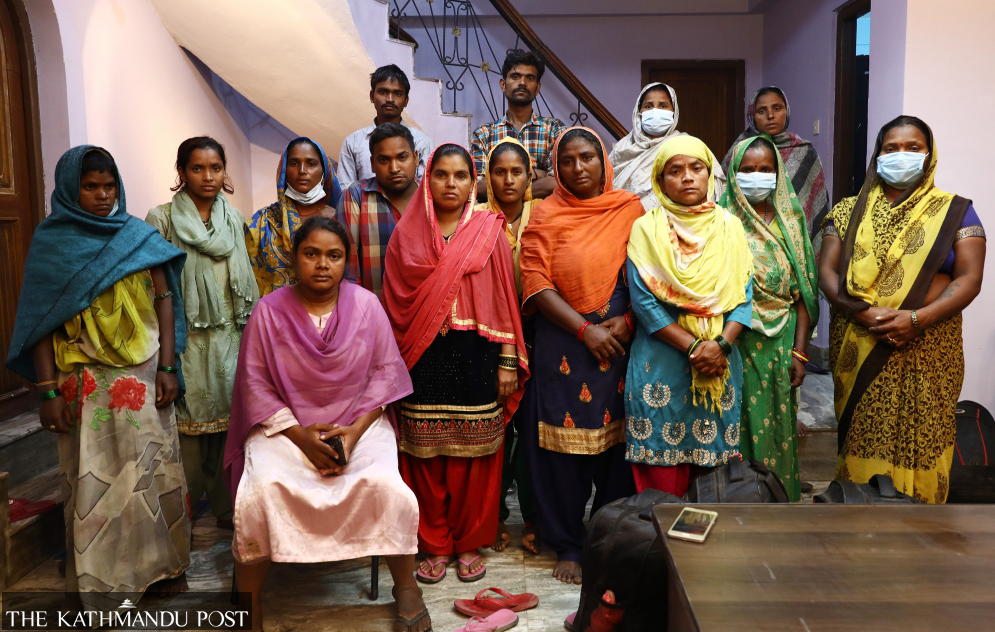 Sanjog Manandhar/TKP
A day after they arrived in Kathmandu, it was Ghatasthapana, the first day of the Dashain festival. Government offices were closed. Now that the festival has started, the victims are extremely worried if anyone in Kathmandu would be available to listen to their pleas.
In Kathmandu, however, politicians were engaged in their favourite game of power politics. The Sher Bahadur Deuba government has completely failed to pay attention to governance in around three months since it was formed.
Deuba's coalition government partners have been constantly squabbling over ministerial berths. The legislature, the top lawmaking body, has been rendered dysfunctional, and the Supreme Court, the ultimate body to impart justice, is caught in controversy.
Pitta, Nakunni's sister, said they have made it to Kathmandu but they wondered if anyone would listen to them.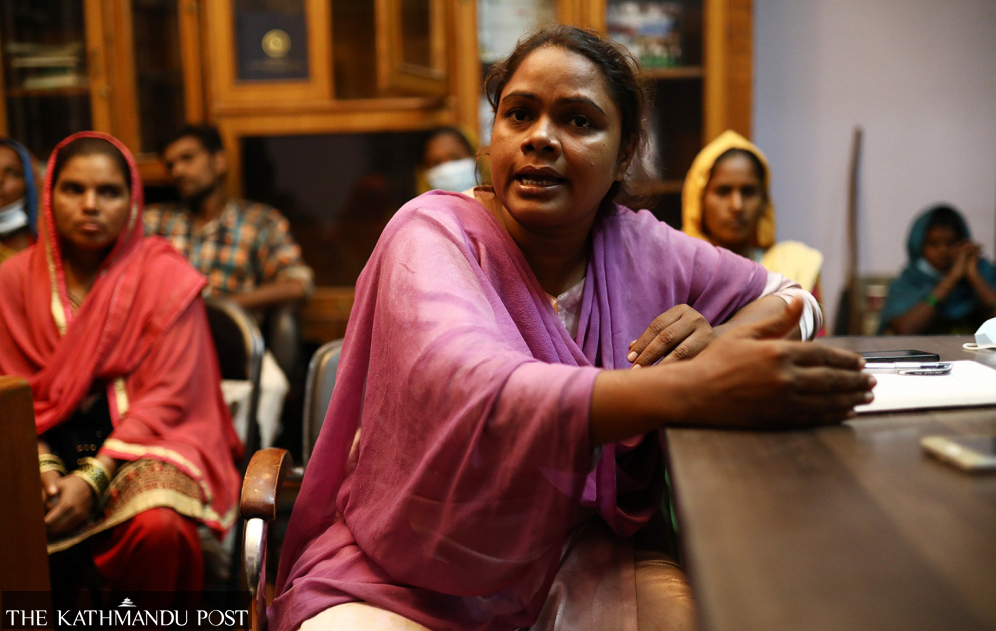 Sanjog Manandhar/TKP
Rubi Khan, 34, former general secretary of the Banke chapter of the National Womens' Rights Forum, said the reason they decided to walk all the way to Kathmandu is they want to make people in power feel how arduous Nepal's justice process is—just like their long walk.
"We will knock on the door of every powerful person we can. We want to wake Kathmandu up and make it realise how even in this day and age women are still being victimised and the state is not paying attention to our calls for justice," said Khan. "We are ready to die, but we are not going to return empty-handed… we want justice."
Anup Raj Sharma, a former chief justice and former chief commissioner of National Human Rights Commission, says this incident illustrates how the Nepali state is failing its citizens.
That the authorities even refused to recognise that they are the affected party itself is a denial of justice, according to him.
"We have come to such a pass that there is no law and there is no order in the country," Sharma told the Post.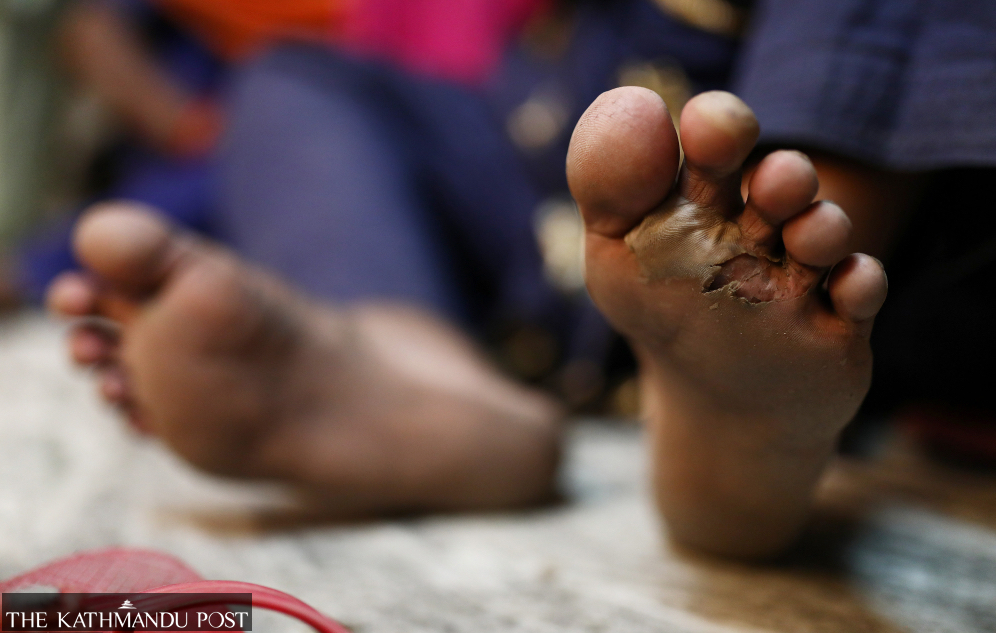 Sanjog Manandhar/TKP
When Nepal adopted its constitution in 2015, it was dubbed the best in the world for being progressive. The constitution guaranteed federalism, a system that aimed at providing services, including justice, effectively.
The federal system meant there would be governments at the local level, not only in Kathmandu… that people could avail state services at their doorsteps. It also meant the justice system would be swift.
When the 14 people started their long journey to Kathmandu on foot on September 17 to seek justice, the government in Kathmandu was preparing to mark the sixth anniversary of the constitution, which was observed on September 19.
Khim Lal Devkota, a National Assembly member who is an expert on federal affairs, said that people have to come to Kathmandu for justice even today is a "great misfortune."
"This incident shows how authorities have failed to comprehend the spirit of federalism and how they have forgotten their primary duty. Of all the duties the state authorities have to perform, delivering justice and upholding human rights should be the top priority," Devkota told the Post. "That the citizens have to come to Kathmandu for justice after it was denied in their hometowns and villages clearly shows the three tiers of government have utterly failed."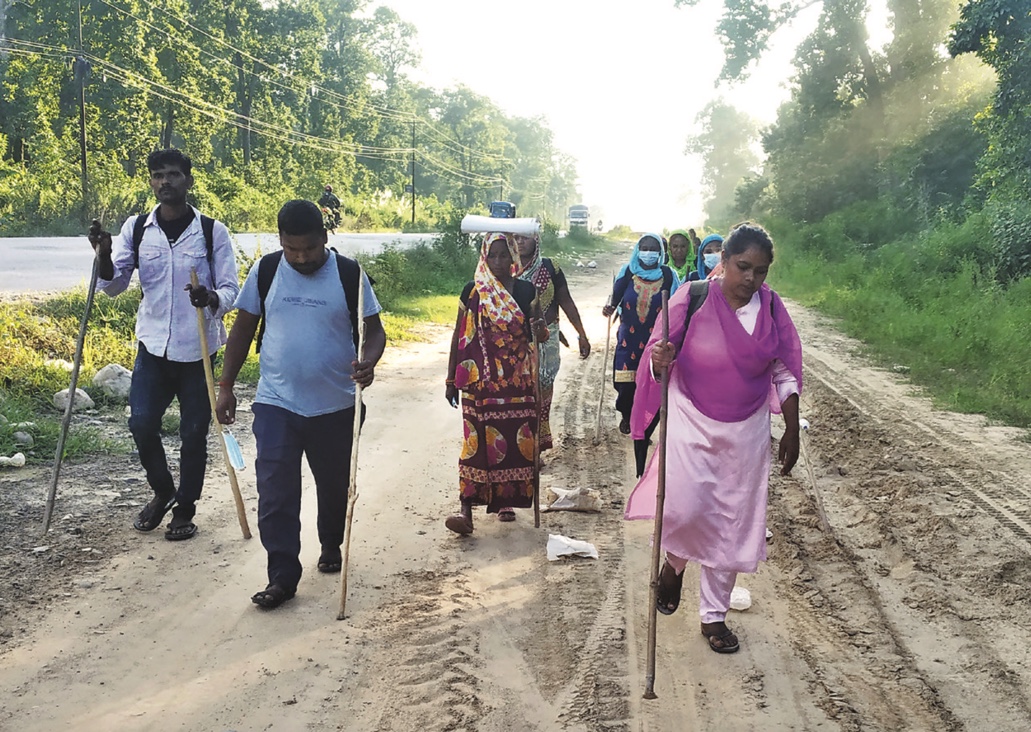 The group started their journey from Nepalgunj to Kathmandu on September 14. Photo courtesy: Ruby Khan
According to him, the issue should have been first dealt with at the local and provincial levels.
"What's the use of federalism if people still have to come to Kathmandu to seek justice after being denied by authorities in their locality?" said Devkota.
Khan, a former general secretary of the National Women's Rights Forum, Banke said they were left with no option than to set out on such a gruelling journey to Kathmandu because all the doors were shut for them.
"The stories of Nakunni Kurmi and Nirmala Kurmi and also of 13-year-old Nirmala Pant, who was raped and murdered on July 26, 2018 in Kanchanapur, are not only their stories. They represent the stories of Nepali girls and women who continue to fall victims to patriarchy… who continue to be denied justice by the state," said Khan. "We are here in Kathmandu also because the President lives in Kathmandu and we might get a chance to share our sufferings with her. After all, our President is also a woman. If she doesn't understand our plight, who else will?"
---
---