Street vending ban a kick in the belly of urban poor
Urban planners accuse municipal officials of not keeping the poor people in mind while formulating policies.

Observers and those affected question Kathmandu mayor's ruthless approach. Post File Photo
bookmark
Published at : January 13, 2023
Updated at : January 13, 2023 10:24
Kathmandu
For Sanjha Devi Chaudhari, the past seven months have been tough. Now she is losing hopes of being able to sustain her livelihood in Kathmandu.

Chaudhari, 47, came to Kathmandu at the age of 22. Ever since, she has been selling grilled corn and peanuts at Thapathali Chowk. But after Balendra Shah was elected the mayor of Kathmandu Metropolitan City (KMC) in May last year, the City police have seized around 200 pieces of corn cobs, half a dozen umbrellas and some 20 baskets from her.
"The City police have seized my goods 20 times since Shah became the mayor and they have not returned any of those," said Chaudhari, who hails from Udayapur district, and has been living in a rented room at Thapathali for which she pays Rs5,000 a month.
Chaudhari's is an example of the KMC's harassment of common folks. There are thousands of street vendors in Kathmandu who are threatened and manhandled by the City Police every day. The scenes of the municipal police seizing goods from street vendors, thrashing and chasing them away have become more common in the Capital over the past six months. Pavement dwellers, including vegetable sellers, clothes sellers and fruit sellers said living in the city has become increasingly unsafe for them.
Raju Nath Pandey, chief of the City police, says the municipal warehouse in Teku that is spread over five ropani of land is full of goods confiscated from street vendors. "There are hundreds of items, we will put them up for auction soon," he said.
On July 1 last year, a video on Twitter went viral. It showed the Kathmandu municipal police forcibly seizing a corn cart from a couple at Baluwatar. Since then, numerous such cases have unfolded on Kathmandu's streets.
"Mayor Shah does not consider us as human beings," said Chaudhari, a mother of two sons aged 25 and 30. When Chaudhari came to Kathmandu for the first time soon after her marriage, her elder son was five and the younger one had just been born.
"I raised my sons selling grilled corn on the footpath. Now they are married and have left me, and again, I am back in the same business for survival," said Chaudhari, whose husband no longer lives with her.
Urban planner Upendra Sapkota, who has over a decade of experience in urban design and community development, said that the KMC is intolerant of street vendors and the urban poor.
"Rapid urbanisation increases the number of urban poor. If their source of income is blocked, its consequences will be dangerous," he said, requesting the KMC to find alternative places for vendors and to use the City police for other larger community programmes.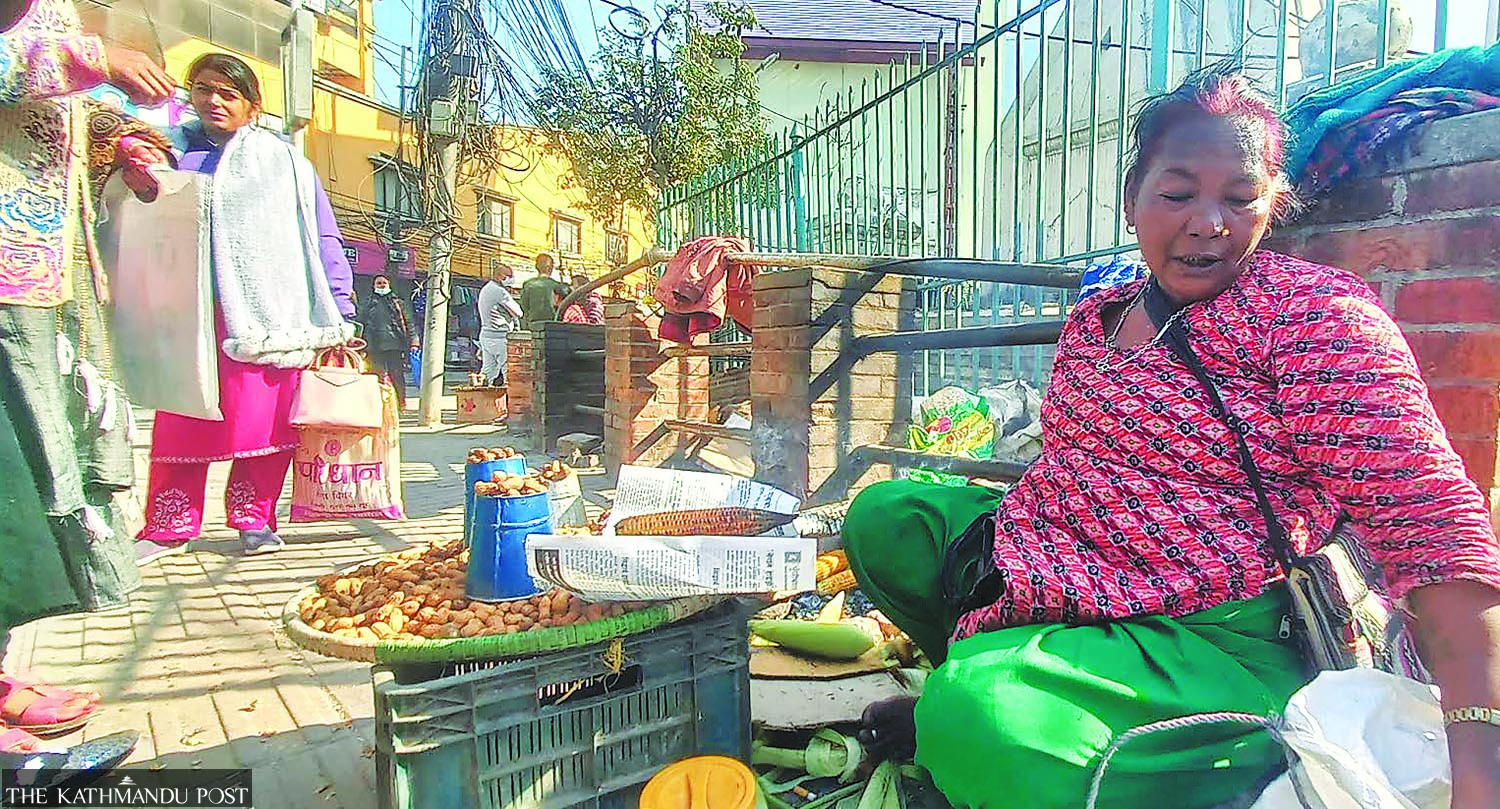 Sanjha Devi Chaudhari sells roasted peanuts and grilled corn on the pavement at Thapathali. She is worried about losing her livelihood after the city announced a tough ban on street vending. Anup Ojha/TKP
Meanwhile, the latest decision by the KMC has further terrified the urban poor.
The KMC on Tuesday published a notice, strictly prohibiting street vending using carts and those who sell vegetables, fruits and other items on bicycles on the roads and footpaths. The KMC notice states that doing such business on the roadside is illegal and the City will book law beachers, based on Local Government Governance Act, 2074 BS (2017) and Solid Waste Management Act, 2068 (2011).
"We are strictly enforcing the law, the roads are for vehicles and footpaths are for pedestrians," said Raju Nath Pandey, chief of the City police.
Pandey said the City has not come up with any alternatives for the street vendors as "Kathmandu does not have adequate space for them".
Chaudhari questions the Kathmandu Metropolitan City: "Where will I go then? I came to Kathmandu as I didn't have land and did not have enough to eat. This [street vending] is the only thing I know."
Urban planners, human rights activists, Nepal Street Vendor Trade Union and other stakeholders have criticised the City's move and asked it to find alternatives.
"Instead of solving the problem, Shah is running away from it," said Pitambar Sharma, former vice-chair of the National Planning Commission. He requested the KMC to emulate the models of developed cities such as Hong Kong and Bangkok to manage street vendors. "The City can make its own business model for the informal sector here," Sharma suggested.
According to the Nepal Street Vendor Trade Union, there are over 15,000 people in Kathmandu district depending on such businesses to provide for their families. The union estimates there are more than 30,000 street vendors in the three districts of the Kathmandu Valley.
"If they had any other alternative or enough money to rent shop space, they would not have come to the streets," said Raj Kumar Shrestha, deputy general secretary of the union.
He further said if the authorities drive them away without giving an alternative, the City may face consequences.
"What the mayor of Kathmandu should realise is that if you don't let us work, we will go hungry, and an empty stomach can go to any length," said Shrestha.
Street-vending is also an issue of equal concern for the city's middle and lower middle class families as streets are where they find affordable vegetables, fruits, groceries, clothes, second hand books and various other goods for their daily needs.
It was during the decade long civil war that many people left their villages, and came to Kathmandu. Feeling unsafe in their villages, they came looking for work. Similarly, after the 2015 earthquakes, many people left their villages for better shelter and job opportunities in Kathmandu.
Urban planner Sapkota says the problem of street vendors has become complicated over the years as the City never keeps the urban poor in mind while formulating policies.
"If the planners had only remembered that the poor also live in the city, we might not have had to face all these problems now," said Sapkota.
He said the current KMC policy on street vendors is faulty as they can never be completely removed from the City. "Kathmandu is a place where our ancestors used to sell vegetables, flowers, morning tea, and other food items," said Sapkota. "Removing them completely will never be possible as this cycle will go on."
He also said there will be consequences of neglecting vendors and the urban poor who run the city's informal economy, which will get reflected in increased prices of daily goods in the future.
Sapkota thinks the best solution would be to revive the historical places that used to be hubs for street vending.
"I think it takes just a week to do research, find out the city's historical business areas, and revive them as hubs for street vending," said Sapkota.
Former NPC vice-chair Sharma asked the KMC to learn from the neighbouring Lalitpur Metropolitan City that has a tolerant view of street vendors and urban poor who do their business in open spaces and roadsides for certain hours a day.
Sharma said those people doing small businesses on the roads are the ones who can't invest in bigger businesses.
"The City should allot them specific places at specific times, much like haat bazaars [weekly market]," said Sharma. "This is as much a city of the poor as it is of the rich and there should be no disparity in how the two groups are treated."
It's the KMC police who earn the most from the urban poor, confiscating their items and taking bribes and that is why they were never serious about finding a proper solution, Sharma alleged.
The Kathmandu Metropolitan City has earned Rs3.6 million in the past five years auctioning confiscated goods seized from street vendors. Officials say many items like food, fruits and vegetables are rotting in the Teku warehouse.
Binod Shrestha, president of the General Federation of Nepalese Trade Union, said that street business keeps the urban poor alive. "It's an easy means to earn and sustain life in Kathmandu temporarily. That is why instead of banning it, the City should explore alternatives," said Shrestha.
---
---