Beijing in a bid to engage Congress as it explores unity of left forces in Nepal
Chinese delegation's visit carries multiple messages amid geopolitical shifts, experts and observers say.

RSS
bookmark
Published at : July 13, 2022
Updated at : July 13, 2022 16:35
Kathmandu
Months after China made strong position on how Nepal should accept foreign assistance from any country vis-a-vis its arch-rival the United States, Liu Jianchao, the head of International Liaison Department of the Central Committee of the Communist Party of China, arrived in Kathmandu on Sunday, marking the second high-level visit from the north since Nepali parliamentarians ratified America's Millennium Challenge Corporation compact.
Liu, whose visit comes around four months after Chinese Foreign Minister Wang Yi's visit, has been busy holding meetings with politicians from across the political spectrum.
On Tuesday, Liu held talks with KP Sharma Oli, the chair of the main opposition CPN-UML. Immediately after arriving in Kathmandu on Sunday, he paid a courtesy call on Prime Minister Sher Bahadur Deuba and held talks with Foreign Minister Narayan Khadka. On Monday, he met with CPN (Maoist Centre) chair Pushpa Kamal Dahal. Liu is scheduled to call on President Bidya Devi Bhandari on Wednesday before wrapping up his Nepal visit.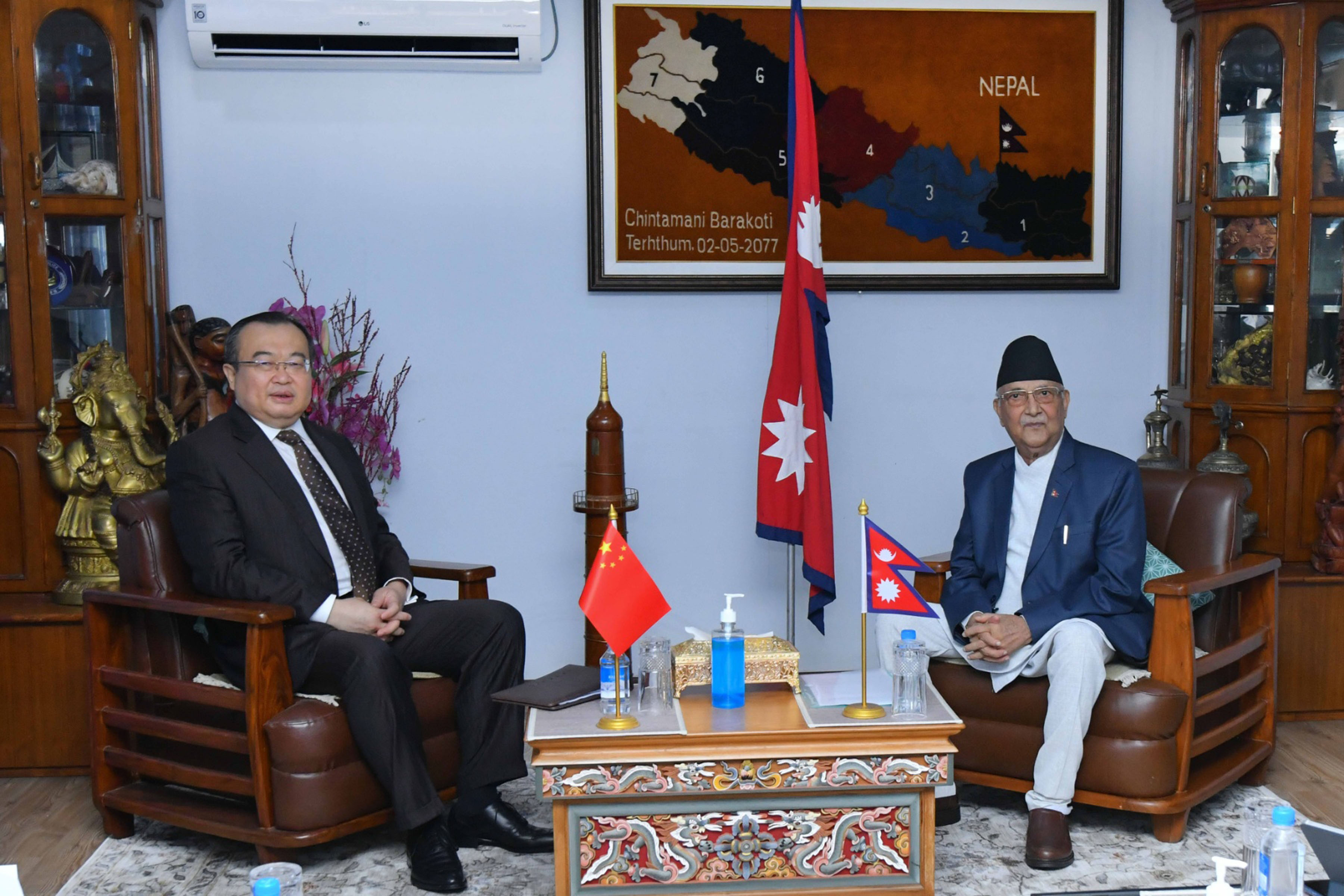 RSS
"At a historic moment when the world is undergoing profound changes unseen in a century and the world is entering a period of turbulent change, the Communist Party of China is willing to strengthen strategic communication with the Nepali Congress, promote mutually beneficial cooperation, deepen exchanges and mutual learning, and on issues involving each other's core interests and major concerns," the International Liaison Department of the Central Committee of the Communist Party of China (CPC) said in a statement on Monday after Liu's meeting with Prime Minister Deuba. "We should support each other, implement the important consensus reached by General Secretary Xi Jinping during his visit to Nepal in October 2019, and push forward the continuous development of the China-Nepal strategic partnership for generations to development and prosperity, so as to benefit the two countries and two peoples."
The Nepali side reiterated its commitment to One-China policy. According to a Congress leader who was present at the dinner hosted by Foreign Minister Narayan Khadka, the Nepali side conveyed that Nepal will not allow any forces to use its soil against any of the neighbours and that it wants to maintain good relations with China despite the two countries having different political and social systems.
"Our implied message to the Chinese official was that Beijing should see all political parties in Nepal with equal eyes and that it should not encourage any kind of grouping against another," the Congress leader told the Post.
It looks apparent that China wants to maintain good relations with all the political parties in Nepal, but within the Congress, concerns remain if Beijing is in a bid to give a renewed push for a unity—or an alliance—among Nepali communist parties.
This time, it seems the Chinese have returned to their old strategy of gaining the confidence of all sides and engaging with all political groups, according to a Maoist leader.
"We noticed that they spoke highly about their meetings with Nepali Congress leaders," the Maoist leader told the Post, requesting anonymity.
When the then Nepal Communist Party (NCP), born out of a merger between the UML and the Maoist Centre, was on the verge of an implosion, Hou Yanqi, the Chinese ambassador in Kathmandu, had held a series of talks with multiple communist leaders in an apparent bid to save the party. But the NCP fell apart on March 7 last year, as a court order invalidated it.
Liu succeeded Song Tao in early June and in the third week of the month, he had held talks with Dahal and Oli, in continuation of what his predecessors did.
Experts say while it is natural for CPC leaders to maintain close relations with Nepali communist parties, Liu's visit this time also sends a message that it is not averse to having ties with the Congress, which Beijing views as a more America-friendly party.
Chinese officials' remarks earlier this year when Nepal was intensely debating whether to ratify the $500 million US grant had raised many an eyebrow in Kathmandu, as they had never seen Beijing coming out so assertively on Nepal's internal matters. In back-to-back remarks in February in the lead up to the MCC compact's parliamentary passage, Beijing spoke against United States' "coercive diplomacy" and called the US assistance "Pandora's box."
Just as Liu held his meeting with Dahal in Kathmandu on Monday, Chinese Foreign Minister Wang warned in a policy speech in Jakarta that countries should avoid being used as "chess pieces" by major powers in the region that "is at risk of being reshaped by geopolitical factors."
RSS
Addressing the Association of Southeast Asian Nations (ASEAN), Wang said many countries in the region "are under pressure to take sides."
During his meeting with Dahal on Monday, Liu said that China respects the decision taken by Nepali leaders, the government and political parties, according to Narayan Kaji Shrestha, head of Maoist Centre's international department.
"They did voice their concerns that Nepal should be cautious while taking assistance or developmental projects so as not to harm China's interest," said Shrestha.
Liu also raised issues including the US-led Indo-Pacific Strategy during the meeting with Maoist leaders.
"The US had declared its policy through the Indo-Pacific Strategy that it aims to contain China. So they urged us to remain cautious while dealing with such policies of a third country that can have serious consequences for China," said Shrestha.
But as widely expected, the Chinese side did not push much for a unity among the communist parties of Nepal, according to at least three communist leaders.
Shrestha said the Chinese did wonder why Nepal's leftiest parties frequently split and why they cannot remain together for a longer period, or forever for that matter.
"As a well wisher, the Chinese did tell us that Nepali communist parties should come together but they did not prescribe any suggestion on unity among the communist parties," Shrestha told the Post.
During his meeting with Oli on Tuesday, Liu talked about the trouble-free relations Nepal and China enjoy and said that China will never interfere in Nepal's internal matters.
"The visiting delegation told us that Nepali leaders and parties have taken decisions on their own which China respects," Rajan Bhattarai, head of UML's foreign relations department, said. "They were also elated that all major political parties in Nepal are committed to One-China policy whereas Beijing has always respected sovereignty, territorial integrity and independence of Nepal."
On the Belt and Road Initiative, to which Nepal signed up in May 2017, UML leaders and visiting Chinese delegation agreed on expediting projects under it, according to Bhattarai.
He, however, said that there were no talks about unity among left parties as widely speculated in the public sphere.
Later on Tuesday, the visiting Chinese delegation held talks with CPN (Unified Socialist) leaders, including chair Madhav Kumar Nepal.
In the meeting, according to senior leader Jhalanath Khanal, the Chinese team said that it's up to Nepali communist forces to decide whether they want to unite as it reiterated Beijing's commitment to continue support and assistance to Nepal.
The CPC delegation also commended Nepal's decision not to participate in the SPP, according to Khanal.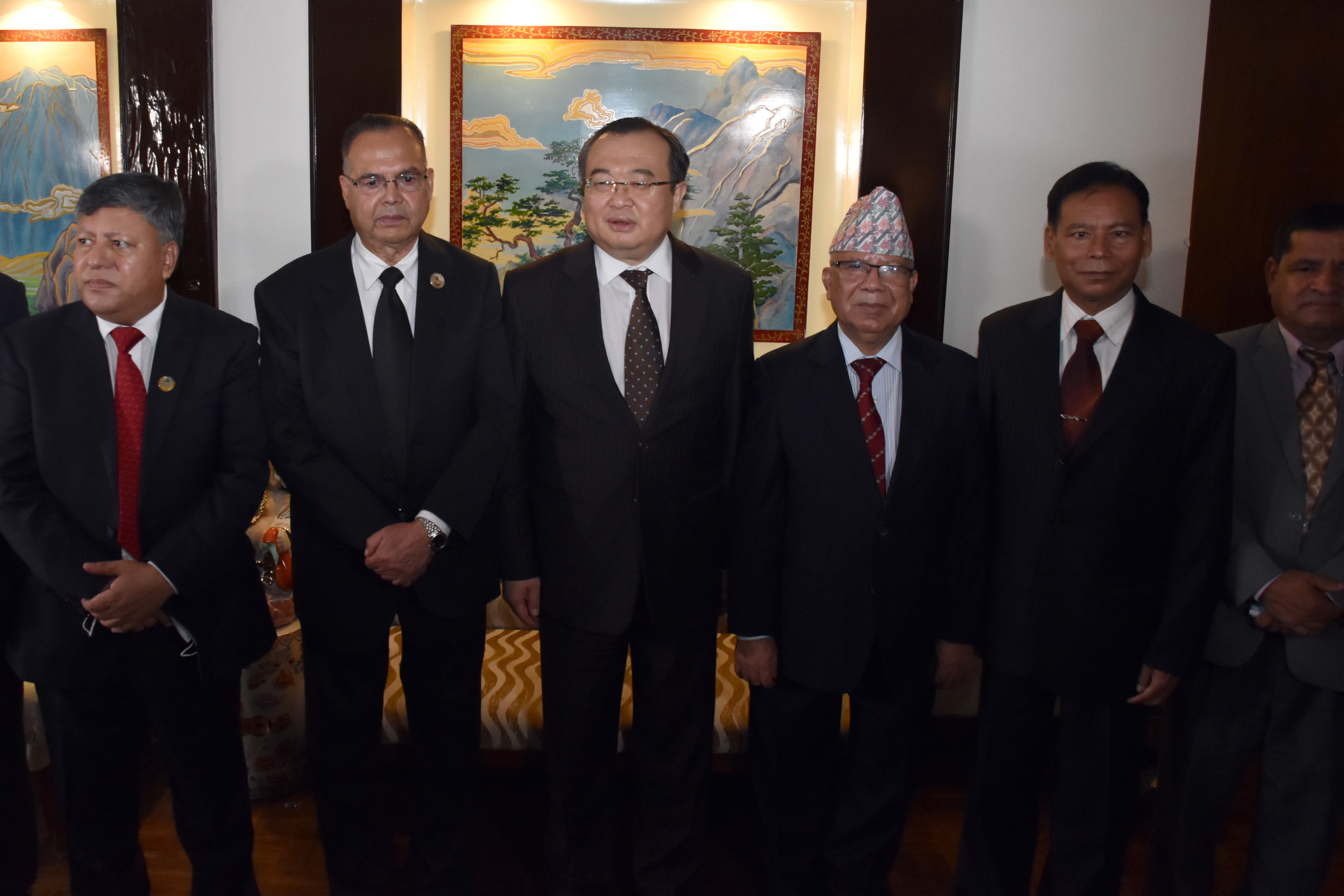 RSS
The SPP once had become a bone of contention in Nepal, and after controversy, the Nepal government on June 21 decided to stay away from the US programme.
Diplomats and experts say Liu's visit to Kathmandu soon after taking the charge of the International Liaison Department of the CPC reflects Beijing's growing assertiveness in Kathmandu due to some of the policies that the Nepal government has adopted in a bid to seek support from reliable friends of Nepal.
Rajeshwar Acharya, a former Nepali ambassador to China, said that the visit entails at least three components—geopolitical shifts, Beijing's renewed interest in Nepal and its security concerns.
The passage of the MCC compact, talks about Nepal's participation in Washington's State Partnership Program and back-to-back visits from the US have made China wary of its security concerns, according to Acharya.
"The Chinese might have felt that the way Americans are expanding their influence in Nepal could pose a security challenge in Tibet and encourage free Tibet movement," said Acharya.
In May, during her visit, Uzra Zeya, US Under Secretary for Civilian Security, Democracy, and Human Rights who is also the special coordinator for Tibetan affairs of the Biden administration, had visited Tibetan camps in Kathmandu and held talks with some Tibetan leaders. Although the Chinese have not spoken about it, they must have kept note of it, say diplomats and experts.
"Growing American activities in Nepal are a cause for concern for the Chinese," said Acharya. "The Chinese may be thinking that it would be difficult for Nepal to avoid American engagements. They are flying into Kathmandu to remind us of the presence of Nepal's all-weather friend in the north."
Also, according to Acharya, since Liu's visit is taking place ahead of the elections, obviously the Chinese are keen to bring the leftist forces together in their quest for a reliable political force in Nepal.
Liu's delegation is arguably the first from China to visit the BP Museum, named after BP Koirala, the Nepali Congress' revolutionary, in Sundarijal, on the outskirts of Kathmandu.
Acharya said this also shows that the Chinese want to work closely with the Nepali Congress.
Above all, Beijing wants assurances from Kathmandu that its legitimate security concerns must not be compromised by any actions of the Nepal government and political parties, according to Acharya.
Some experts believe the Chinese delegation wanted to assess the possibility of unity among Nepali communist forces and also send a message to the Congress that they are comfortable working with it.
"Beijing seems to be attempting to revisit its Nepal policy and wants to re-engage with the Nepali Congress, and it does carry some meaning," said Mrigendra Bahadur Karki, executive director at the Centre for Nepal and South Asian Studies.
"They had encouraged communist forces to unite, which led to the formation of the NCP," said Karki. "But despite their attempts, the party fell apart. It must have made them realise the fragmented history of Nepal's leftist parties. Now, they appear keen on renewing their engagements with the Nepali Congress."
The Chinese message by visiting the BP Museum to the Congress could be to act as a sovereign party just like BP Koirala whom Beijing considers a "sovereign leader," according to Karki.
"The Congress is seen as a party that is historically and ideologically close to India and the West," said Karki. "But the late BP Koirala had great relations with China. He backed China in the United Nations. The Chinese also must have realised that they need to work together with all political parties in Nepal, including the Congress."
---
---