Search for missing Tara Air plane to resume today after bad weather, poor light affects operations
The Twin Otter aircraft carrying 19 passengers and three crew members was en route from Pokhara to Jomsom when it went missing minutes into the flight.

A photo grab from flightradar24.com shows the position of the aircraft where it had made the last contact. Image via flightradar24.com
bookmark
Published at : May 30, 2022
Updated at : May 30, 2022 07:12
Kathmandu
Bad weather and failing light forced rescuers to suspend their search for Tara Air Flight 197 from Pokhara to Jomsom on Sunday.

The search will continue Monday morning, officials said.
The Twin Otter aircraft carrying 22 people including three members of the crew went missing on Sunday morning, minutes into the flight. The aircraft took off at 9:55am and lost contact with air control about 12 minutes later at 10:07am, according to the Civil Aviation Authority.
A flight from Pokhara to Jomsom usually takes 20 minutes. Jomsom is a tourist destination in the Himalaya in north central Nepal. Two Germans, four Indians, 13 Nepalis and three crew were aboard the plane.
The government had deployed helicopters and police personnel for ground and aerial search immediately after the plane went missing. The Nepal Army too sent its personnel as it flew its chopper for search operations. But inclement weather and difficult terrain made it difficult for the searchers to locate the plane.
The Army said in the evening that it was abandoning its operations.
Brigadier General Narayan Silwal, spokesperson for the Nepal Army, said in a tweet on Sunday evening: "NA [sic, for Nepal Army] has halted all efforts of search and rescue for today due to loss of daylight and adverse weather. The search will be resumed early in the morning tomorrow both from air and ground. Our search and rescue team with HC [sic, for helicopter] is on standby at Jomsom."
Earlier in the day, the Civil Aviation Authority of Nepal said it had traced the potential location of the plane in Khaibang in Mustang district.
Deo Chandra Lal Karna, spokesperson for the Civil Aviation Authority of Nepal, told the Post that based on an emergency locator transmitter (ELT), they had traced the potential area in Khaibang.
The ELT is an emergency beacon used in aircraft to alert rescue authorities and to indicate the location and identity of an aircraft in distress.
"We received a note from Bangalore, India which tracks the ELT," Karna told the Post. "But due to some complex weather factors, rescue teams found it difficult to reach the probable site. The area is blanketed in dense clouds and it started to rain too."
In the suspected area which lies at an elevation of 13,000ft, there is heavy rain and snowfall as well, said the authority.
The rescue team had gone up to 9,000ft and taken shelter.
According to Tourism Ministry officials, signals from the pilot's mobile phone were traced to nearly 16,000ft which could provide vital clues to soldiers and rescue workers. Other devices have shown the suspected site at 13,000ft.
Pokhara lies 200km west of Kathmandu. Jomsom is popular with foreign tourists visiting the Annapurna and Mustang regions for trekking besides Hindu pilgrims bound for the Muktinath temple.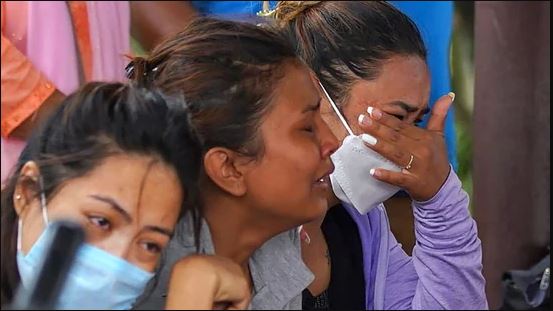 Family members and relatives of passengers on board the Twin Otter aircraft operated by Tara Air, weep outside the airport in Pokhara. AFP/RSS
Flying the Pokhara-Jomsom route, however, is challenging. The en-route terrain is one of the most difficult in the world as planes have to fly through the Kali Gandaki gorge that lies between two 8,000-metre Himalayan giants—Annapurna and Dhaulagiri.
Sudarshan Bartaula, spokesperson for Yeti Airlines, said the search would resume early Monday morning.
"We have three helicopters standing by in Pokhara and one in Jomsom. They will begin the search at 5am on Monday, depending on the weather," Bartaula told the Post.
Yeti Airlines, which operates Tara Air, said it has mobilised experienced high-altitude Sherpa guides for the search and rescue.
Early on Sunday morning, locals reported that the plane had circled the sky above Khaibang twice.
The Twin Otter with call sign 9N-AET had departed from Pokhara for Jomsom at 9:55 am. It lost contact at 10:07am in the Ghodepani area, according to a statement issued by the Civil Aviation Authority of Nepal.
Soon after the aircraft was reported missing, the Nepal Army deployed its personnel in the Lete area to search for it.
"We have mobilised our search and rescue teams from both ground and aerial operations. We are yet to trace the plane," Brigadier General Silwal told the Post earlier in the day.
An MI-17 chopper has been dispatched from Kathmandu to Lete.
Jomsom has a large share of crashes and casualties.
The first crash in Jomsom was reported on November 8, 1993 when a Nepal Airways Y-12 II plane with the registration number 9N-ACS overran the runway and fell into a river. But there were no casualties.
Four years later, on August 21, 1998, a Twin Otter leased by Nepal's Civil Aviation body from Lumbini Airways crashed near Ghodepani while taking off from Jomsom, killing all 18 people onboard.
Four years later, on August 22, 2002, a Shangri-La Air's Twin Otter crashed into a hill five kilometres southeast of Pokhara while returning from Jomsom, killing 18 people onboard.
Again on May 14, 2012, a Dornier plane belonging to then Agni Air met with a fatal accident in Jomsom Airport, killing 15 people. Six passengers survived the crash.
After one year, on May 16 2013, a Twin Otter of Nepal Airlines with 22 people onboard touched down the runway of Jomsom Airport and veered towards the right, falling 20 metres down the bank of the Gandaki River. There were no casualties though.
The Jomsom route saw the worst disaster on February 24, 2016, when Tara Air's Viking 9N-AHH crashed in Dana, Myagdi, killing 23 people.
The Tara Air Twin Otter that went missing on Sunday is a short-takeoff-and-landing (STOL) utility aircraft developed by de Havilland Canada, which has a seating capacity of 19 people.
---
---