New Bhairahawa airport is ready, but airlines are not
No marketing or promotional campaign has been rolled out to attract international airlines, observers say.

Officials say Japan Airlines and airlines from Myanmar and Sri Lanka have made informal pledges to connect to Bhairahawa once completed. Shutterstock
bookmark
Published at : March 9, 2022
Updated at : March 9, 2022 10:10
Kathmandu
All dressed up and nowhere to go, newly completed Bhairahawa international airport awaits applications for flight slots from international airlines.

Nepal's second international airport is finally ready after 10 years in the making and nearly Rs40 billion spent; but after all the build-up, the expected rush of eager carriers has not happened.
Located in south central Nepal and spread over 787 bighas (533 hectares), Gautam Buddha International Airport is a landmark, according to tourism industry insiders.
The modern facility has a 15,169 square-metre terminal building with a capacity to serve nearly a million passengers a year. The airport's 3,000-metre runway is long enough to handle the largest commercial jets.
Here, however, is a catch. There are no commercial jets wanting to fly to the airport—at least as of now when the facility is ready to welcome them.
Observers and experts say that no marketing or promotional campaign has been rolled out to attract international airlines despite the fact that the countdown to the inauguration has begun.
Gautam Buddha International Airport is a 280-km drive from Kathmandu, and is also intended to serve as an alternate and backup international air transport point for Nepal, should poor weather conditions or a natural calamity shut down the capital's Tribhuvan International Airport.
The government has planned to throw open the doors of the airport on May 16, the birthday of Gautam Buddha, which is a holiday in Nepal.
"The calibration of important navigational equipment of the airport has been completed. We have planned to do a test flight at the airport on April 14, the Nepali New Year," said Pradeep Adhikari, director general of the Civil Aviation Authority of Nepal. "Then on May 16, there will be a commercial take-off from the new airport."
But Adhikari has no idea whether international flights will come.
It has long been understood that Nepal needed a second international airport. Traffic through Kathmandu's airport was getting too heavy and had reached a saturation point, resulting in planes being forced to hold for hours in the skies and passengers suffering hours of delays on the ground.
The country was also in the process of implementing decentralisation to curb social and economic disparities that were growing between Nepal's capital and everywhere else.
The project started in 2009 when the board of the Asian Development Bank approved the South Asia Tourism Infrastructure Development Project in November 2009 to develop and improve tourism infrastructure in Nepal.
Initially, it had been planned to construct a new 2,600-metre-long and 45-metre-wide runway. Later, the government decided to extend the runway to 3,000 metres.
The government awarded the contract to upgrade Bhairahawa airport to an international airport to a Chinese company in October 2014. The project was slated to be completed by the end of 2017. The project encountered multiple hurdles that pushed back the completion deadline several times.
Development activities started booming in Bhairahawa. The once sleepy market town in the Tarai plains was thrust onto the international stage after becoming the gateway to the pilgrimage destination of Lumbini. Proliferating factories and a rapidly spreading transportation network have turned Bhairahawa into an economic powerhouse.
Lumbini, which attracts international pilgrims as the birthplace of the Buddha, has observed the construction of large-scale infrastructure including a bevy of luxury hotels since talks about construction of the international airport began in 2010.
"The construction of the airport suffered several setbacks. Finally, it's ready," said Rajan Pokhrel, former director general of the Civil Aviation Authority of Nepal.
"But again, the airport has generated only a tepid response. There are no promotional activities. This means there is a risk of no international flights even if the airport begins operation," he said.
"Like always, the government has failed in its planning," he added.
According to some officials the Post talked to, Tourism Minister Prem Ale is least bothered about Gautam Buddha International Airport as he is pitching for another international airport in Dhangadhi. Work to expand Dhangadhi airport has already started.
"With little to no activity on the marketing front, there are fears that the shiny and swanky new airport, one of the longest-lasting projects in the country, could turn out to be a white elephant," said Pokhrel.
According to airlines officials, starting a new route can be expensive for any carrier, especially if they are flying to a new airport for the first time. Many new airports provide subsidies to attract airlines, especially if they are previously unserved cities, they say.
"If you build a new airport, you simply need to make it affordable," said Birendra Basnet, managing director of Buddha Air, Nepal's largest private carrier. "Airlines do not expect subsidies for long periods. But it helps, particularly in the initial airport setup, to encourage airlines to launch services because the subsidy can lower the risk of their entry."
"Besides, to entice airlines and passengers to create demand, the government should introduce other facilitation measures like opening a labour permit office in Bhairahawa. It needs homework, planning and strategy," added Basnet.
According to Basnet, constructing an airport is not a big deal, but making it financially viable is the issue.
"For this, there should be political will and vision as well. Bhairahawa is ideally suited to become a hub for the labour market as it can accommodate jumbo jets and there are no weather problems as such," said Basnet.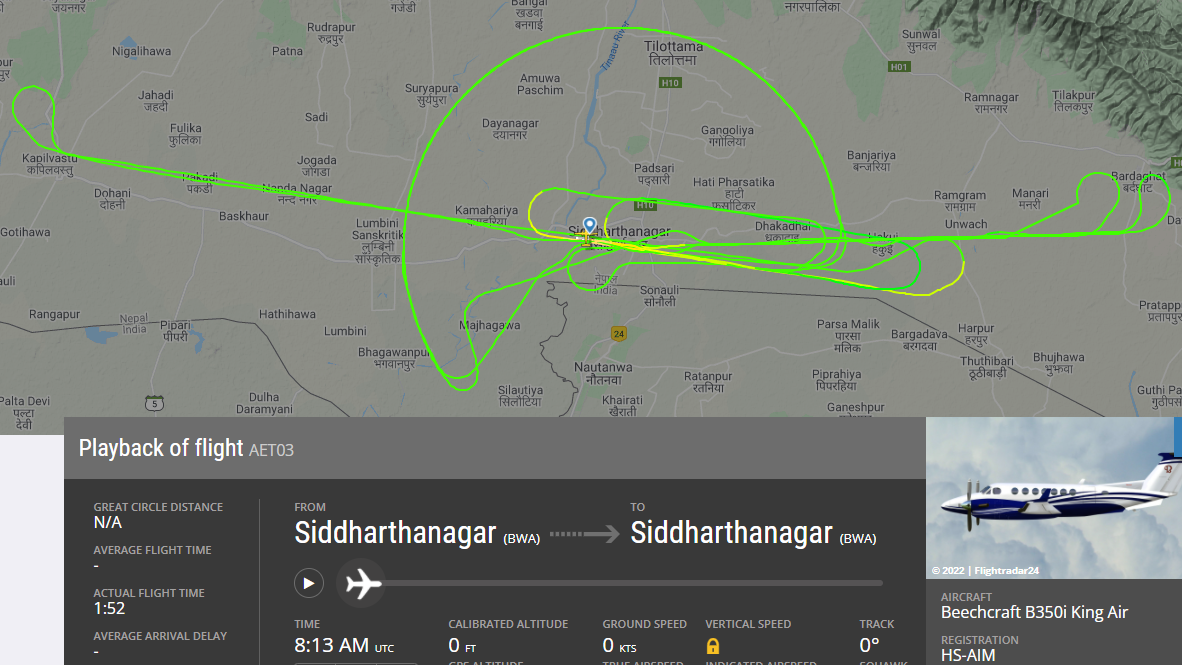 The calibration of important navigational equipment of the airport has been completed.
After 56 days, beginning from March 27, the Civil Aviation Authority of Nepal will issue details of the regulations, procedures and other information pertinent to flying aircraft at the new airport through the Aeronautical Information Publication.
Adhikari, the director general of Nepal's aviation body, said that constant talks were being held with international airlines already flying into Nepal to serve Bhairahawa too.
"It's a new airport. It will take some time to do business," he said, adding that planes would come sooner or later. "There is no need to worry."
So far, not one international airline has applied to connect Bhairahawa though, insiders say.
"That's strange. I would say it's utter lack of marketing," Pokhrel told the Post.
Buddhi Sagar Lamichhane, joint-secretary at the Tourism Ministry who looks after aviation affairs, said so far none had applied to fly into the new airport.
"We are hopeful though, several will apply soon," said Lamichhane.
But the ministry is worried there might be no takers.
According to officials, Japan Airlines and airlines from Myanmar and Sri Lanka have made informal pledges to connect Gautam Buddha International Airport once it is completed.
"But government officials failed to follow up on the pledges," said an official at the Civil Aviation Authority of Nepal.
Plans to begin promotional activities and marketing for the new airport were made several times, but they all came to nothing. Delays in project completion and frequent changes in government led to the plans being abandoned.
In January 2020, before the Covid-19 pandemic started, the Tourism Ministry had sent a proposal to the Finance Ministry suggesting an exemption of landing and parking fees for airlines for a certain period.
But the Tourism Ministry received a cold response.
"We were shocked by the response of top Finance Ministry officials. They said that the government has invested heavily in the airport, and airlines should be charged heavily to recover the cost," said a former director general of the Civil Aviation Authority of Nepal who wished to remain anonymous.
According to Pokhrel, the aviation regulator decided to take a new route after the Finance Ministry declined to provide discounts for airlines coming to Bhairahawa.
"We enacted a new airport service charge regulation that delegates power to offer discounts to airlines to the board of the Civil Aviation Authority of Nepal," said Pokhrel. Currently, it is the prerogative of the government to levy charges.
A draft of the regulation had been submitted to the KP Sharma Oli Cabinet. "But the government changed, and the draft was returned," said Pokhrel.
The incumbent director general Adhikari said that they have planned to table a new draft of the service charge regulation at the Cabinet next week.
Nepal has lifted all Covid-19 related restrictions, and industry insiders say it is the right time to focus on marketing to attract airlines and bring tourists to Nepal—and Bhairahawa airport can be a good gateway.
According to an airline official, when Malaysia had opened its new airport, built specifically for low-cost airlines, in 2014, it had provided Rs500,000 per airline as a cash incentive.
Industry insiders say that Nepal failed to do proper homework to begin the new airport, and that may weaken the country's plan to rejuvenate the ailing tourism industry.
In 2019, the government had decided to appoint Germany's Munich Airport to provide consultancy services for the operational readiness and airport transfer (ORAT) operation of Gautam Buddha International Airport in Bhairahawa through a government-to-government deal.
ORAT is considered the best way to ensure that every aspect of a new facility functions flawlessly right from day one. ORAT consultants work with airport stakeholders to formulate new processes, train staff, and test every single new system and procedure from passenger and baggage handling to airside operations.
But the plan was aborted. In July 2020, after dithering for two years, the Tourism Ministry formally ended the process of appointing Munich Airport as the operator of Gautam Buddha International Airport.
A government committee said that a number of projects planned under government-to-government deals had sparked controversy in Nepal over their transparency; and the plan to appoint Munich Airport too was abandoned.
The government decision allowed the Civil Aviation Authority of Nepal to add Nepal's second international airport to its portfolio, despite its operational efficiency at Tribhuvan International Airport being questioned for decades. Nepal Airlines would do the ground handling.
Appointing a state-owned company for the ground handling goes against the condition laid by the project financier Asian Development Bank. The multilateral bank wants to involve the private sector for efficient service through open competition, according to former director generals of the civil aviation body.
"If Nepal fails or there is no political will to operate the airport at the right time, it could be a disaster," said Pokhrel, "the airport could turn into a white elephant."
---
---