Coalition meeting held to find consensus fails to reach any conclusion
Top leaders of the ruling alliance to meet again on Friday morning.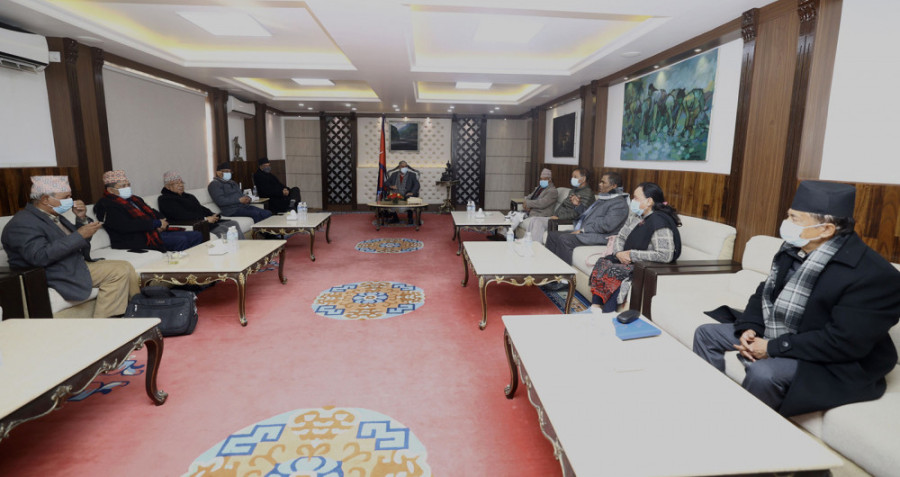 Post File Photo
bookmark
Published at : February 17, 2022
Updated at : February 17, 2022 20:30
Kathmandu
Thursday's meeting of the ruling coalition aimed at finding a consensus on the $500 million American grant's parliamentary ratification ended without reaching a conclusion.
"Top leaders have agreed to sit again at nine in the morning tomorrow [Friday]," said Ramesh Malla, an aide to Pushpa Kamal Dahal, chairman of the Communist Party of Nepal (Maoist Centre), a key coalition partner.
The Maoist Centre's objection on Wednesday had forced the Sher Bahadur Deuba government to backtrack on its plan to table the Millennium Challenge Corporation-Nepal Compact in Parliament.
Maoist chair Dahal even threatened to pull out of the government, putting the coalition on the brink of breakdown.
There are five parties in the coalition government—Deuba's Nepali Congress, Maoist Centre, CPN (Unified Socialist), Janata Samajbadi Party and Rastriya Janamorcha.
While the Janata Samajbadi Party is divided on MCC's parliamentary ratification, other three parties in the Congress-led government are dead against the compact.
Deuba had agreed to one more meeting of the coalition after Dahal made a request for the same.
Deuba is under pressure from Washington to ratify the compact by February 28, a deadline sought by him and Dahal.
After the government failed to table the compact despite saying it would do so, US Ambassador Randy Berry called on Deuba on Wednesday evening to inquire about the latest status.
Deuba on Thursday afternoon said that his party is committed to tabling the compact.
"It may pass or not pass… but it needs to be tabled," said Deuba at a book launch programme in Kathmandu. "It's true that MCC is in the best interest of the country. I am doing my best for its tabling and ratification."
---