Mountain districts throughout the country experiencing heavy snowfall
Dip in temperature has resulted in extremely cold conditions in most areas since Thursday. Vehicular movement in several districts disrupted as road sections are covered in a thick blanket of snow

bookmark
Published at : February 4, 2022
Updated at : February 4, 2022 14:52
Kathmandu
High altitude mountain districts have been witnessing snowfall for the last couple of days while the mid-hill region has been experiencing rainfall resulting in extremely cold conditions in these areas.

Solumkhumbu in Province 1 has been receiving snowfall since Thursday night. Khumjung, Namche Bazaar, Lukla, Salleri and Patale have been experiencing heavy snowfall.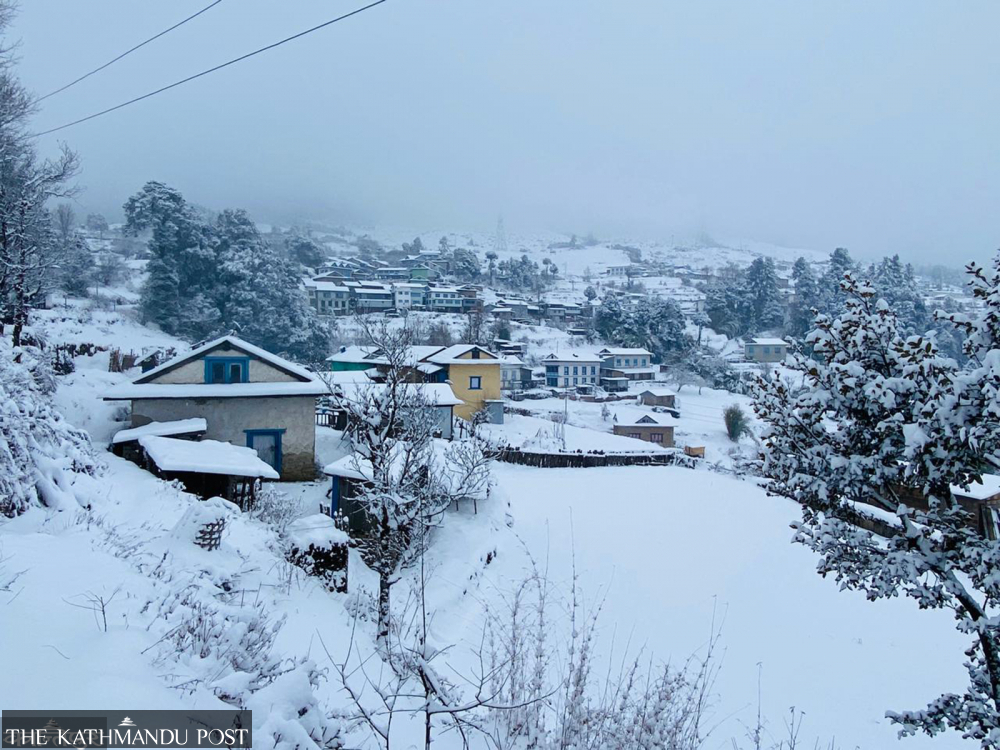 Bhanubhakta Niraula/TKP
Namche Bazaar is blanketed in at least two feet of snow with the temperate dipping as low as minus eight degrees Celsius. Patale Bazaar, the entry point to the district, is covered in a foot of snow with the temperature recorded at minus two degrees Celsius.
Vehicles leaving Solukhumbu this morning have not been able to move past Patale.
"More than 45 Tata Sumos used to leave the district daily. But today not a single vehicle is likely to cross Patale because at least 5km of the road is covered in snow," said District Traffic Police Chief Krishna Katawal. He added that it was not possible to open the blocked road today.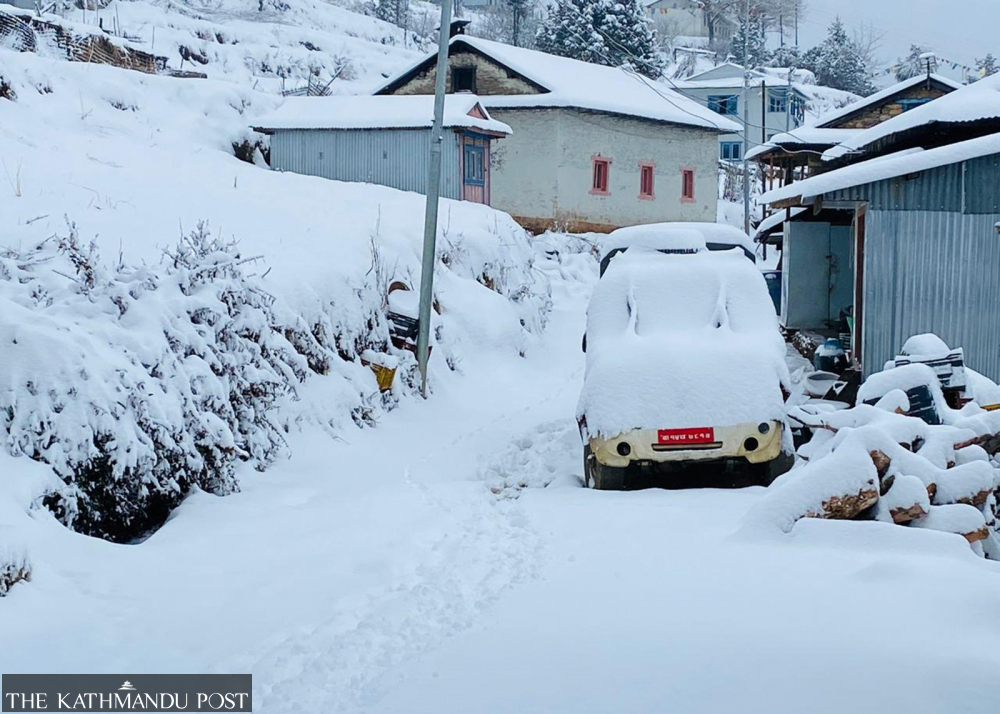 Bhanubhakta Niraula/TKP
Similarly, in Baglung of Gandaki Province, transportation along the Sip-Patihalne section of the Mid-hill Highway in Nisikhola Rural Municipality Ward no. 6 has been brought to a complete halt since Thursday night due to incessant snowfall, according to the ward chairperson.
Those who had moved to the higher grounds to graze their cattle have not been able to make the journey back, according to SP Krishna Bahadur Palli Magar of the District Police Office.
"We are trying to find dozers to clear the snow and at least restore movements of vehicles and pedestrians," said Magar. It is difficult to work all day on Friday as it is still snowing and raining.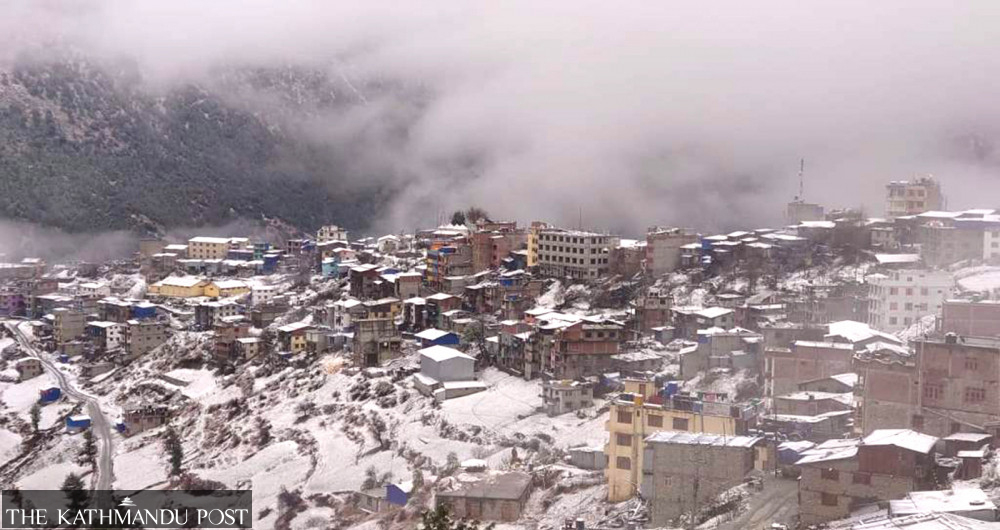 A view of gamgadi bazar after snowfall. Raj Bahadur Shahi/TKP
The fourth snowfall within a year has made life difficult for the locals in Mugu of Karnali Province. Gamgadhi Bazaar, Talcha, Rara, Murma, Talitum, Mathitum, Bam, Rowa, Kotila, Topla, Mugu, Dolphu, Jhayari, Khamale and Sorukot have been experiencing heavy snowfall since Thursday night.
Transportation service has been disrupted in the district due to heavy snowfall. Gamgadhi-Nagma road section has been closed off since the past week due to heavy snowfall.
The only air service in the district has also been disrupted due to the snowfall. Chief of the Rara Civil Aviation Office, Bishal Barun, said that air service was disrupted since the runway is blanketed in snow.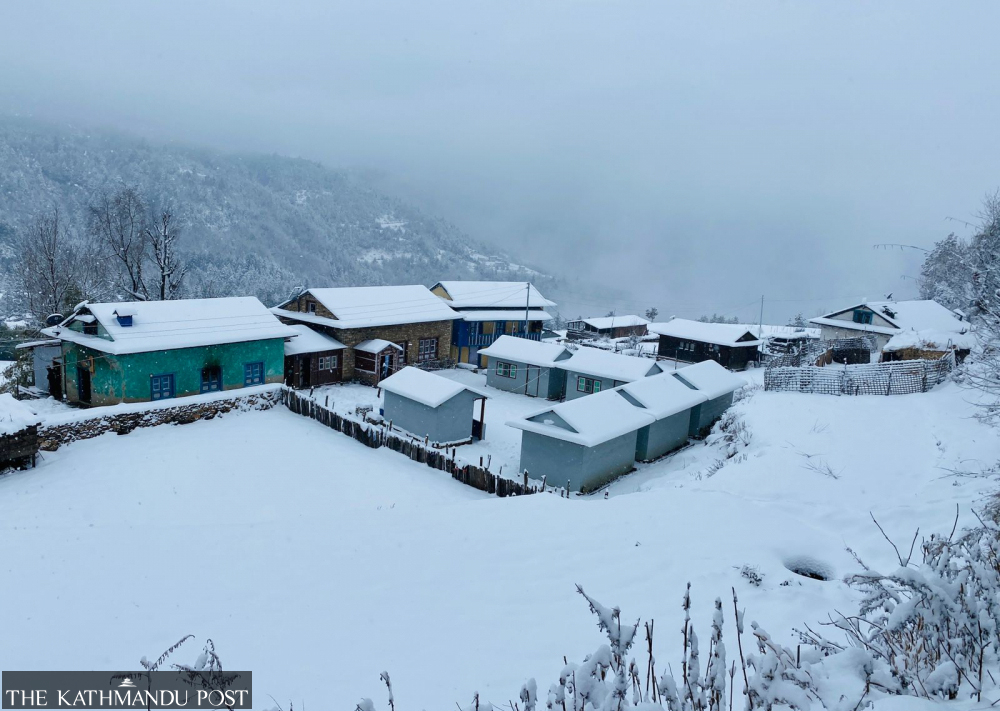 Bhanubhakta Niraula/TKP
Darchula in Sudurpaschim Province too has been witnessing snowfall since Thursday after a dip in temperature since Wednesday night. The high-altitude region of Byas and Api Himal rural municipalities and highland settlements such as Chhati, Ghajir have received heavy snowfall.
The temperature has plummeted in most parts of the district including the district headquarters Khalanga after the rains and snowfall. Shovan Singh Lothyal of Api Himal Rural Municipality-4 said that heavy snow has started covering Lekali settlements.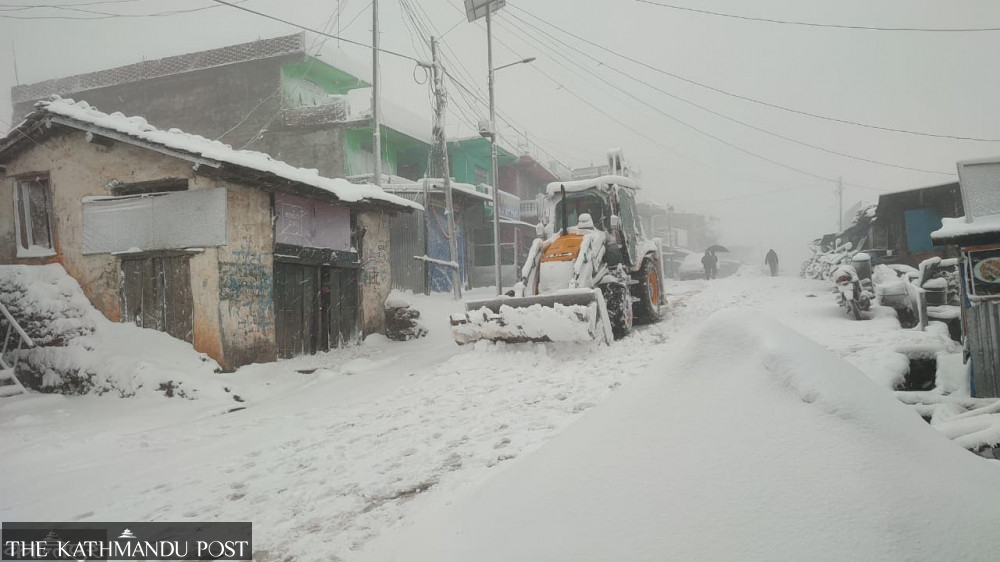 A view of Khodpe in Baitadi district after snowfall. Tripti Shahi/TKP
Another district in Sudurpaschim Province, Baitadi, has been receiving snowfall in places including Khodpe, Sadbabaj, Musyachaur, Dholyamod and Anarkholi since Thursday evening. There was some snowfall in Shahilek of district headquarters Khalanga.
Vehicles entering and leaving the district have been stopped at places including Khodpe, Sadbabaj and Anarkholi. Due to the snowfall, vehicles coming from Dadeldhura have stopped mid-track while vehicles on way to Bajhang also remain stranded.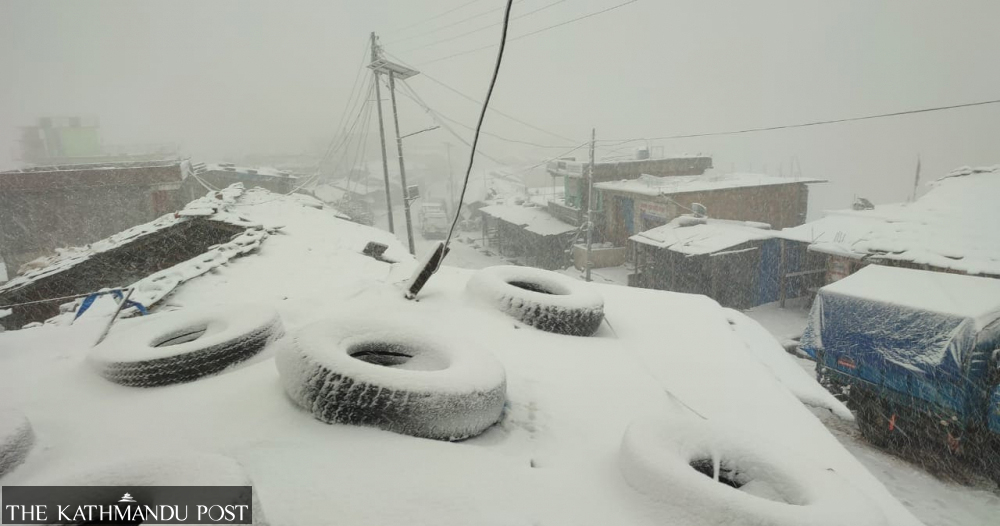 A view of Khodpe in Baitadi district after snowfall. Tripti Shahi/TKP
Hills surrounding Kathmandu Valley, including Chandragiri, Phulchowki and Shivapuri have also been witnessing snowfall since early Friday morning.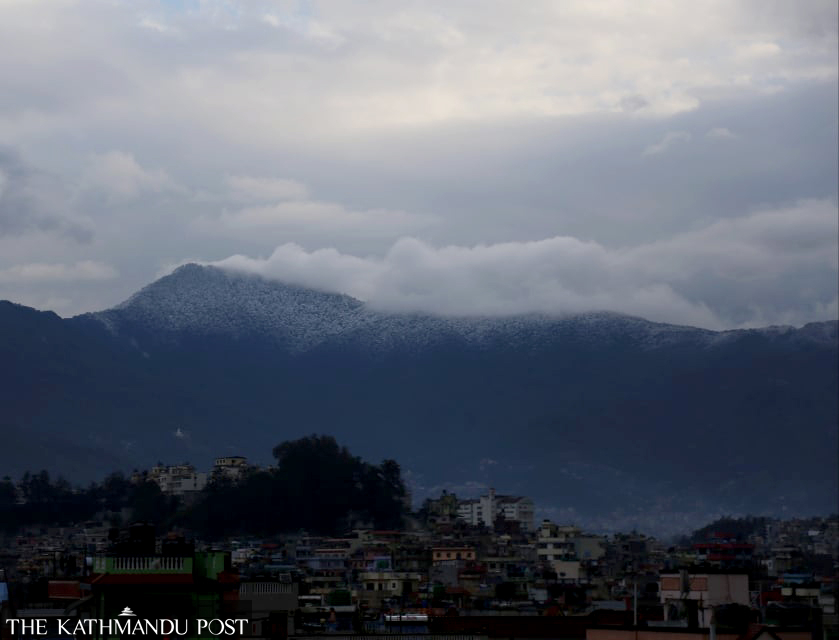 Kabin Adhikari/TKP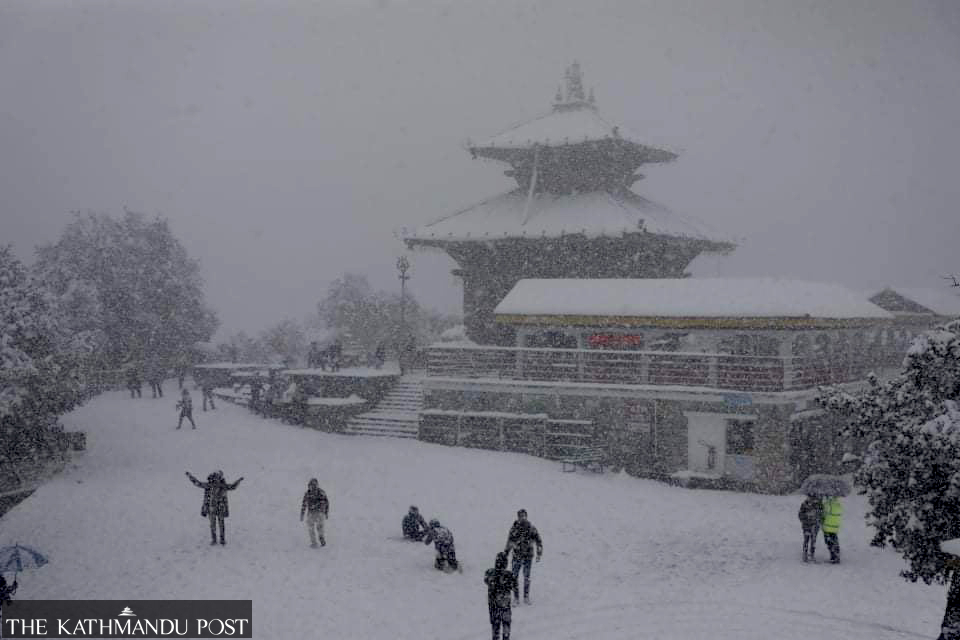 Hemanta Shrestha/TKP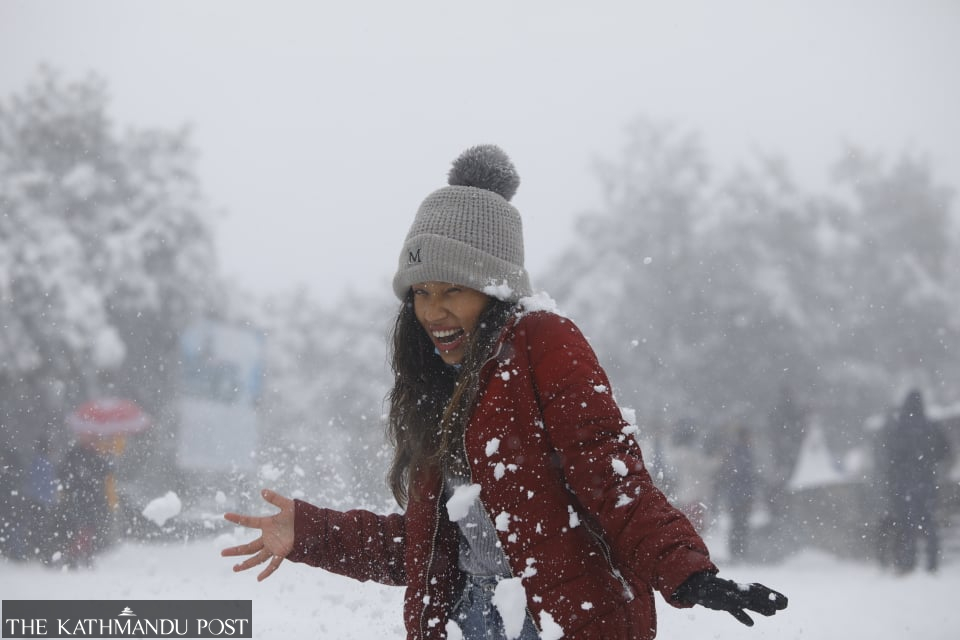 Hemanta Shrestha/TKP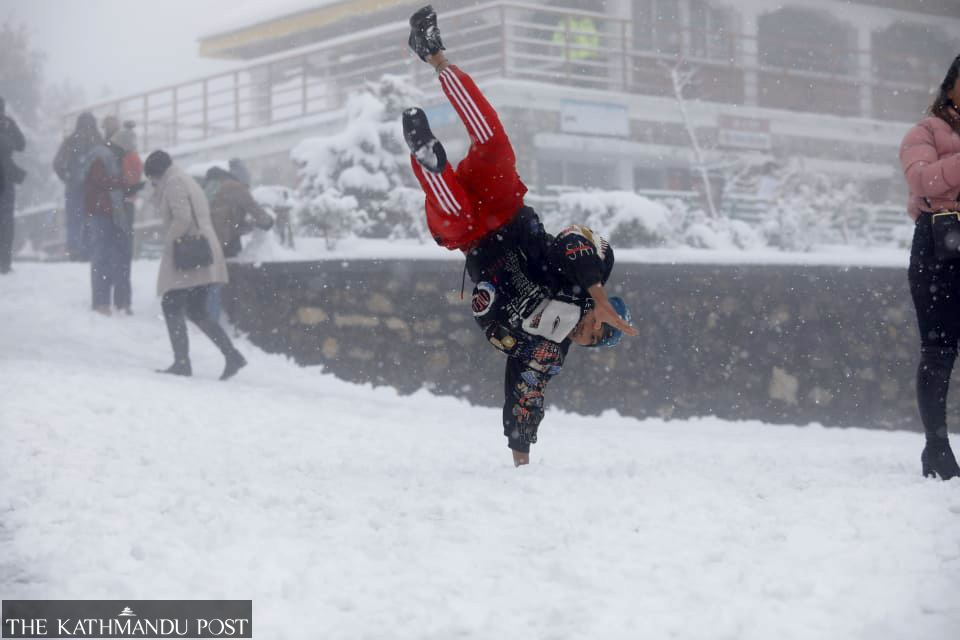 Hemanta Shrestha/TKP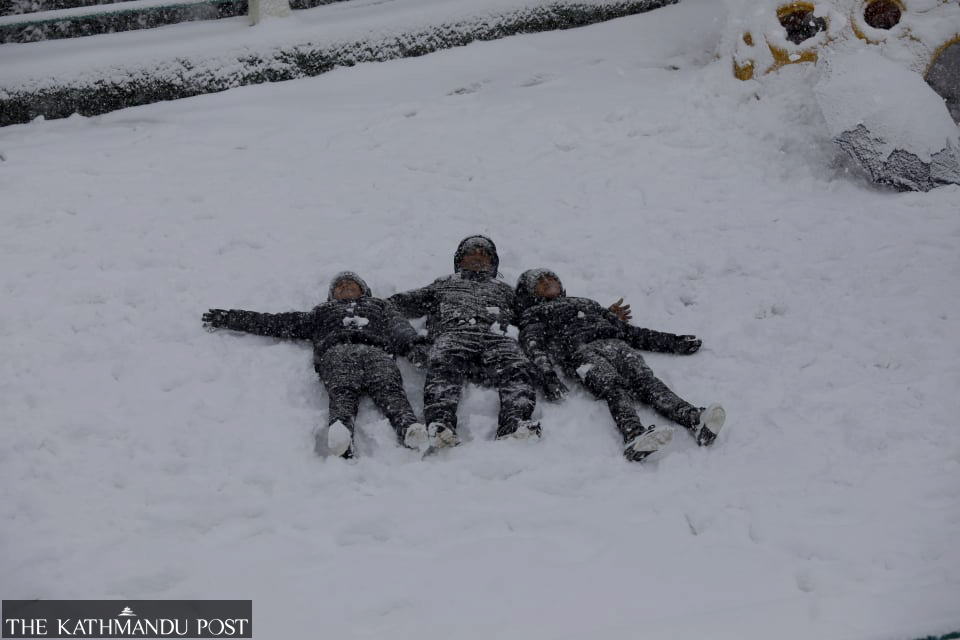 Hemanta Shrestha/TKP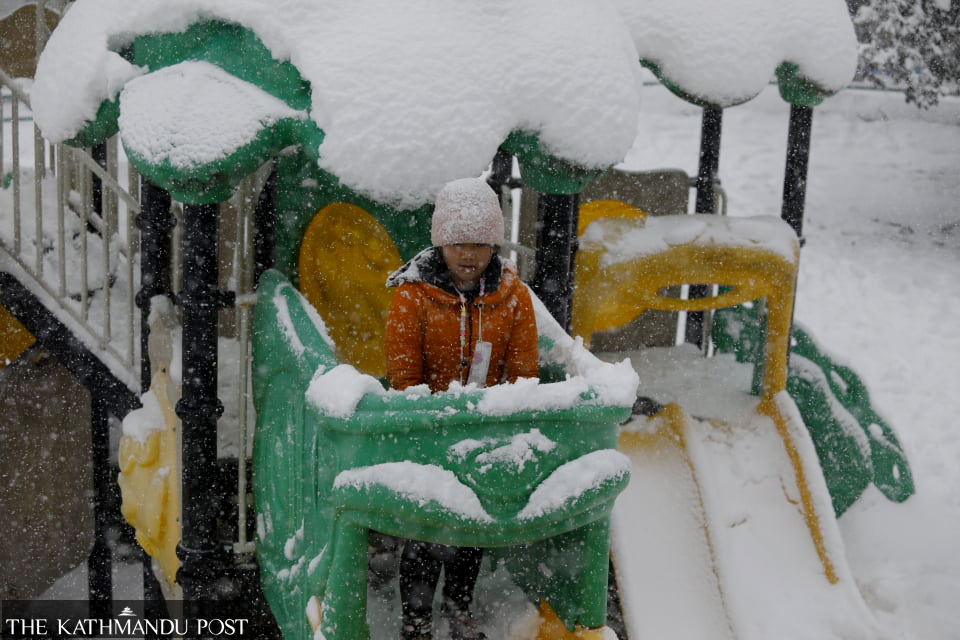 Hemanta Shrestha/TKP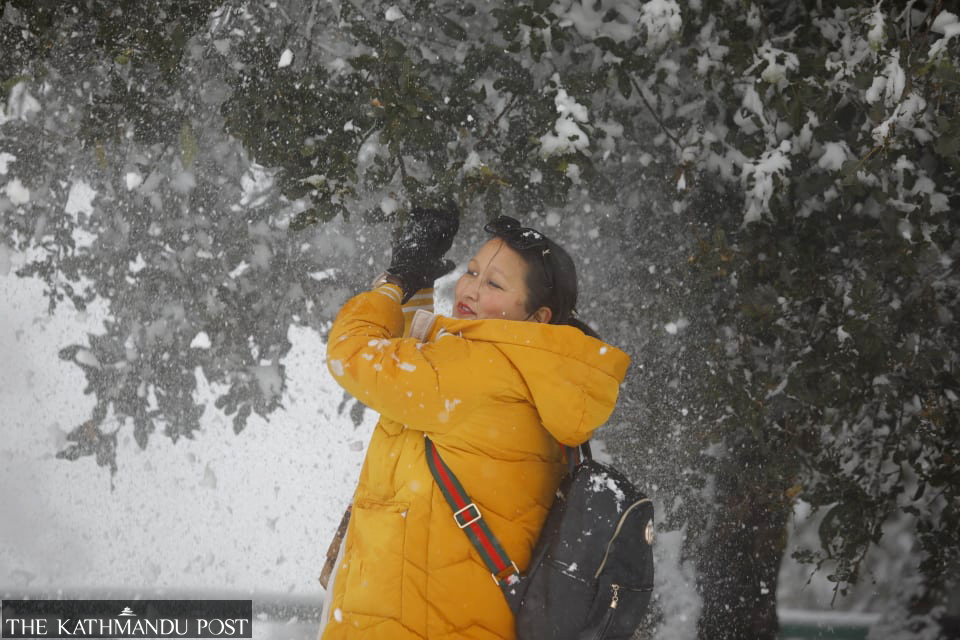 Hemanta Shrestha/TKP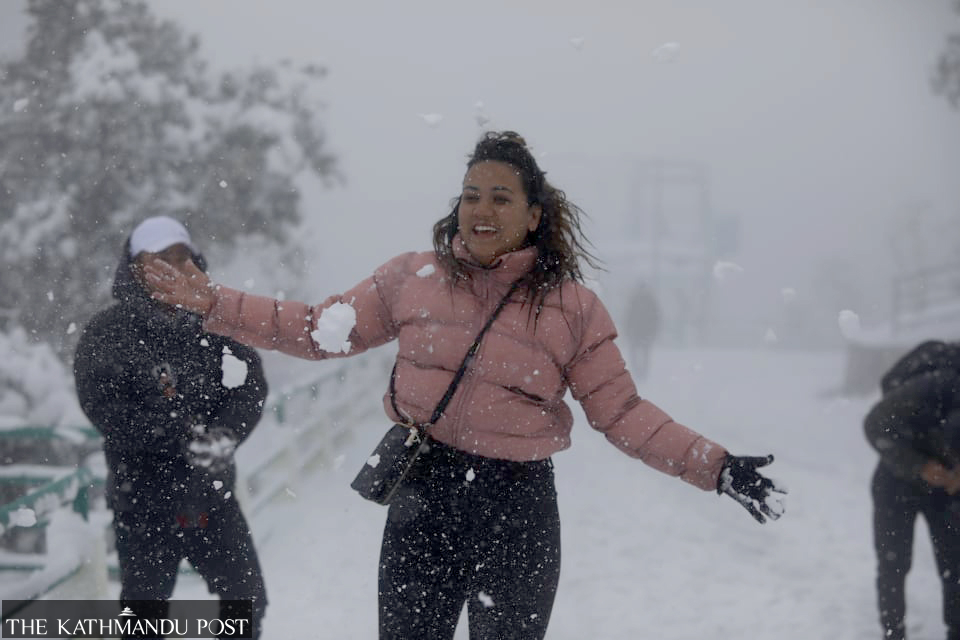 Hemanta Shrestha/TKP
(Bhanubhakta Niraula from Solukhumbu, Prakash Baral from Baglung, Raj Bahadur Shahi in Mugu, Tripti Shahi from Baitadi contributed reporting.)
---