Government doing little to assuage stress of parents and students
Several schools across the country have recorded Covid-19 cases after they resumed in-person classes. But no measures have been taken to curb the spread of the coronavirus.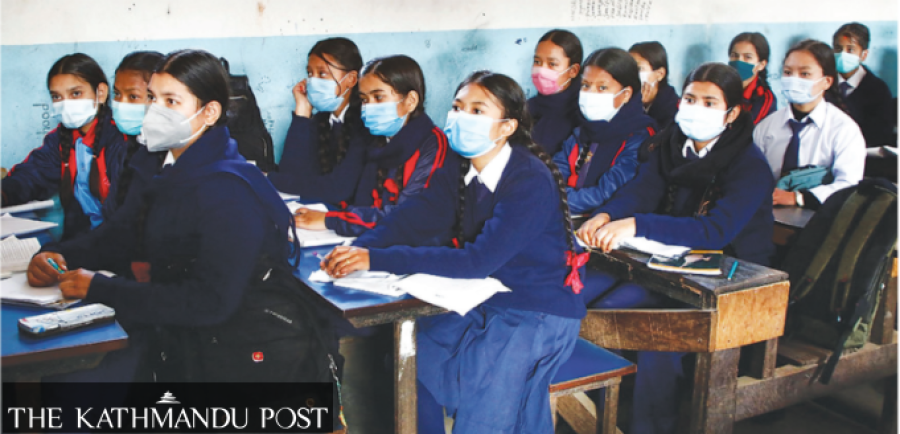 In September, a few schools in Kathmandu Valley and outside resumed in-person classes following Covid-19 safety measures. Post File Photo
bookmark
Published at : January 1, 2022
Updated at : January 1, 2022 08:21
Kathmandu
The pandemic kept its grip tight across the world throughout 2020 and Nepal was no exception. While life tried to limp back to normalcy, the continued threat of Covid-19 kept most people indoors, away from their place of business and social activities.
The impact of Covid-19 restrictions reverberated across all sectors in the country including education, thereby cutting off children not only from their classrooms but also from the growth stimulated by social interactions.
In 2020, when the country went into a nationwide lockdown from March 24, schools and colleges across the country closed for nearly nine months.
A couple of months later in June, the Cabinet cancelled the Secondary Education Examination and directed schools to grade students based on their internal assessments.
After a brief relaxation of stay at home orders, the country again went into a lockdown in late April 2021.
The government again directed all educational institutes to close down until mid-November. However, in September a few schools in Kathmandu Valley and outside resumed in-person classes with Covid-19 safety measures in place to make up for the time lost in the year's academic session.
But soon they had to discontinue the classes given the rise in infection rate and experts warning about schools and colleges turning into Covid-19 hotbed.
The pandemic and the subsequent lockdowns highlighted the disparity between students of different social classes. Most educational institutes chose to run online classes but not every student had the means to access the new standard of learning. Those from financially weaker backgrounds did not have the wherewithal to attend online classes.
As a result, a majority of students, especially those who had no access to the internet, smartphones and laptops, did not attend online lessons.
Over 35,601 schools of which 6,566 are privately owned remained shut throughout 2020 and largely through 2021. The students in the minority attending private schools had access to online learning but millions of their counterparts in government schools were deprived of the learning opportunity.
The online setup was expected to facilitate remote teaching and learning but it was not the case in Nepal.
A majority of schools in the country still follow the traditional method of teaching and learning. Even the educators are not used to the technology to conduct remote teaching. This left a lot of teachers fumbling their way around the new system.
Sita Bhusal, 53, a primary level teacher at Gyanodaya Higher Secondary School in Bafal said she had a difficult time initially adapting to teaching online.
"Later the school ran some workshops for teachers where they taught us to use online platforms," she said. "It slowly became easy for me to join classes. The teachers somehow caught up with online teaching but it wasn't easy for all students since most did not have internet connection or gadgets at home."
"The good thing for me was I learnt to use technology at my disposal in my line of work," she said.
"The Covid-19 pandemic touched everyone in ways unimaginable but it had the most worrying impact on school-going children," said Binay Kumar Kushiyait, a professor at Tribhuvan University.
"The government got stuck in the preliminaries such as mandating washing hands and wearing masks at schools but it did not make any concrete plans or policies on how to create a safe environment to continue the learning process without risking lives," he said. "None of the three tiers of the government worked effectively to address the problems of children who didn't have access to the internet and the gadgets required. This non-commitment on the part of the government only managed to make the gap wider between two distinct classes of students—at private and public schools," said Kushiyait.
The authorities at the local level in rural areas did take certain initiatives to give continuity to the learning process for children despite the discontinuation of in-person classes. Some schools sent teachers door-to-door to monitor the students and their academic progress but such efforts fell short.
"I covered nearly 100 households in different locations in Lamjung and Tanahun districts when our school was shut down," Kapila Bastola told the Post on the phone. Bastola is one of the secondary level teachers at Mangala Higher Secondary School in Ward No 3 of Madhyapur Municipality in Lamjung.
The school has over 1,000 students enrolled this academic year.
"The school also ran online classes but over 50 percent of the students could not attend the classes for the lack of internet facilities and cellphones," said Bastola, 47, who has been teaching mathematics in the school for nearly two decades.
Between mid-July to October, the school sent over a dozen teachers to different villages to run alternative classes, said Bastola.
Meanwhile, in bigger cities like Kathmandu, parents who had their income sources dry up with job losses and layoffs due to the pandemic, moved their children from expensive private schools to affordable government ones to cut back on expenses.
While for some parents, being locked down at home with their children meant more family quality time, there were others who had to leave their children unsupervised since they had to go back to their jobs despite the lockdown.
"Some parents took this as an opportunity to help their children with their classes and monitor their progress in online classes," said Bhandari. "But for many parents who had to go out to work, having children at home meant leaving them unsupervised. So parents who could afford to stay home wanted their children home too but those who could not stay in preferred schools to reopen so that their children can go back to learning under supervision. The latter segment of the parents also had to bear the additional financial burden of providing their children with gadgets and internet connection."
Meanwhile, lurking in the periphery was the danger of excessive exposure of children to the internet with some parents worried about their children spending too much time online hooked on to their gadgets.
Sumana Timalsena, 36, whose son is a sixth-grader at a school in Kathmandu, says alternative learning such as online classes did not have the desired outcome in her son's academic performance.
"My son Sulav was online all the time. He was hooked to his phone," said Timalsena, a resident of Pepsicola in Kathmandu. "When not supervised, he would put his lessons on mute and play video games all day. For me, alternative learning methods were a waste of my resources which gave unattended access to the internet to my son," she said.
The years 2020 and 2021 saw the government fumble through one of the major crises in the country and it seemed as though the physical and mental wellbeing of the students was the last thing on its agenda. The preceding statement held true when the local authorities of Kathmandu Valley announced the resumption of in-person classes from September 17, 2021, despite warnings from health experts about the dangers of having children gather in one place.
Stakeholders believe that this move highlighted the near-sightedness of the authorities and saw the government's decision as doing the bare minimum.
"The government's decision to resume in-person classes showed their lack of seriousness in dealing with the pandemic sustainably," said Suprabhat Bhandari, chairperson of the Guardians Federation Nepal, who had opposed the reopening of schools in Kathmandu and other cities.
Dr Sher Bahadur Pun, Chief of Clinical Research Unit at Sukraraj Tropical and Infectious Disease Hospital in Teku, has been a proponent of keeping children out of school given the risk of infection. He has long been warning that children could be at high risk if a third wave of the pandemic grips the country, but his warnings have fallen on deaf ears.
On December 3, when the Kathmandu Metropolitan City announced plans to open schools from the following week, the country had reported 2,004 new cases of Covid-19, and 16 virus-related fatalities. Kathmandu Valley alone had recorded 793 new infections.
By then the Lalitpur Metropolitan City had already started to run in-person classes.
The physical infrastructure of educational institutes in Nepal barring a few private ones is not adequate to support running in-person classes with all safety measures in place.
Most schools in the Capital and outside are still being run in rented buildings with small rooms and poor ventilation which cannot enforce social distancing as advised by the health authorities.
Sabita Ghimire has two children who attend a school in Kupondole, Lalitpur. Although the school resumed in-person classes, the mother has reservations about sending her children to school.
"The classrooms are not well-ventilated and there is no question of maintaining social distance in the school," said Ghimire. "In the second week of December, three teachers at my children's school tested positive for Covid-19. The whole school was closed for one week. Classes have resumed now but I'm still apprehensive about sending my children to school."
Several schools throughout the country have recorded Covid-19 cases after they resumed in-person classes. But neither the school administration nor the concerned government agencies have taken measurements to curb the spread of the virus.
Educationalist Kushiyait of Tribhuvan University is of the opinion that the government made haste in resuming in-person classes since most children are yet to be inoculated against Covid-19. "The government should have waited for vaccines for children before resuming in-person classes," he said. "It should have inspected schools and laid down requirements for suitable physical infrastructures and done regular monitoring of schools for health protocols before they were allowed to resume in-person classes."
In the second week of December, the Ministry of Health and Population announced its plan to vaccinate children between 12 to 17 years with the Moderna vaccine from December 20 in 57 districts. It started its campaign to vaccinate over 1.74 million children aged between 12 and 17 years in 57 districts with the Moderna Covid-19 vaccine.
The government had earlier opened the Pfizer-BioNTech vaccine for children between 12 and 17 years on November 22.
But its vaccination plan for children has been facing many hurdles. The government on Monday announced its decision to put its plan to vaccinate children aged 12-17 with the Pfizer-BioNTech vaccine on hold for a lack of syringes.
"The government should have prioritised children for vaccination before resuming in-person classes in schools," said Kushiyait. "It's been almost two years into the pandemic and the government has done nothing to safeguard the lives of children and has, in fact, put them in danger by asking them to return to schools without taking any safety measures," he said.
---
---