From vaccines to a balancing act, Deuba faces tough foreign policy challenges
It is not just about India and China anymore. With the changes in international rivalries, Nepal needs to tread carefully while safeguarding its interests, observers say.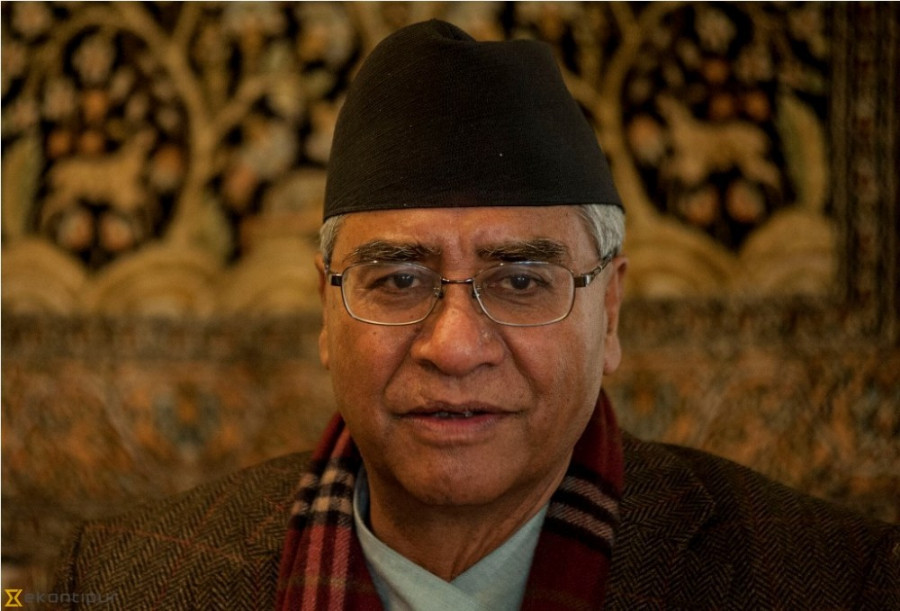 Sher Bahadur Deuba Post File Photo
bookmark
Published at : July 24, 2021
Updated at : July 24, 2021 13:17
Kathmandu
Prime Minister Sher Bahadur Deuba has his plate full. And there are a couple of issues he needs to address immediately—the sooner the better.
Besides calibrating Nepal's foreign policy, particularly vis-a-vis India and China, a perennial challenge for every government in Nepal given its geo-political location, there is an added task for Deuba—securing Covid-19 vaccines. That the pandemic is triggering a huge geopolitical flux is something the 10-day-old prime minister cannot ignore.
Then there is clearing up the mess that his predecessor KP Sharma Oli created in Nepal's handling of its foreign relations.
"Obviously he faces some challenges in the changing regional and global scenarios in the post-Covid world," said a joint-secretary at the Ministry of Foreign Affairs. "Earning the trust and goodwill of India, China, the United States, the European Union and other powers as well as balancing their interests such that it is compatible with our own foreign policy objectives is the key."
While taking the vote of confidence on Sunday, Prime Minister Deuba gave some indications of his foreign policy when he said its priority will begin with neighbouring countries and then go on to include the region, the major powers of the United States and Europe and others.
"There are no permanent friends and enemies in foreign policy and international relations but there is always a permanent interest," said Deuba. "Securing vaccines will be my first and foremost foreign policy priority."
This is Deuba's fifth stint as the country's prime minister and he is well aware of Nepal's challenges.
"Deuba is an old and experienced hand in the foreign policy arena," said the joint secretary on condition of anonymity.
But he leads a coalition government and how he deals with the challenges in front of him also depends on how much leeway his coalition partners will give him to conduct his foreign policy, the official added.
One bone of contention that will come to the fore is how he deals with the Belt and Road Initiative led by China, the Indo-Pacific Strategy led by the US and B3W, a new concept formulated by the G-7 nations, according to observers.
"In such a pressing situation and if Nepal has to take sides in any major power rivalry, then we should say that our primary focus is to fight Covid and we do not want to be in the pocket of any nation," said Durga Bhattarai, former foreign secretary and Nepal's Permanent Representative to the United Nations.
"In that case, we should pursue a non-alignment policy," Bhattarai told the Post. "A pragmatic foreign policy suitable for a small country like Nepal."
Nepal signed the framework on the Belt and Road Initiative with China in 2017 when Deuba's trusted lieutenant and Nepali Congress joint general secretary Prakash Sharan Mahat was the foreign minister. But in the last four years, Nepal has not been able to finalise and implement even a single project under it.
On the other hand, the concept of US-led Indo-Pacific Strategy was major foreign policy headache for Nepal when Oli was the prime minister with his foreign minister and trusted lieutenant Pradeep Gyawali claiming Nepal is not part of strategy but US officials saying Nepal is indeed part of the US policy and is involved in it.
Meanwhile, Nepal has not made any official position on B3W, the new initiative of G-7 nations with the aim of checking China's rise.
With the Nepal Communist Party (Maoist Center) as one of the coalition partners, ratification of the Millennium Challenge Corporation compact under which the US is providing a grant of $500 million for two infrastructure projects to Nepal could be a bone of contention.
Deuba's Nepali Congress as well as Janata Samajbadi Party, the other coalition partner, are on the same page regarding its ratification from Parliament but the Maoist Center has reservations over it and wants to ratify the compact only after amending some of the provisions of the MCC.
But there have been no talks among the coalition partners over its ratification, according to a Maoist Centre leader who did not want to be identified.
"There have been no talks and discussion inside the ruling alliance on how to ratify the MCC," the Maoist Center leader said. "There are two options currently discussed at the senior level. One is finding a common ground on MCC between the alliance partners before tabling it in the House two, allowing the House to discuss it and seek some changes on MCC or clarifications from the US."
Observers also point out that Deuba has to clear Oli's mess.
"The Oli government damaged our foreign policy and international relations that used to be balanced and nuanced," said Leela Mani Poudyal, a former chief secretary and former ambassador to China.
Paudyal was prematurely recalled by the Oli government in February end.
He was referring to how Oli could not balance Nepal's relations with China and how the Belt and Road Initiative could not move forward despite Nepal signing up to the Chinese flagship project in March 2017.
The same was the case with the United States as the Millennium Challenge Corporation, a Washington-led programme under which Nepal is to receive $500 million under grants, could not be ratified despite Oli's repeated reassurances.
"Therefore he lost the coherence in Nepal's foreign policy," said Paudyal.
As far as India is concerned, Nepal published a political map incorporating Lipulekh, Limpiyadhura and Kalapani as part of Nepal, although the territory is claimed by India. The two countries decided to resolve the issue through talks but nothing concrete has happened, as India continues to build a road through the disputed territory to Manasarovar, a holy Hindu pilgrimage site in Tibet, China.
Many see India as Nepal's major foreign policy pillar and managing Nepal's ties with India would be among the major foreign policy challenges.
Among them is Ram Karki, a member of the Foreign Affairs Department of the Communist Party of Nepal (Maoist Centre). Karki is also a lawmaker from the party.
"Deuba himself is the doyen of Nepal's foreign policy but his success and failure will depend largely on how he manages the ties with India," Karki told the Post. "Those who tried to appease India in the past have failed domestically."
Oli, who was seen as a prime minister tilting more towards the north after his election as prime minister on the nationalist plank, lately was trying to mend fences with Delhi. In political circles, it was believed that Oli had the full support of the south, and that theory was gaining traction also because of his meeting with Samant Kumar Goel, the chief of India's spy wing, in October last year.
When there was a government change in Kathmandu, immediate concerns were how Delhi would react, with some even questioning why India was not prompt to congratulate Deuba after his appointment as prime minister on July 13.
But minutes after Deuba won the vote of confidence on July 18, Indian Prime Minister Narendra Modi congratulated him on Twitter. In a telephone conversation the next day, Modi discussed cooperation between the two countries and assured Nepal of the resumption of supply of Covid-19 jabs.
Indian Defence Minister Rajnath Singh, Chief Minister of Uttar Pradesh Yogi Adityanath as well as Vijay Chauthaiwale, the ruling Bharatiya Janata Party foreign department chief, among others, had called Deuba and congratulated him as soon as he was appointed prime minister.
"The problem with our successive prime ministers is that they could not take India into confidence. Winning its confidence is the key," said Karki.
As far as China is concerned, Deuba has to be careful not to step on its toes, according to Paudyal, the former ambassador to China.
"Once Deuba became embroiled in a controversy while participating in a Tibetan function in Goa, India," Paudyal said. "The Chinese took his participation very seriously. Therefore, we have to be careful where the sentiments of our neighbouring countries may be hurt."
He also pointed out how, as a goodwill gesture, as soon as Deuba became prime minister, Chinese Ambassador Hou Yanqi announced the donation of 1.6 million doses of Covid-19 vaccines to Nepal.
Besides having good relations with India, China, the US and others, experts have also suggested that some changes are needed on the domestic front.
The institutionalisation and strengthening of the Ministry of Foreign Affairs, implementation of the diplomatic code of conduct, doing away with the practice of speaking through multiple organs when the issue of foreign policy is concerned, uneven policy of ambassadorial appointments, and uplifting Nepal's image are some key challenges that Deuba needs to sort out on the domestic front, according to observers.
A Nepali Congress leader told the Post on condition of anonymity that in the post-pandemic scenario, the role of Foreign Ministry needs to be expanded so it may be given the task to oversee Nepal's international trade, business and investment.
Dinesh Bhattarai, Deuba's foreign policy adviser when he was prime minister from 2017 and 2018, said Deuba will not conduct his foreign policy on the basis of ultra-nationalism, the way the previous government did.
"However, there is a trust deficit when it comes to Nepal and its neighbouring countries as well as other major powers. So Deuba's foremost challenge will be to restore the trust and goodwill in Nepal's favour," said Bhattarai. "Quietly dealing with the geopolitical challenges of the US-China rivalry as well as India-China rivalry, geopolitical challenges of South Asia, seeking support and cooperation from immediate neighbours, international and the donor community for the economic transformation of the country and securing vaccines to protect the lives of the people are the key challenges for Deuba."
---
---