China misses out Nepal as it hosts Boao annual conference
Blame Nepal's failure or Beijing's displeasure, but not getting an invite for the event carries some meaning, analysts say.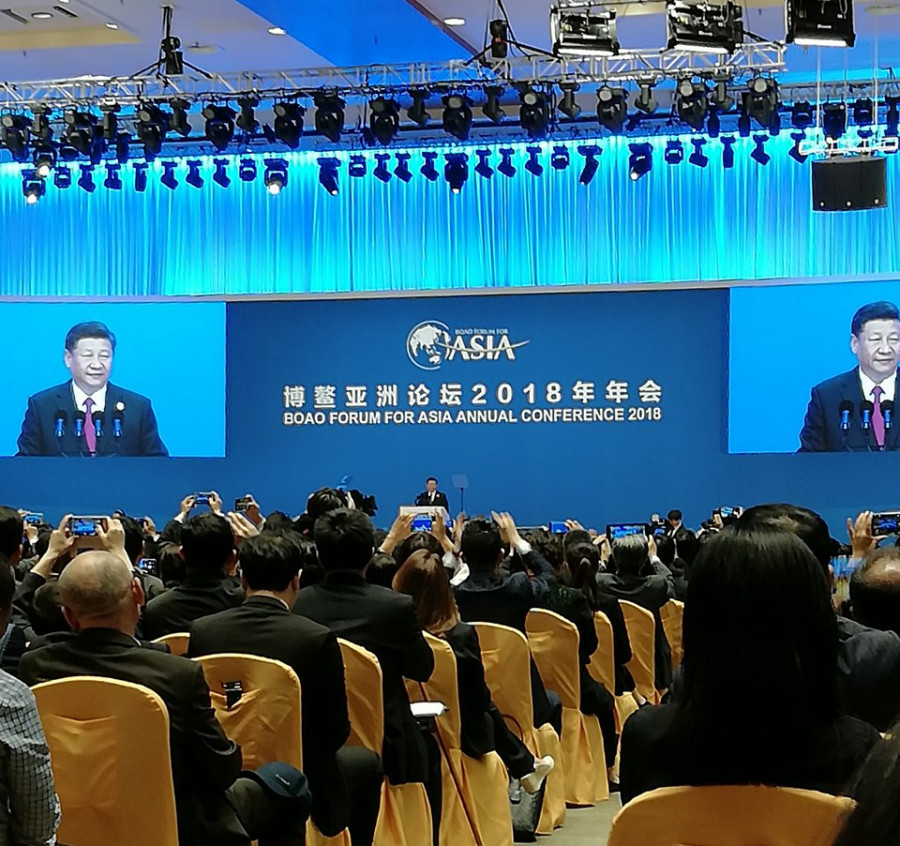 Post File Photo
bookmark
Published at : April 20, 2021
Updated at : April 21, 2021 07:45
Kathmandu
Nepal has been a regular participant at the Boao Forum for Asia since 2001 and its presence has always been at the highest levels. But not this time. Nepal did not even receive an invite for the 2021 conference of the Boao Forum for Asia, of which it is a founding member.

Officials at the Ministry of Foreign Affairs said they did not have any idea why Beijing did not send an invitation to Nepal. The Chinese embassy in Kathmandu said Nepal's Ambassador Mahendra Bahadur Pandey is participating in the conference.
Sources at the Nepali embassy in Beijing told the Post that Ambassador Pandey and Deputy Chief of Mission Sushil Kuamr Lamsal have already left for Hainan to participate in the annual conference.
According to the Boao Forum for Asia Annual Conference-2021 website, over 60 delegates are participating physically and online, including several heads of state and government and senior officials from across the region.
Foreign Ministry spokesperson Sewa Lamsal said she could provide details only on Wednesday.
But many wonder if China deliberately did not invite one of the founding members to participate in the conference.
"I am a bit surprised to learn that Nepal was not invited to the conference," said Rupak Sapkota, deputy executive director at the Institute of Foreign Affairs.
According to Sapkota, who holds a PhD from the School of International Studies, Renmin University of China, the way Nepal's internal politics has unfolded in the recent past suggests there could be some displeasure on the Chinese side.
"No matter what the reason is, we as the founding member being missed out does carry some meaning," Sapkota told the Post.
Since 2001, this is the third instance of Nepal not participating in the Boao conference.
In 2015, when former President Ram Baran Yadav attended the Boao Forum, Nepal received Rs16 billion in Chinese aid for repair and maintenance of the Araniko Highway. Later in 2017, former prime minister Pushpa Kamal Dahal attended the conference.
In 2018, Prime Minister KP Sharma Oli could not participate in the Boao conference because he was on a state visit to India. Nor did he send his representative.
In 2019, no invitation was extended to Nepal. Last year's conference was cancelled due to the Covid-19 pandemic.
A ruling party leader said after asserting its presence in Nepal, Beijing not sending an invitation for the Boao conference does bring to the fore some questions.
"Maybe Beijing has some reservations, especially after political developments in Nepal and Oli's increasing rapprochement with India," said the leader who spoke on condition of anonymity because he feared retribution from the leadership.
"Diplomatically what role the Foreign Ministry plays we do not know, but politically we can say that China is not happy with the recent political developments in Kathmandu. And it could be a reflection of that," added the leader who closely follows the party's international relations.
According to the Boao Forum for Asia website, it is an international organisation jointly initiated by 29 member states with the founding purpose to promote economic integration in Asia. It holds its annual conference in Boao, Hainan on a regular basis and this year's conference is scheduled for April 18-21.
This year, the Boao Forum for Asia completes its 20 years. In 2001, King Birendra had participated in the first conference of the forum.
Analysts say there should have been an invitation to Nepal at highest levels on such an occasion because Nepal is one of the founding members.
"They [Chinese] do not invite all the countries every year. We had our participation at the highest levels in the past, but we did not get an invitation in 2019 too," said Leela Mani Paudyal, a former bureaucrat who also served as Nepal's ambassador to Beijing from 2016 to 2020.
"Yes, it would have been definitely good had we been invited, as the participation is virtual. I cannot say what could be the exact reason for not sending an invitation."
When Nepal's two big communist forces—CPN-UML and the Communist Party of Nepal (Maoist Centre)—merged in May 2018 to form the Nepal Communist Party (NCP), China was viewed as the architect of that unity. The united communist force, the largest and the strongest Nepal had ever seen, built close relations with China, while Beijing played the role of a guardian. The party even organised a two-day symposium on Xi Jinping thought in Kathmandu in October 2019, days before Chinese President Xi's visit to Nepal, the first such high-level visit in 23 years.
But things started to fall apart from the beginning of last year. When the feud in the Nepal Communist Party (NCP) escalated, the Chinese used all its might to broker peace between leaders. Chinese Ambassador Hou Yanqi visited several Nepal Commnist Party (NCP) leaders last year, in what many in Kathmandu found unprecedented as Beijing had always maintained its policy of non-interference in Nepal's internal affairs.
But the party infighting reached a tipping point in December last year. Oli's House dissolution move on December 20 caught Beijing by surprise. Two days later the party split, politically, with two clear factions—one led by Oli and the other by Pushpa Kamal Dahal and Madhav Kumar Nepal.
Insiders say Oli was left with no option than to make peace with India and Delhi too was keen on improving the ties with Kathmandu.
The Oli's increasing closeness with Delhi has become an irritant for Beijing, analysts say.
"In not inviting Nepal to the Boao Forum, there could be some message from Beijing," said Dinesh Bhattarai, a former ambassador who also served as foreign relations adviser to former prime minister Sushil Koirala. "The Chinese might be unhappy because Oli did not attend the conference in 2018 and instead went to Delhi, leaving the invitation lying on his table."
According to Bhattarai, the current political dynamics in Nepal could be another reason why Beijing did not put on the list of invitees.
The theme of the Boao Forum this year is "A World in Change: Join Hands to Strengthen Global Governance and Advance Belt and Road Cooperation".
At least two government officials told the Post that Nepal's participation would have helped in exchanging ideas as it has signed China's Belt and Road and Initiative in 2017.
Nepal signed up to the Chinese President Xi's flagship strategy initiative, which aims to connect Asia with Africa and Europe via land and maritime networks, in May 2017. However, there has been little progress in Nepal under the Chinese initiative.
Narayan Khadka, a Nepali Congress leader who is also the foreign minister of the shadow government, said Nepal too should keep an eye on such international events and make efforts to get participation in such conferences from where it can benefit.
"Given the history of Nepal's regular participation in the conference, there should have been an invitation. In parts, it could be our diplomatic failure," said Khadka. "And maybe the Chinese diplomacy works in a different way."
A spokesperson at the Chinese embassy in Kathmandu talking to the Post insinuated that there was no need to read too much into Nepal's non-participation.
"Boao Forum for Asia holds its conference every year and the organisers invite different leaders of different countries," said the spokesperson via a phone text message. "If you see the list, each year the forum invites different leaders. So for our understanding, there is no permanent guest. And per my information, Ambassador Pandey has already confirmed his attendance."
---
---