Oli-Modi talk seen as a step towards a thaw in Nepal-India relations
Officials and diplomats describe talks amid frayed ties between the two countries over boundary issues as a positive gesture and hope it helps set the tone for diplomatic dialogue in near future.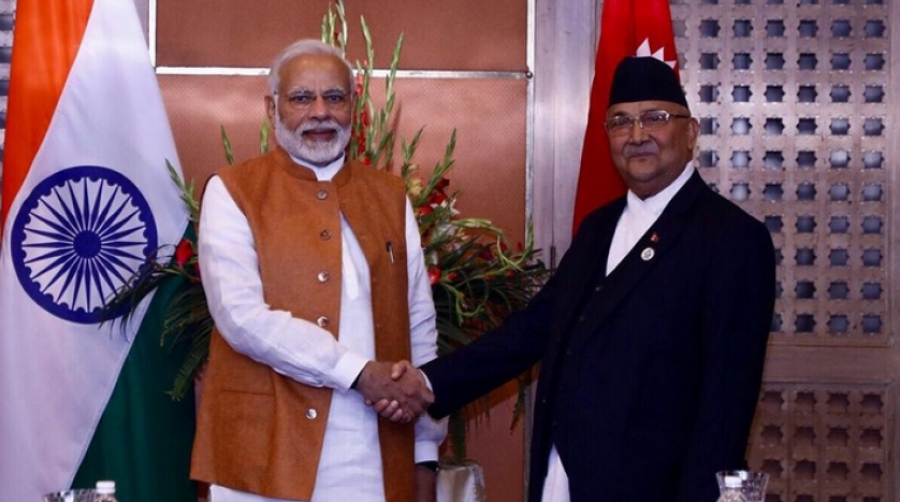 Post File Photo
bookmark
Published at : August 15, 2020
Updated at : August 15, 2020 21:42
Kathmandu
In what looks like a step towards seeking a thaw in relations between Nepal and India, prime ministers of both the countries held direct talks on Saturday after a gap of around four months.

Prime Minister KP Sharma Oli rang up Indian Prime Minister Narendra Modi on Saturday to congratulate India on its 74th Independence Day and said "Nepal looks forward to a meaningful cooperation between Nepal and India."
Oli's Foreign Relations Advisor Rajan Bhattarai described the talks between the prime ministers of the two countries as an indication of the end of the months-long deadlock.
"Let's see how communication in the future between the two countries moves," Bhattarai told the Post. "We have always been in favour of dialogue."
At least two officials from the Foreign Ministry and the Prime Minister's Office said Saturday's development will help set the tone for bilateral talks in near future.
"We expect further briefing from the prime minister soon and we will proceed accordingly," said one official who spoke on the condition of anonymity. "Anyway, it takes two to tango."
Relations between the two countries have hit a low lately over boundary disputes.
Nepal's move of publishing a new political map placing Kalapani, Lipulekh and Limpiyadhura within Nepali borders in response to India's announcement of a road link via Lipulekh to Kailash Mansarovar in the Tibet Autonomous Region of China has led to souring of ties between the two countries. Both Kathmandu and Delhi had expressed willingness to hold dialogue but it had not materialised.
Saturday's talks between Oli and Modi come on the heels of repeated attempts from both Kathmandu and New Delhi to end the protracted standoff.
Officials at the Foreign Ministry, Nepali Embassy in New Delhi and Indian Embassy in Kathmandu were conveyed about Oli's plan to hold a telephonic conversation with Modi only on Friday, according to the official at the Prime Minister's Office.
The last time Oli and Modi spoke over the phone was on April 10 to discuss the Covid-19 situation and measures to look after their citizens stranded in each others' country.
Since then, Nepal and India talks were deadlocked, particularly over boundary disputes between the two countries.
The talks also happened two days ahead of a scheduled high-level meeting between foreign secretary of Nepal and Indian ambassador to Nepal in Kathmandu. Both sides will review the progress made in India-funded projects in Nepal. The scheduled meeting was described by officials as a precursor of diplomatic dialogue between the two countries.
The boundary issue with India first flared up back in November when New Delhi published India's revised political map in line with the Modi government's decision to divide Jammu and Kashmir into federal territories. The new map placed Kalapani within its borders, stoking protests in Nepal. Despite repeated calls for dialogue from Nepal, India did not respond.
But what led to souring of ties between the two countries was India's inauguration of a road link via Lipulekh on May 8.
Oli, who was facing criticism for his administration's failure to contain the coronavirus, however, employed the Indian move to ratchet up nationalist rhetoric. His government swiftly unveiled a new political map of Nepal depicting Kalapani, Lipulekh and Limpiyahdura as Nepal territories. India claims those territories as its own.
Delhi called Nepal's move of publishing a new map with those territories a cartographic assertion.
Soon, the Oli government on June 13 got the new map adopted through Parliament through an amendment to the constitution, and revised the map in the national emblem.
In between, Oli upped his ante against India. He called Indian virus more lethal than the Chinese or Italian virus and even took a swipe at Indian national emblem, raising concerns if his statement would shrink the space for talks with Delhi.
Amid frayed relations, Oli last month accused India of cultural aggression and distorting historical facts. Oli went on to say that Lord Ram was born in Ayodhya, which was near Thori in Nepal—not in India—and that he was a Nepali.
Earlier this month days after Modi laid the foundation stone for the Ram temple in Ayodhya, Oli made a pitch for building Ayodhya Dham in Madi of Chitwan.
Wary of further deterioration in ties between the countries, diplomats and foreign policy experts for long had been suggesting that both Nepal and India should keep the avenues for talks open, saying that there was no alternative to diplomatic dialogue to resolve the dispute.
"This is indeed a positive gesture, and this should have been initiated long ago," said Deep Kumar Uphadhyay, former Nepali Ambassador to India. "Failure to hold talks for so long meant failure of both countries that share historical and cultural ties."
According to Uphadhyay, like any other neighbourly countries, Nepal and India too may have some irritants but they should be resolved amicably.
"We hurriedly published the map and launched a blame-game raising various issues. India, too, must realize that it is not good for its own image if it allows tensions to escalate with Nepal," said Upadhyay. "It's [Saturday's telephone talk] a good start. Both sides should soon resume talks at diplomatic level to address the boundary issues so that other differences can also be sorted out gradually."
The Oli-Modi dialogue comes also amid Nepal's preparations to send the new map to the United Nations and other international organisations.
Minister for Land Reform and Management Padma Kumari Aryal on Friday said that she has approved and signed the English version of [Nepal] map which will be the United Nations, other diplomatic missions as well as Google.
"Our appropriate diplomatic agencies will submit the map to all concerned organisations," Aryal told the Post on Friday.
A member of the ruling Nepal Communist Party's Foreign Affairs Department said there was an urgent need to break the ice from either side and that Oli has made a right move by calling Modi.
"The initiative should have been taken either at the level of prime minister or foreign minister. It's good that the prime minister did it," said Milan Tuladhar, who also served as foreign relations adviser to Jhalanath Khanal during his tenure as prime minister from February to August 2011.
"We have several issues that we have to talk about on a regular basis, so we cannot afford to have a standoff with India for long."
According to Tuladhar, since the prime ministers of both the countries have now taken the initiative, their agencies now should pick it up from here and start communication.
"All in all it's a good and positive step towards breaking the deadlock," said Tuladhar.
According to the Foreign Ministry, the two prime ministers on Saturday also exchanged views on the latest efforts in the fight against Covid-19 and agreed to work together in this area.
"Oli also appreciated Modi's renewed priority to neighbourhood as spelt out in his Independence Day address," said the ministry.
Addressing the nation from Red Fort on the occasion of India's Independence Day earlier on Saturday, Modi highlighted his government's 'Neighbourhood First' policy and said that India considers not only those countries as its neighbours with whom it shares its borders but also those with whom New Delhi has "partnership of security, development and trust".
Oli also congratulated Modi on India's election to a non-permanent member of the UN Security Council and expressed best wishes for the successful discharge of this important responsibility.
"The two prime ministers agreed to continue discussions on bilateral matters in the future," said the Foreign Ministry.
India's Ministry for External Affairs in a statement said that the leaders expressed mutual solidarity in the context of the efforts being made to minimise the impact of the Covid-19 pandemic in both countries
"Prime Minister [Modi] offered India's continued support to Nepal in this regard," read the statement. "Prime Minister [Modi] thanked the Prime Minister of Nepal for his telephone call and recalled the civilizational and cultural links that India and Nepal share."
---
---