All you need to know about visiting Nepal
The vaccinated need to produce proof of vaccination and need not submit negative PCR test reports from within 72 hours prior to their departure. Once in Nepal, all have to get tested for the virus.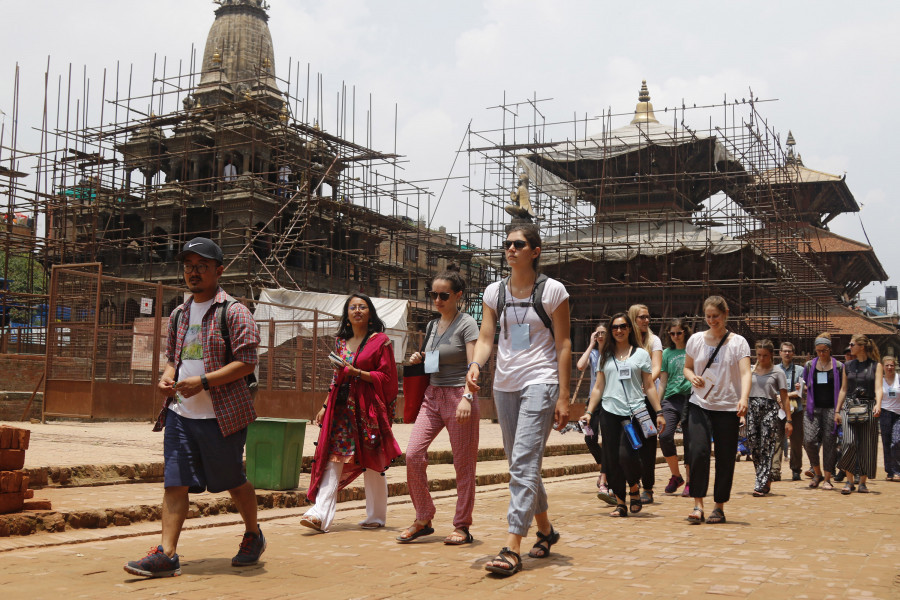 Post file photo
bookmark
Published at : March 26, 2021
Updated at : March 26, 2021 20:44
Kathmandu
Nepal on Thursday said it has introduced new rules for travellers visiting the country. The move is aimed at boosting tourism that took a beating in the wake of the Covid-19 pandemic. Tourism is one of the mainstays of Nepal, contributing around 8 percent to the country's gross domestic product, supporting more than 1.05 million jobs directly and indirectly.

Nepal's tourism sector was completely wiped out in 2020. The suspension of international flights, first enforced on March 20, continued until September 1. But even after flights resumed, tourists were not allowed to travel. Then the government came up with a slew of measures so as to draw tourists.
On October 17 last year, Nepal decided to open the door for trekkers and mountaineers, nearly seven months after the country imposed a complete lockdown. The government, however, has failed to make clearer the rules and its advisory is so confusing that even officials cannot explain. When the new rules were enforced on Thursday, confusion continued.
Here is all you need to know about the new rules for people wishing to travel to Nepal.
What do new protocols say?
According to the Ministry of Tourism, foreign tourists travelling to Nepal must present proof of vaccination or a negative polymerase chain reaction test report at the check-in counter of the airlines they are flying. Such a PCR negative report must be obtained 72 hours prior to their departure from the country of origin. Upon their arrival, they need to present their proof of vaccination and negative PCR test report.
What's the confusion?
The confusion arises from two sets of protocols–before boarding a plane and after landing in Nepal.
Before boarding a plane, a traveller has to show one of the two documents–vaccination card or negative PCR test report. Without either of them, the airlines are unlikely to let them board the plane. One of the documents, however, makes travellers eligible to take their flight.
Pradip Koirala, joint-secretary at the Tourism Ministry, who was involved in drafting the new travel protocol, said the government has permitted both travellers–vaccinated and unvaccinated–to travel to Nepal. Both are exempt from the 7-day quarantine requirement.
"Vaccinated tourists can travel or board a flight by producing proof of vaccination. They don't need to submit the negative PCR test report. But tourists who are not inoculated have to submit a negative PCR test report obtained 72 hours prior to their departure," Koirala told the Post.
According to Koirala, the government, through the Civil Aviation Authority of Nepal, has issued circulars to airlines connecting Nepal to accept the vaccination card.
What after arriving in Nepal?
Once travellers land in Nepal, they have to undergo a polymerase chain reaction test, at their own, cost. It does not matter even if they are carrying a negative polymerase chain reaction test all the way from their point of origin, which must be from within the 72-hour period before the departure.
The travellers have to stay in isolation in a hotel, again on their own cost, until the report is out. "If the report shows positive results, they have to continue their stay in isolation until the negative test report is out," the rule says. Again, the traveller has to bear the cost.
If the result is negative, travellers can continue their tour.
"This rule is applied for both travellers–vaccinated and unvaccinated," said Koirala.
What are other requirements?
Travel, trekking and tour agencies handling tourists should buy an insurance coverage of Rs100,000 for tour guides who are assisting the visitors.
What about Indian tourists?
The Indian tourists should follow the arrangement as per the Nepal-India Travel Bubble Agreement, according to the rulebook.
India has created an air bubble arrangement with Nepal. Air India and Nepal Airlines are now permitted to operate flights between Delhi and Kathmandu and carry the following categories of persons on such flights:
1. From India to Nepal:
Indian and Nepali nationals. It would be for the airlines concerned to ensure that there is no travel restriction for Indian nationals to enter Nepal before issue of ticket/boarding pass to the Indian passenger.

Third country nationals (including diplomats) holding valid visa/entry permit for Nepal, if required.
2. From Nepal to India:

Nepali and Indian nationals.

All Overseas Citizen of India (OCI) cardholders and Person of Indian Origin cardholders holding passports of any country.

All third country nationals (including diplomats) intending to travel to India for any purpose (including their dependents on appropriate category of dependent visa) except those on Tourist Visa.
Only such passengers who are destined for Nepal are allowed to travel on flights from India to Nepal. Only passengers originating in Nepal are allowed to travel on flights from Nepal to India.

The Indian tourists coming to Nepal via surface route should submit PCR negative reports and documents proving that they have been vaccinated at the border points.
What about Nepalis?
For Nepalis coming from abroad via flight, if they have a PCR negative report, home quarantine has been permitted. Those coming via surface route, the border entry health desk shall assist in doing health check-up of the travellers and the District Covid-19 Crisis Management Center shall coordinate with the local levels and make necessary arrangements for keeping them in home isolation or isolation centers if they test positive, for 10 days.
This explainer has been updated.
---
---