Applicants now have to wait for months even to sit for driving licence exam
Members of the general public fear catching Covid-19 on crowded buses, but that's no excuse to drive without a licence, official say.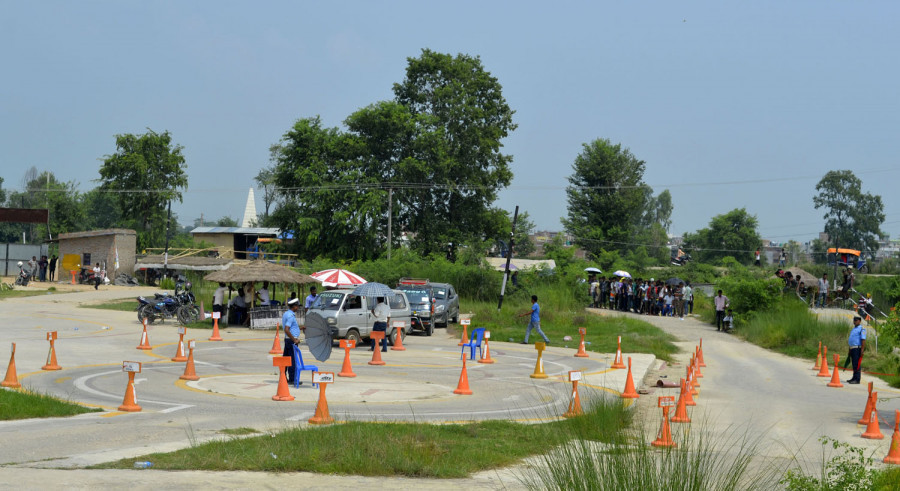 Post File Photo
bookmark
Published at : March 16, 2021
Updated at : March 16, 2021 00:29
Kathmandu
Kabita, 22, works for a private company in Putalisadak. The Makalbari resident used to commute to work by bus.

But when her office resumed following the Covid-19 lockdown, she was scared to board public buses due to fear of transmission of coronavirus.
"After learning to ride a scooter at a driving school, I convinced my parents to buy me a scooter," said Kabita who wished to be identified only by her first name.
But going to work on her new scooter hasn't been easy as she doesn't have a driving licence. "I couldn't apply for a licence as the process was halted for almost nine month," she said.
The Department of Transport Management on March 24 last year halted all its services due to the outbreak of Covid-19 in Nepal. Services resumed only after nine months.
"I was elated when the transport department resumed its services and I tried applying online," she said. "After numerous attempts, I could finally submit the form. But it says I have to wait for nine months just to sit for the exam," Kabita told the Post.
"We haven't been vaccinated yet and commuting on public buses is dangerous as they are usually overcrowded," she added. "These days, I request my big brother to drop me off and sometimes use a ride sharing app to get back home. It's not cheap."
The department, however, said it is well aware of the situation, but there's nothing it can do to resolve it.
"Applications were closed for nearly a year and when it was reopened, the number of applications we received was overwhelming," said Loknath Bhusal, spokesperson for the Department of Transport Management. "But our capacity conduct tests are limited."
Even before the pandemic, applicants had to wait for more than a year to get their smart driving license. But now, they need to wait for over a year just to take the test.
"I bought a motorcycle recently. However I haven't been able to use it because I don't have a license," said 20-year-old Rajesh Chaulagain, a student who has to board public buses to get to his college and back.
"I filled out the online application form recently. But it says I have to wait till January 2022 just to take the test. That's not all, even after passing my exam, I am sure I will have to wait another year to get my smart license," he added.
According to DoTM, the office is currently printing only 200 smart cards every day, but at least 4,000 people apply for a licence every day. "We are planning to bring in 1.4 million cards soon so that we can print over 1,000 smart licences every day," said Bhusal.
But commuters such as Chaulagain are not convinced. "The government wants me to not use my two-wheeler for over a year?" questioned Chaulagain.
"Riding a bike without a licence is very risky, I could easily get caught by traffic police, who usually behave very rudely." There are also safety concerns, he added.
On February 22, a 23-year-old woman died on the spot after being hit by a bus in Jawalakhel. Police later revealed that the woman was trying to evade regular traffic checks as she didn't have a licence.
Metropolitan Traffic Police suggested that people not use their vehicles without a license. "We are aware that getting a license has become hard as applicants now need to wait for months to take their test," said Shyam Krishna Adhikari, spokesperson for the Metropolitan Traffic Police Office.
"They can use this time to learn riding perfectly so that they get their licence in their first attempt," said Adhikari.
"Riding a two-wheeler without a licence is a serious offence. So people should use a public vehicle for commuting, if they do not have a driving licence," Adhikari told the Post.
---
---