Large number of people could be disenfranchised if polls are held as planned
The government has announced midterm elections on April 30 and May 10 but experts say there isn't enough time for new voters to get registered.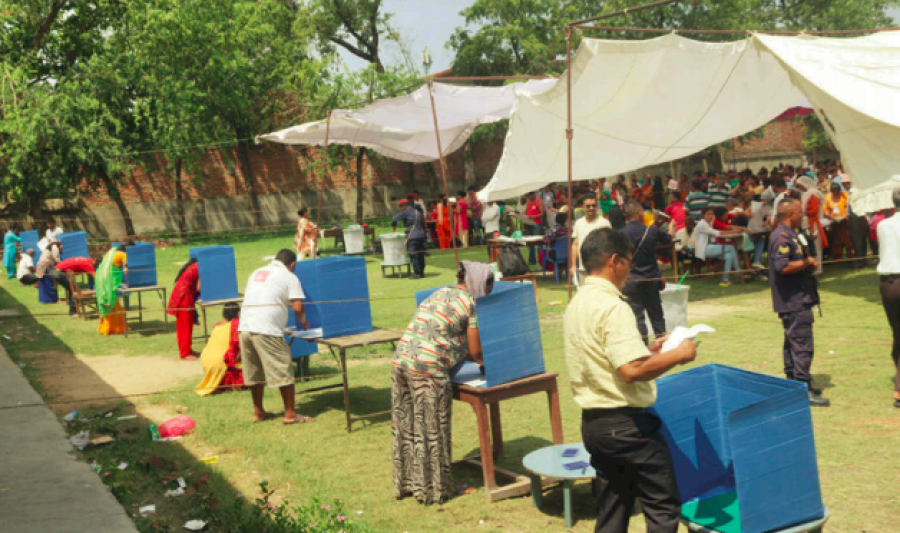 The KP Sharma Oli government has called for midterm elections in April and May. Post file photo
bookmark
Published at : January 1, 2021
Updated at : January 2, 2021 07:49
Kathmandu
A significant portion of the population could be deprived of voting rights in the parliamentary elections, the announcement of which took everyone by surprise, as the Election Commission has suspended new voter registration after the date for midterm general elections was announced.
President Bidya Devi Bhandari, upon the recommendation of the Cabinet, dissolved the House of Representatives on December 20 and announced that parliamentary elections will take place on April 30 and May 10 next year. As per the section 4 of the Act on Voters' Registration-2017, no new voters can be registered for elections once they are announced.
Experts and observers on elections said the sudden nature of election announcement could deprive a large number of people eligible to vote from casting votes, because many people eligible to be registered as voters might not have felt the urgency to be registered as voters.
"People usually do have the tendency of registering their names on voters' list in the last hour. Many people eligible to caste vote might not have registered thinking that the elections would be held five years after the last elections," said Bhojraj Pokharel, former chief election commissioner.
The next general elections were supposed to be held in 2022 but the President announced the mid-term elections in 2021.
"This raises the possibility of many people being deprived of voting rights in the elections announced for April and May," said Pokharel.
The provision of a cut off date for voters' registration was made in the voters' registration law to give enough time for the election body to prepare for holding elections properly, instead of processing data about voters' registration under a tight schedule.
But this should not be the case, observers believe.
"Due to the same provision, there should not be a situation where many people are deprived of their voting rights," said Pokharel.
Even though dissolution of the Lower House and announcement of new polls has been challenged at the Supreme Court, the potential of a large number of people being disenfranchised, if the elections are held in the next few months, has been a cause for concern for stakeholders.
Even in the last federal and provincial elections held in 2017, a large gap was found between the number of registered voters eligible for voting in local elections and in provincial and federal elections.
The Election Commission had printed and distributed additional 2.17 million voters' identity cards before the provincial and federal elections after distributing 14.05 million for local elections. It added new voters, correcting details of people who were on the voters' list and removing names of those who were dead during the period. New voters' identity had been distributed for mostly new voters, who were eligible to vote, till August 21, 2017 after the first and second rounds of local elections had been held in April and June 2017.
"If around two million voters were added in a short gap in 2017, this shows the probability that a large number of people could be deprived of voting rights in the scheduled elections for April and May next year," said Pokharel. The voters added during that period in 2017 was around 15 percent of total eligible voters in the local elections.
Kapil Shrestha, a civil society leader and co-chairperson of the National Election Observation Committee which had observed 2017 elections, also raised concerns over deprival of large numbers of people from casting votes in the upcoming elections due to sudden announcement of elections.
"A large number of people don't get registered as voters until the date of casting ballots approaches near. Even my own son was not registered in the last elections for waiting to be registered in the last hours," said Shrestha. "There should not be a situation where a large number of people are derived from voting rights due to law or election date."
Officials at the Election Commission also admit that those failing to register to vote would be denied from casting ballots in midterm elections if they are held on the dates announced.
Rajkumar Shrestha, spokesperson at the commission, said that the number of people deprived of casting votes may be limited because all those registered on the voters's list would not be eligible to cast votes.
As per the law, one can be registered on the voters' list after crossing 16 years of age but one can be eligible to vote only after completing 18 years.
"Therefore those below the age of 18, will be disqualified to cast votes despite being registered as voters," said spokesperson Shrestha.
---
---