Why the state shows haughty contempt for a social crusader
The way Dr Govinda KC is being treated for his peaceful protests and campaign indicates that the government is growing increasingly intolerant of its citizens who demand system and good governance, analysts and observers say.

Dr Govinda KC is wheeled out of National Trauma Centre after he was forcibly taken there instead of TU Teaching Hospital where he wanted to go. Keshav Thapa/TKP
bookmark
Published at : September 23, 2020
Updated at : September 23, 2020 08:58
Kathmandu
On Tuesday afternoon, a video went viral on social media. The #IAmWithDrKC hashtag started to trend on Twitter. Nepalis on social media condemned the Oli administration and Nepal Police. At the heart of all this was an orthopaedic surgeon—a lanky 63-year-old man with days of beard in frail health—who has not eaten solid food for the last nine days.

He has been on his 19th fast-unto-death since July 2012.
What worries the Oli administration is not that he would die of hunger, but his conviction and belief, observers say. Those who speak for the larger good of society have often been looked upon with contempt by the Oli government and what it did with KC on Tuesday is just a continuation of that tendency, according to them.
"The way the government and its law enforcement agency treated Dr KC today shows the state is becoming more authoritarian and autocratic by the day," said Rajendra Maharjan, a political commentator and columnist for Post's sister paper, Kantipur.
In the video that was circulating on social media on Tuesday, policemen are seen using force on KC to take him out of an ambulance as the visibly frail doctor puts up a futile protest.
The doctor was forcibly taken to the National Trauma Centre as soon as he landed at the Kathmandu airport from Nepalgunj.
"Dr KC was taken to the trauma centre in an ambulance by the police from the Kathmandu airport," said Himalaya Karki, an aide to the surgeon. "That ambulance was supposed to take him to Tribhuvan University Teaching Hospital in Maharajgunj, but authorities had made a plan to take KC to the trauma centre instead."
In another video that emerged on social media, KC has charged the government with kidnapping him to bring him to the trauma centre against his wish to go to the TU Teaching Hospital.
Last month, security personnel restricted KC from providing medical services to the people in remote areas of Jumla, also at the behest of the administration. He was then forced to abandon his healthcare mission.
In the last eight years, KC has staged 18 rounds of hunger strikes during which various parties led the government. The doctor ended his hunger strike every time with some agreements with the government of the day but there hardly has been an implementation of the deals.
It was due to Dr KC's unflinching determination that the National Medical Education Bill was prepared. The ruling Nepal Communist Party, however, bulldozed a different bill through the House in January last year, ignoring an agreement reached with KC who had demanded that the bill be passed in its original form without any changes that were made to suit some interest groups.
Establishment of at least one state-run teaching hospital in each province and conducting MBBS classes at the Karnali Academy of Health Sciences are among the demands of KC.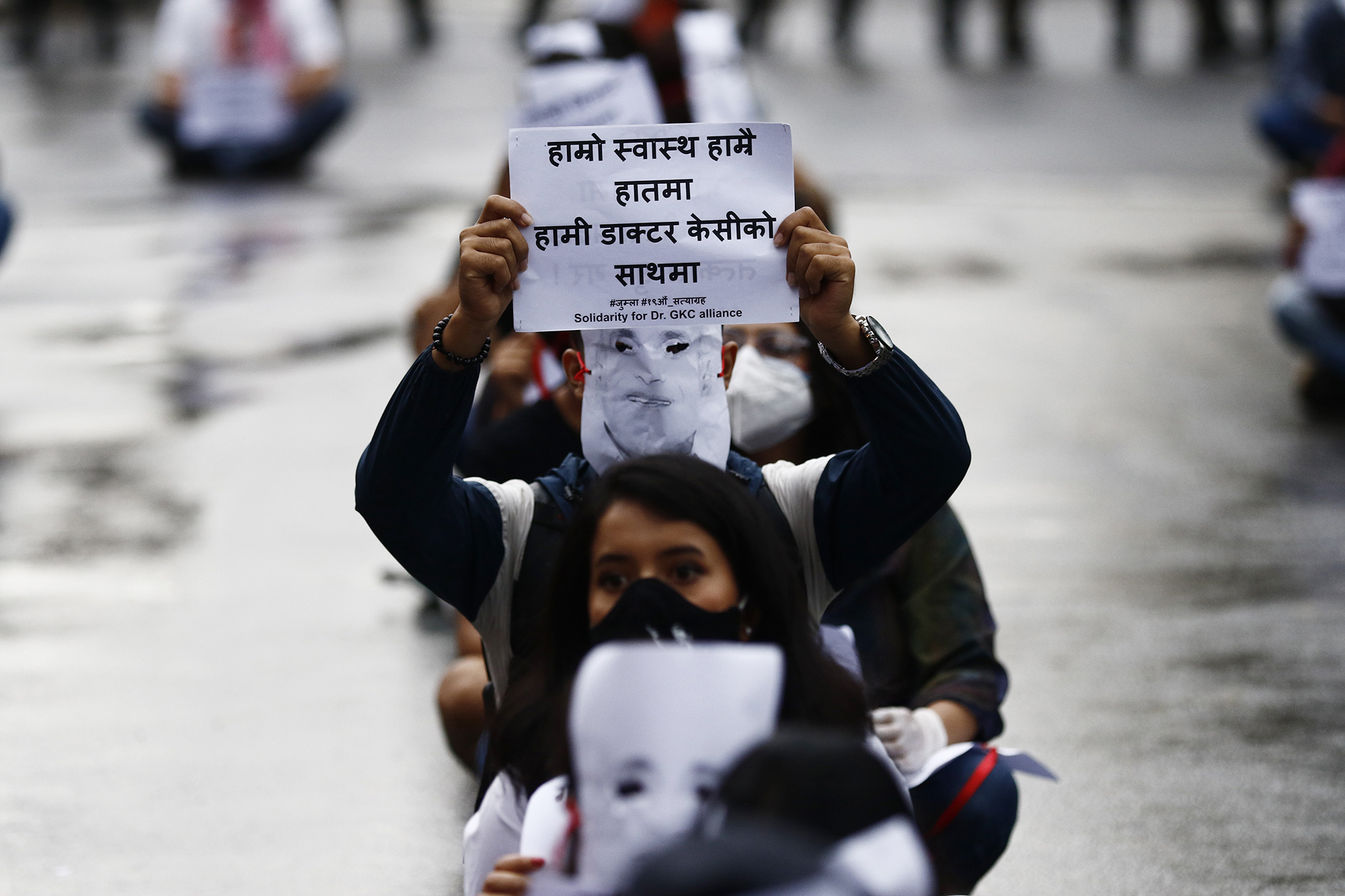 A protester holds a placard in support of Dr Govinda KC during a peaceful demonstration in Maitighar, Kathmandu, on Tuesday. Keshav Thapa/TKP
It's not that KC has not faced allegations against him, mostly by his detractors—at times for veering off his original campaign and making some political demands. But many say there is no need for the Oli government to view those demands as a campaign against it, as the doctor has been fighting for the system, justice and larger good.
Over the last few years, Dr KC has emerged as a beacon of hope in a country where the system is deteriorating, crony capitalism is flourishing and the government is using its electoral mandate to rule with iron fist, say analysts and civil society leaders who have been part of and witness to Nepal's political transformation.
"It's worthless to talk about a government that refuses to listen to its citizens," said Devendra Raj Pandey, a civil society leader. "In a democracy, the government fears the citizens. But the current government humiliates its citizens."
Since coming to power, the Oli administration has made good governance its refrain but when it comes to delivery, it has been struggling. The Oli administration and its functionaries display an uncanny disdain for the citizenry, making a mockery of the electoral mandate it was awarded three years ago, analysts say.
According to leaders who have closely followed Dr KC's satyagraha over the years, KP Sharma Oli has been intolerant of KC's peaceful protests ever since he became the prime minister for the first time in 2015.
"This time Oli has crossed all limits," said Gagan Thapa, a Nepali Congress lawmaker and former health minister who in the past has been part of teams that helped governments reach deals with KC. "The government has not only violated a citizen's right to hold a peaceful protest, it has also violated his human rights to move freely."
It also comes as an irony that the Oli government brags about socialism and mistreats citizens whose demands are all aimed for the bigger cause of the people, say analysts.
KC chose to fight to establish a system following Mahatma Gandhi's philosophy of non-violence and sataygraha, the tool he has chosen to pick is hunger strike. But he had to face the brute force of an administration at the helm of which is a leader who made his foray into politics in the name of class struggle. Oli was among those radical communists who beheaded people labelling them "class enemy".
Oli often talks about his contributions to ushering in democracy by spending 14 years in jail, but what of a democracy that tramples upon people's right to speak, stage peaceful protests and make demands, analysts say.
"The way the Oli government is behaving is indicative of how it is failing on all fronts," said Charan Prasain, a human rights activist and civil society leader. "It is trying hard to cover up its incompetence by harassing the citizens. That's why it fears a citizen who is holding a peaceful protest."
According to Prasain, the Oli government is clearly deviating from democratic practices. "A democratic culture demands proper respect to its citizens and their right to protest," he said
Kedar Bhakta Mathema, former vice-chancellor of Tribhuvan University who led a panel that had recommended reform measures for Nepal's medical education sector, said the way KC was treated on Tuesday shows the government can go to any extent against the people it doesn't like.
"It's a matter of shame that the government employed the police force against a social crusader who has been fighting selflessly. I think the government fears the support Dr KC has," Mathema told the Post. "It is a fight between a corrupt state machinery and a selfless person who is protesting to establish a system in the medical education sector."
Later in the evening, after forcing KC to spend hours at the trauma centre, he was allowed to go to Tribhuvan University Teaching Hospital where he wanted to go straight from the airport.
Pritam Subedi, an aide to KC, said the doctor reached the teaching hospital at around 7pm and that he would continue his hunger strike there.
"I am now at the emergency ward of Tribhuvan University Teaching Hospital," Dr KC told the Post over the phone.
Police, however, defended their move of taking KC to the trauma centre.
"He was taken to the trauma centre as per the government's decision made in consultation with medical practitioners for his safety," said Deputy Inspector General Bishwaraj Pokharel, chief of the Metropolitan Police Office, Kathmandu. "We took him to a place that was arranged by the government for him in view of safety concerns arising out of Covid-19."
According to Mathema, the larger problem is how a democratically elected government is becoming increasingly intolerant of dissent and protests.
"Peaceful protests are people's fundamental rights," said Mathema. "Lest anyone forget, Dr KC was forced to stage protests because successive governments, at the behest of some interest groups, refused to implement the agreements reached with him."
---
---