After a painful spring, Nepal's tourism is looking at a worse autumn
The tourism board has requested the government to reopen the country for foreigners from August 1, so that the industry can start advance bookings for autumn.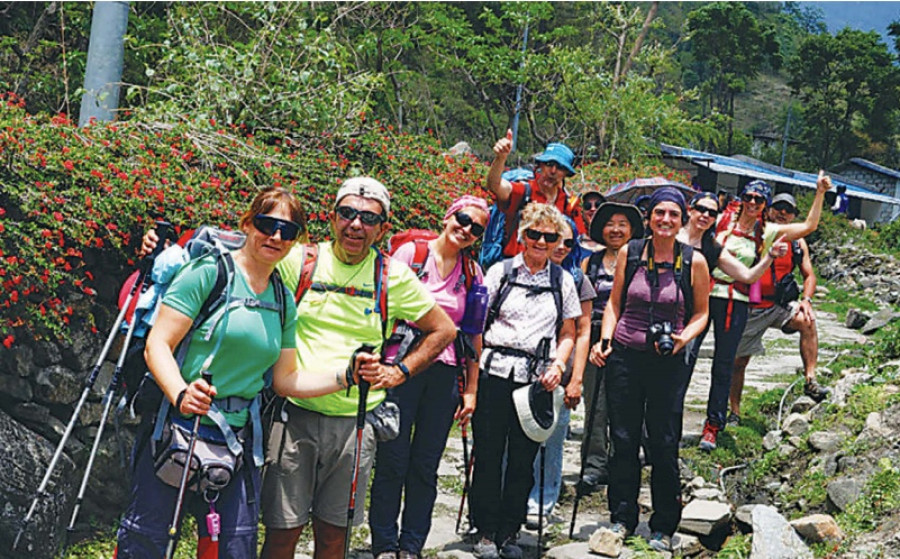 Foreign tourists on a trekking trail in Myagdi. Autumn is the top trekking season in Nepal. Post File Photo
bookmark
Published at : July 9, 2020
Updated at : July 9, 2020 07:30
Kathmandu
After a painful spring that wiped out billions of rupees in revenue and rendered tens of thousands of workers jobless, Nepal's tourism industry is bracing for another disappointment this autumn, the country' peak tourism season.

The autumn—September to November—season, which attracts a third of the total 1.2 million tourists visiting Nepal, does not generally draw tourists for Mt Everest, but hordes of adventure seekers come to trek. Many small peaks see heavy traffic during the autumn season.
In addition to treks to the Everest Base Camp, thousands of tourists travel across the country to various remote valleys and peaks, giving a much-needed boost to the local economies while employing nearly half a million Nepalis, mostly as trekking and mountaineering guides.
"We lost everything in the last five months and, again, the industry is expected to remain empty," said Khum Bahadur Subedi, president of the Trekking Agencies Association of Nepal. "It's already mid-July and the government is still undecided about opening the country to foreigners."
Subedi said if the government acts now, the industry can begin bookings for autumn—whether anyone comes or not.
"That's a plan. We need to announce to the world that we are opening up," he said, emphasising that the tourism industry is not like other businesses. "It's not that when you open up, foreigners will just start showing up."
According to Subedi, at least 350,000 people in the trekking, mountaineering and hotels and restaurant industries have been rendered jobless this year due to the impacts of Covid-19 on the tourism sector.
Tourism has been the sector worst hit by the pandemic and the government has pledged to support the industry. The Tourism Ministry has estimated that the industry incurred a loss of Rs34 billion during the lockdown period, until June.
Rishi Bhandari, managing director at Satori Adventure, who used to have a busy time handling inquiries and bookings from clients to climb Dhaulagiri, Ama Dablam and other small peaks at this time of the year, is now sitting around with little to do.
For a country that relies heavily on tourism, the government lacks the vision to announce a reopening, even as many countries have already opened up, he said.
"We had expected that the government would announce a tentative timeline for opening up the country—mainly foreign airlines," said Bhandari. "But the government thinks that coronavirus will come to the country if flights are resumed."
All safety protocols related to the operation of airports, hotels, and trekking and mountaineering activities are in place. If the country is able to attract at least 20 percent of last year's tourists this autumn, it will tide the industry over until next spring, said Subedi.
"But if we rely on the government's lack of vision, we can't expect tourism to rebound within the two or three years," he said.
Tourism entrepreneurs say that despite the pandemic and continuing restrictions on international travels, tourists are still inquiring about reservations for the holidays.
"This indicates that there's a lot of optimism and people are planning to come to Nepal," said Binayak Shah, vice-president of the Hotel Association of Nepal.
This year, in April and May—the country's second peak tourists season—there were just 13 and 30 foreign arrivals to Nepal, a precipitous drop of more than 99.9 percent in tourist numbers when compared to the same month last year when there were over 70,000 arrivals. These foreign arrivals, too, were part of diplomatic missions, and not tourists.
The drop is the steepest on record since the 1960s, when Nepal first began direct links to Indian cities and became more accessible to the outside world.
After the massive decline in tourism caused by Covid-19, which many say is worse than the downturn during the Maoist insurgency (1996-2006) and the 2015 earthquakes combined, industry insiders say that the once-booming tourism sector is on the verge of collapse, and it is not likely to recover any time soon.
"We have clearly, on different occasions, requested the Tourism Ministry to ease travel restrictions from August 1, so that the industry can open bookings," said Dhananjay Regmi, chief executive officer of Nepal Tourism Board, which promotes tourism. "If we act late, we will remain behind, and if we are behind, we cannot rise again."
Nepal on March 20 banned all passengers, including Nepalis, from entering the country from European Union territories, including the United Kingdom, West Asia, Gulf countries and countries like Iran, Turkey, Malaysia, South Korea and Japan. On March 24, it imposed a complete lockdown.
But the industry has now prepared for Covid-19, with many companies developing contingency plans and health safety protocols, said Regmi. Many countries have established polymerase chain reaction (PCR) test centres at the airports to examine those who enter and leave the country. Test results can be produced in a few hours and those who test negative should be allowed to enter the country.
"This initiative will in fact remove the mandatory stay in quarantine hassles for foreigners," said Regmi.
Industry insiders say that the government needs to make a decision now, regardless of whether tourists come or not.
"The government thinks that the virus will be wiped out and foreigners will come in droves to rescue tourism entrepreneurs," said Subedi. "But if we wait for that miracle to happen, tourism in Nepal will collapse."
---
---