With tensions escalating on both sides, officials recommend holding Nepal-India talks at the earliest
As Kathmandu has been seeking diplomatic talks over the border with India since November, it is now up to New Delhi to make overtures.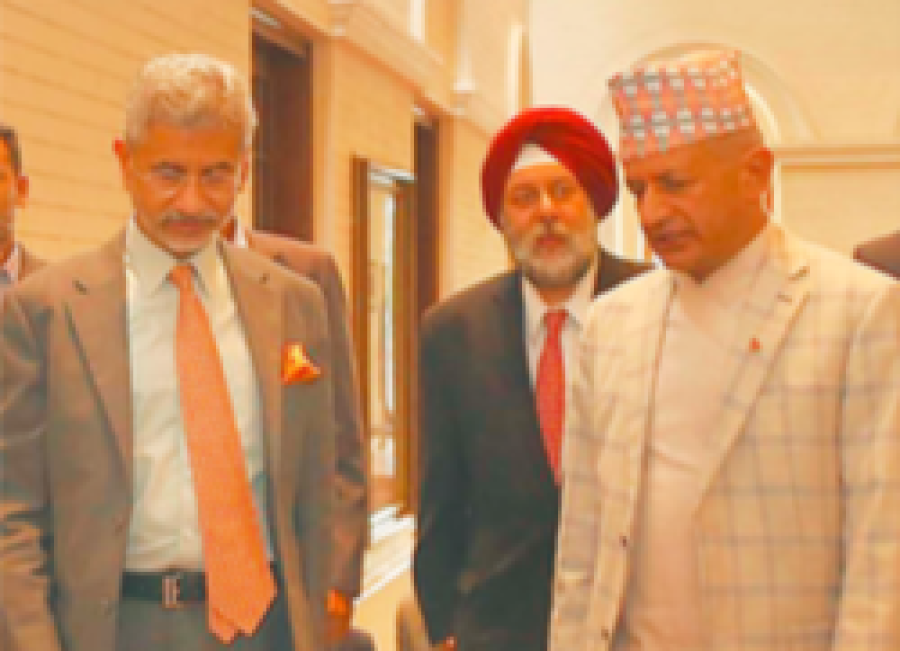 Foreign Minister Pradeep Gyawali and his Indian counterpart S Jaishankar arrive for a delegation-level meeting in Kathmandu in August last year. XINHUA
bookmark
Published at : May 22, 2020
Updated at : May 22, 2020 09:57
The boundary row between Nepal and India has escalated since the former's release of a new political and administrative map that incorporated all disputed territories. With prominent personalities on both sides trading barbs, officials and experts say that pressure has mounted on both Kathmandu and New Delhi to de-escalate and sit for talks.

Delhi was quick to react on Wednesday to Nepal's release of the new map, which includes Kalapani, Lipulekh and Limpiyadhura within Nepali borders, calling it an "unjustified cartographic assertion".
"Such artificial enlargement of territorial claims will not be accepted by India," said Anurag Srivastava, spokesperson for the Indian Ministry of External Affairs.
New Delhi went on to say that it hoped the Nepali leadership will create a positive atmosphere for diplomatic dialogue to resolve the outstanding boundary issues.
But a diplomatic dialogue is what Nepal has been pursuing since November last year, when India revised its own political map in line with Delhi's decision to divide Jammu and Kashmir into federal territories and placed Kalapani within its borders. Despite repeated calls for dialogue from Nepal, India did not respond.
Foreign Minister Pradeep Gyawali told the Post on Thursday that there's still ample room for diplomatic dialogue.
"We are working on two or three models as to how we can proceed. Still, the situation will remain tense for a couple of days but we are looking for talks with India at any level."
Though boundary issues have frequently emerged in the past, India's May 8 move of opening a road via Lipulekh culminated in the release of a new map by Nepal, after Kathmandu and Delhi engaged in trading statements and counter-statements.
When Kathmandu summoned Indian Ambassador Vinay Kumar Kwatra and handed over a diplomatic note, making clear its position on Lipulekh, Delhi refused to acknowledge the receipt of any such note. Then, Indian Army Chief MM Naravane's statement asserting Lipulekh as part of the Indian territory and that Nepal was objecting at the behest of "someone else" did not go down well in Kathmandu.
According to Dhananjay Tripathi, an assistant professor of international relations at South Asia University in Delhi, borders are just not a legal matter denoting divisions between the territories of nation-states.
"They are also an emotional subject. Borders are linked to sovereignty and thus invoke strong nationalist sentiments," Tripathi told the Post. "This is particularly true in the case of neighbours having power asymmetries. Coming to the recent controversy on the India-Nepal border, based on my reading, I believe that it must be addressed without delay."
Talks must be held but the initiative must come from New Delhi, he said. "New Delhi should take some initiatives."
In both of its statements so far—first in response to Nepal's objection to the opening of the road and the second to Nepal's release of the new map, New Delhi has explicitly mentioned diplomatic dialogue, which analysts say is a silver lining amid concerns over escalation of tension and souring of bilateral ties.
But contrary to Tripathi, Lokraj Baral, former Nepali ambassador to India, said that it is Prime Minister KP Sharma Oli who must now take initiative to break the ice, which can begin with a meeting with the Indian ambassador in Kathmandu.
"I think some of the statements by Prime Minister Oli at Parliament might have offended the Indian leadership, but we should not aggravate the situation," Baral told the Post. "We also need to introspect and assess whether by releasing the map, we have gained or created strategic complications."
While addressing the federal parliament on Tuesday, Oli took a jibe at New Delhi for encroaching upon the Nepali territory, saying whether India indeed subscribed to the 'satyamev jayate' (truth alone prevails) that is inscribed in its national emblem.
Now that the map has been released, Baral said Nepal now should gather facts and evidence.
"Our claim and move should be calculative, reasoning with understanding of clear political, strategic gains," said Baral. "Building trust is important. It will be good to start at the foreign secretary level and then gradually move up to the ministerial level."
According to Baral, prime ministers of both the countries can hold a virtual meeting to build trust.
"For this, Prime Minister Oli can hold talks with the Indian ambassador in order to create an environment," said Baral.
Though protests had erupted back in November, also with sporadic calls for 'internationalising' the border dispute with India, the issue subsequently fizzled out.
There, however, are no demands that Nepal internationalise the border issue and take the new map to the United Nations and other international organisations, according to Gyawali.
Gyawali did not go into detail about Nepal's proposal for holding talks in the midst of the Covid-19 pandemic, but he stressed the need for dialogue.
"There are spoilers on both sides that do not want talks to happen," he said. "We need to sit for talks before they are activated."
Tripathi, the South Asian University professor, said that while the coronavirus is currently a priority for every government, border issues are emotional and they cannot be kept pending.
"Also, considering that the present border issue has already become a dominant narrative in Nepal, any further delay in starting a dialogue might keep the political pot boiling in Nepal, which is not good for India's image," said Tripathi. "I suggest an online conference between the two sides at the earliest."
Both Nepal and India in 2014 had agreed to form a Foreign Secretary level mechanism to resolve outstanding border issues, but not a single meeting has been held so far.
After the Kalapani controversy, Nepal had sought a date for talks at the Foreign Secretary level, twice.
"A response is still awaited," said the Ministry of Foreign Affairs in its May 9 statement. The same day, India, for the first time, acknowledged that preparations were ongoing to hold talks at the Foreign Secretary level and that a date could be finalised once the Covid-19 emergency was over.
"I think India will be ready to sit in talks after the lockdown because its position has not changed, even after Nepal released the new map," said Nihar Nayak, a research fellow at the Institute of Defense Studies and Analysis, a think tank based in New Delhi. "Now, it all depends on Nepal. If it does not wait till Foreign Secretary level meetings and internationalises the issue, then India will be forced to respond accordingly. Before that, both sides should try to defuse the tension."
Foreign Minister Gyawali urged patience, especially since this is a time of crisis.
"There is no visible progress right now and there may not be any progress for another two or three days. But there is no alternative to holding talks," he said. "Let's trust each other and let's build confidence."
---
---