Indian Army chief alluding to outside instigation in Lipulekh dispute objectionable and irresponsible, say analysts
The Indian Army chief's allusion to a Chinese role in Nepal's objection to an Indian road in Lipulekh could cause more friction between Nepal and India, they say.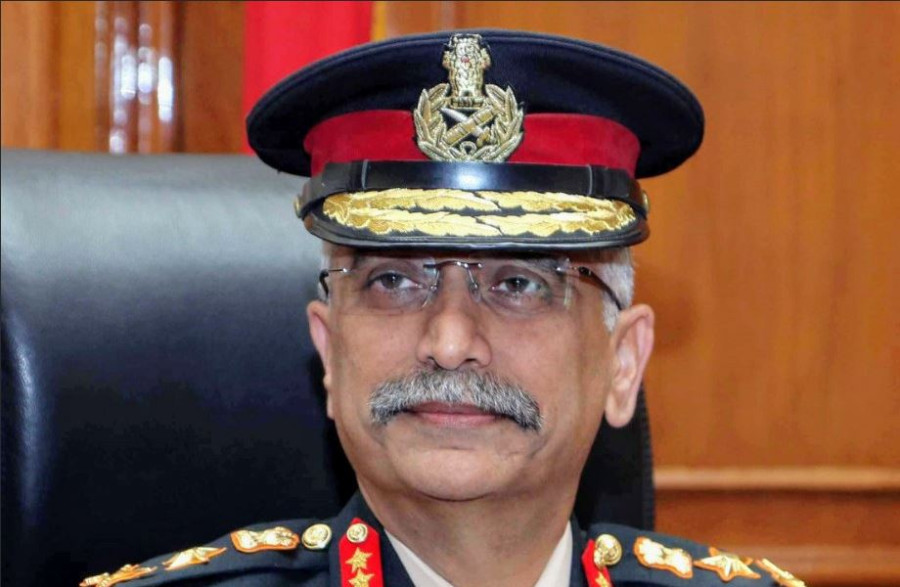 Indian Army chief General MM Naravane. Photo courtesy: Indian Army website
bookmark
Published at : May 15, 2020
Updated at : May 15, 2020 22:15
Kathmandu
Hours after Foreign Secretary Shanker Das Bairagi held a meeting with Chinese Ambassador Hou Yanqi in Kathmandu regarding the boundary row with India over Lipulekh, Indian Army Chief MM Naravane alleged that Nepal was acting 'at the behest of someone else'.

Though Naravane did not name any country, it was apparent that he was alluding to China.
The Indian Army chief's statement comes after statements and counter-statements by Kathmandu and Delhi on May 9, followed by Nepal's handing over of a diplomatic note to Indian Ambassador Vinay Mohan Kwatra in Kathmandu on May 11.
India, which has lately been wary of China's increasing role in Nepal, was alarmed a few days ago after the Chinese envoy held a series of meeting with Prime Minister KP Sharma Oli and former prime ministers Pushpa Kamal Dahal and Madhav Kumar Nepal, both senior leaders of the ruling Nepal Communist Party.
The recent row with India is over the southern neighbour building a road through Lipulekh, a strip of land in northwestern Nepal, to connect India with Kailash-Mansarover in the Tibet Autonomous Region in China. As the road was constructed under an understanding between India and China, there had been calls for Nepal to hold talks with China alongside talks with India.
On Friday, while discussing the boundary dispute with Hou, Foreign Secretary Bairagi reminded her of the diplomatic notes Kathmandu had dispatched to Delhi and Beijing in 2015, after the two governments agreed to expand a trade route via Lipulekh, which Nepal claims as its territory, without including Nepal in discussions.
Two senior Foreign Ministry officials told the Post that the Chinese envoy, in response, said that Beijing is aware of the diplomatic note sent by Nepal in 2015 and the recent boundary dispute in the Lipulekh pass.
However, the Indian Army chief's allusion to China as the instigating force in Nepal's objections over the road link is deplorable, said experts and analysts.
One head of a security agency said that they did not expect such a statement from the Indian Army chief, who is also the honorary chief of the Nepal Army.
"Statements by politicians or civilians on such matters may not be of much concern, but the chief of the national defence force making such unfounded statements is unfortunate and could cause friction between the two countries," said the official who did not wish to be named given the sensitivity of the matter.
Naravane, who took over as chief of the Indian Army at the end of December, has yet to visit Kathmandu. As per a long-standing tradition, the chiefs of both the Nepal and the Indian armies visit each other's countries after assuming office to present their credentials to the other supreme commanders. As part of this tradition, the chiefs of the two armies are also honorary chiefs of the other country's national defence force.
"There are reasons to believe that Nepal objected to India laying a road connecting the Lipulekh pass 'at the behest of someone else'," Naravane said at an interaction in New Delhi, according to the Economic Times.
He also described Nepal's reaction as surprising.
"The area east of Kali river belongs to them. The road that we built is on the west of the river. There was no dispute. I don't know what they are agitating about," said Naravane. "There has never been any problem in the past. There is reason to believe that they might have raised the issues at the behest of someone else and that is very much a possibility."
Nepali government officials refused to comment on the Indian Army chief's statement, except to say that they are carefully "following developments".
But Geja Sharma Wagle, an analyst who writes extensively on strategic and security issues, said that the Indian Army chief's statement is "objectionable" and "irresponsible".
"His statement demonstrates the Indian government's attitude towards boundary disputes," said Wagle. "Such remarks could flare up tension."
Though Nepal and India share special relations as neighbours, they have long been dealing with a number of perennial irritants, boundary disputes being one of them. But the two countries' security forces, especially the armies, share a brotherly relationship and tend to refrain from engaging in political or diplomatic matters.
The two armies could actually have played a crucial role in defusing rising tensions, say analysts.
Although it remains unclear why Naravane went beyond his brief to make such a statement, some believe that he could have taken offence at Nepal deploying the Armed Police Force near Lipulekh.
Amid pressure from the public and leaders from opposition as well as the ruling party, the KP Sharma Oli government on Wednesday sent an Armed Police Force troop to Chharung, which is near Kalapani, also a disputed territory where Indian Army troops have been stationed since 1962.
"Even if it is intended for domestic signalling, [the APF deployment] has naturally raised eyebrows in India, especially in the context of other border disputes flaring up between Indian and Chinese armies in recent days," Constantino Xavier, a fellow at the Brookings India, a think tank, told the Post on Thursday.
But according to Wagle, what is more damaging is the fact that General Naravane has dragged China into the whole episode.
"Naravane has not only spoken about the boundary row with India but has also dragged China into the ongoing dispute," said Wagle. "His remarks reflect the very character and mindset of the Indian government, and India's haughty approach to the ongoing border dispute."
---
---