Supreme Court orders government to take stranded citizens home safely
Justices also order authorities to quarantine and isolate suspects and send them home only when they are out of danger.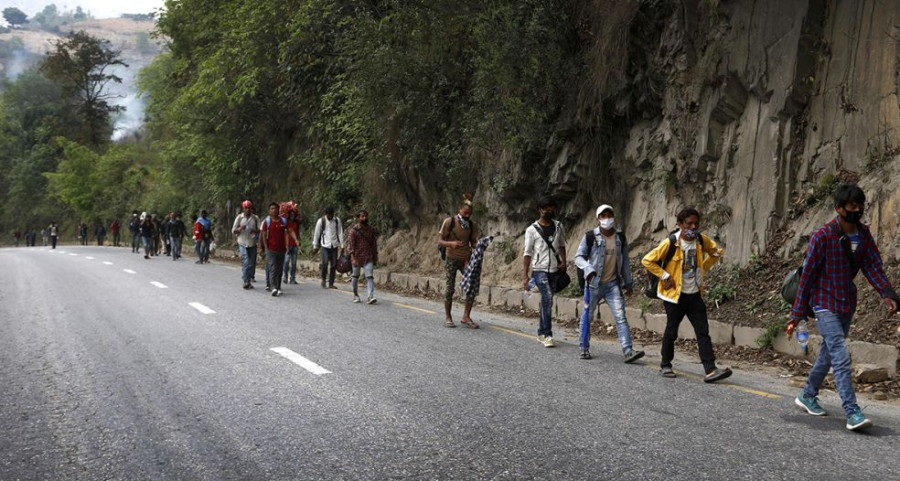 People are taking the long walk to their home. Post Photo
bookmark
Published at : April 17, 2020
Updated at : April 18, 2020 07:45
Kathmandu
The Supreme Court has ordered the government to arrange free transportation for all citizens heading home on foot, and ensure that they reach their destinations safely.
A division bench of Justices Sapana Pradhan Malla and Ananda Mohan Bhattarai was responding to a writ petition demanding that the government be ordered to look after workers faced with problems due to the nationwide lockdown to contain the spread of the contagious coronavirus.
"It is the first and foremost duty of the state to take all its citizens, who are heading homes on foot with no alternatives left, to their respective destinations," the apex court said on Friday.
The bench, hearing the petition filed by senior advocate Parash Mani Sharma and Dinesh Tripathi, has ordered the government to arrange free transportation.
It has asked authorities to pick up people heading home from the highways and test them for Covid-19 using rapid kits.
The bench has ordered the government to ensure that suspected people are quarantined or isolated. They should be sent home only after they are out of danger, the court said.
Meanwhile, the justices have told the government to ensure socio-psychological counselling for workers who have gone through psychological problems arising from job losses and the risk of the Covid-19.
The court has also ordered the government to increase the number of testing centres with polymerase chain reaction machines in different cities where population density is high.
The interim order states that the government should distribute necessary materials, including seeds, fertilizers and equipment, either free or at subsidised rates to farmers.
---
---