Nepali village reels under shortage of essentials after China closes border crossing
In a temporary fix, Nepali Army chopper ferries 4250kg rice to the area on Saturday, but officials don't know what to do if the closure continues.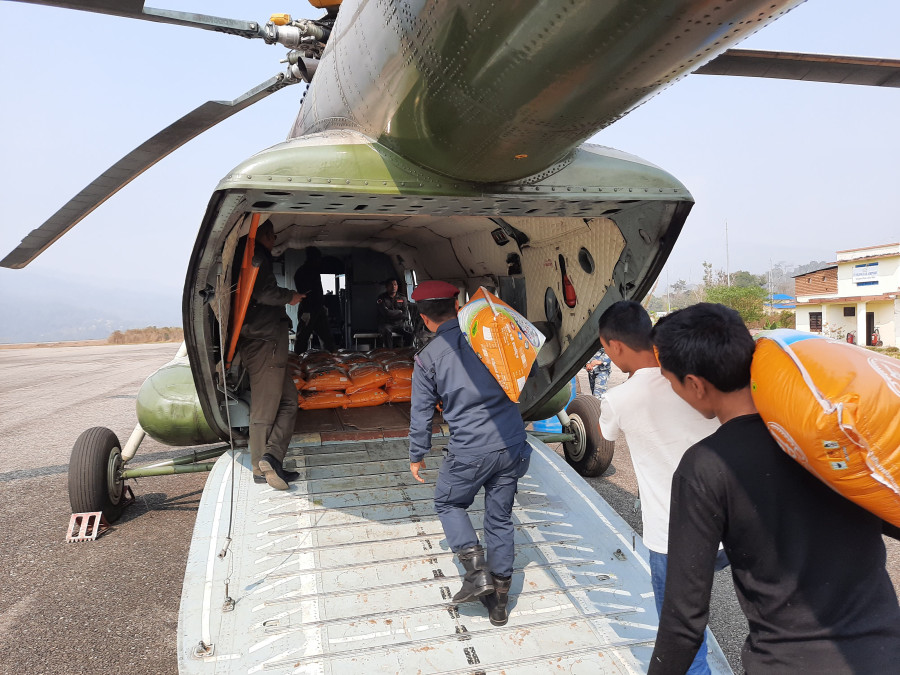 Officials load essentials such as rice, oil and salt onto a Nepal Army chopper in Khandbari, Sankhuwasabha on Saturday. The helicopter ferried the cargo to Bhotkhola Post Photo: Dipendra Shakya
bookmark
Published at : February 9, 2020
Updated at : February 9, 2020 11:20
Sankhuwasabha
Nepali villagers, who live near the border with China and are dependent on Tibet for daily supplies, face a scarcity of essential goods as they have been denied access to the market across the border following the coronavirus scare.
Residents of Bhotkhola Rural Municipality, Sankhuwasabha, which takes five days to reach on foot from the district headquarters Khandbari—the area is not connected to the national road network, said Chinese authorities shut down the Kimathanka border crossing on January 19 without prior notice.
Only millet, maize and potato are grown in Bhotkhola, that too in small amounts. "The villagers consumed what they had for about 20 days. They could not stock up on essentials as the Chinese side suddenly closed the border," Temba Bhote, chairman of Bhotkhola Rural Municipality, told the Post over the phone. He informed that China has mobilised its army at the border. "Human movement has been stopped. Trade at the Kimathanka border point has also been suspended ," he informed.
The district administration on Saturday ferried rice, cooking oil, salt and other daily essentials to Bhotkhola on a Nepali Army helicopter, a week after Bhotkhola Rural Municipality demanded that authorities immediately supply essentials to the area reeling under shortages.
According to Deputy Superintendent Mim Bahadur Lama, 4,250kg rice, 182 litres cooking oil and 200kg salt were sent to Bhotkhola on Saturday. "The goods will be enough for a few days. We will think of an alternative later," said Chief District Officer Jiban Prasad Dulal.
He said the essentials were distributed to 86 households of Bhotkhola Ward No. 1, personnel from the Nepal Police, Armed Police Force, and the local health post.
---
---