Who will save Nepalis awaiting execution in foreign lands?
As a country that has done away with the death penalty, it is up to the Nepal government to make all efforts to rescue its citizens from being executed abroad, rights activists say.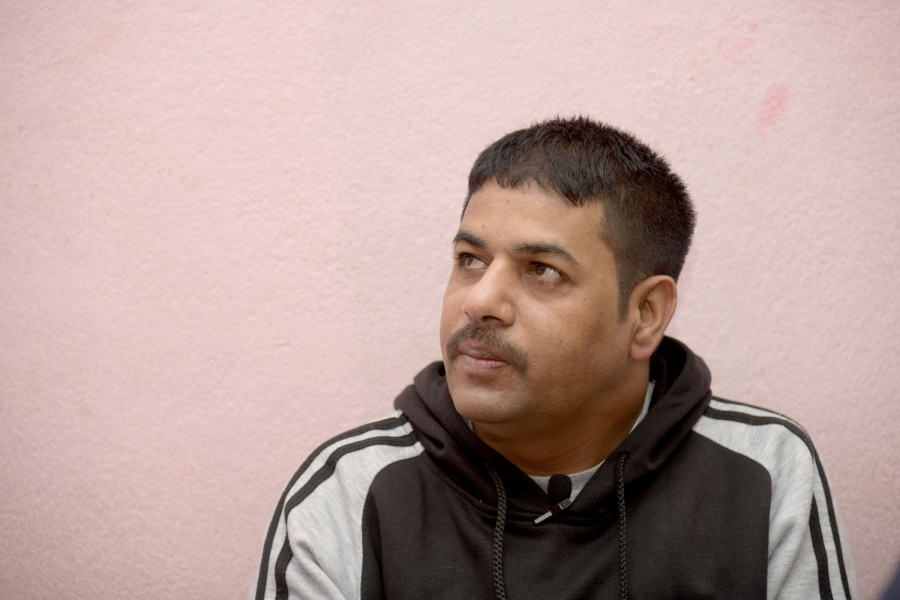 Umesh Yadav Deepak KC/TKP
bookmark
Published at : January 26, 2020
Updated at : January 26, 2020 07:26
Kathmandu
Umesh Yadav was working on a water pipeline in Saudi Arabia in 2006 when Mohammad Latif Wasir, a Pakistani colleague, asked him for a torch. Yadav says that as he passed the torch, Wasir fell off a ladder and injured his nose. An angry Wasir then started to pummel Yadav, who retaliated by hitting him back with whatever he could find—a small scaffolding pipe.

"It was a small dispute," Yadav recounted to the Post. "When he started punching my face, I got angry so I hit him back a few times."
Wasir ended up in hospital with a head wound and after 15 days, he died.
Yadav, who had only just arrived in Jubail, a city in the eastern province of Saudi Arabia half a month ago, was charged with murder and given the death penalty.
Like thousands of Nepali migrant workers, Yadav had gone to Saudi Arabia in the hopes of earning a living for his family members back home in Dhanusha. After working in the Indian state of Gujarat for five years, Yadav, who was 25 at that time, had chosen Saudi Arabia after seeing his friends and neighbours migrate there. He paid Rs140,ooo to a local agent and got a job as a pipefitter in a local company in Jubail.
"When I left home, my younger son was only 18 days old. I thought I could work hard and build a future for my family," said Yadav. "But that one incident changed my life forever."
Ever since Nepali workers began to migrate for work, there have been incidents where they have committed crimes and been jailed in the host countries. But most countries in the Middle East have the death penalty for serious crimes like murder whereas Nepal has done away with capital punishment for any crime. When cases like Yadav's arise, Nepal faces an ethical dilemma—whether to allow the local laws to take their course or to intervene and try to prevent the execution of a Nepali citizen.
In Yadav's case, it was not the government that intervened but an individual. After learning about Yadav, Saroj Ray started a campaign to collect blood money to get him released. In many countries in the Middle East, blood money can be paid to the families of the victims in order to ask for clemency. Ray collected the money, mostly from fellow migrant worker, and brought a pardon letter from Wasir's family in Pakistan—the only way to bring Yadav home alive. In April 2018, the Pakistani family finally agreed to give clemency to Yadav after receiving Rs3 million.
"It was not about the money," said Ray. "They agreed to forgive Yadav on humanitarian grounds."
There are many others like Yadav who continue to languish in prison in various Gulf countries, sometimes awaiting execution. In Saudi Arabia, execution is particularly brutal—public beheading with a sword. Sometimes, the body is crucified after the beheading.
According to the Foreign Ministry statistics, 528 Nepalis were in jails in various countries as of April 2018. Many are languishing in jails for minor offences as they cannot afford legal services.
According to Yadav, there were five other Nepalis in Jubail jail alone. Three had minor cases whereas two—Bibek Dahal and Damodar Chhetri—face the death penalty. Yadav has vowed to do everything he can to get them home alive too.
In June 2018, the government passed a directive which allows the state to bear the legal expenses of Nepalis jailed in foreign countries. The government will provide a maximum of Rs1.5 million, which will be borne by the Foreign Employment Board's relief fund. There are also public campaigns to save Nepali workers who are either serving time in prison or are counting out their remaining days before they are executed.
But there are no separate funds to provide as blood money for those who have been jailed or given life imprisonment, said Rajan Prasad Shrestha, the Foreign Employment Board's executive director.
"There have been a few cases where family members approach us for blood money," said Shrestha. "In such cases, the board can link them with other organisations which can help collect such funds."
However, if there are cases where Nepali citizens have been given the death penalty and paying blood money can save their lives, the board can help such persons.
"If the embassy in that particular country writes to the board seeking blood money, we can act as facilitators to save our citizens' lives," said Shrestha. "Personally, I have also requested Nepal's National Human Rights Commission to cooperate with the human rights commissions of those countries to stop the execution of our citizens."
Nepal completely abolished the death penalty in the 1990 constitution, standing out in a region where most other countries like India, Bangladesh, Pakistan, Afghanistan and the Maldives, still exercise capital punishment. Article 16 of the 2015 constitution states that all citizens have the right to live with dignity and prohibits any law that prescribes the death penalty. Nepal is also a signatory to the UN's Second Optional Protocol to International Covenant on Civil and Political Rights, which aims to abolish the death penalty.
Given that the country has collectively decided to do away with the death penalty, it is incumbent on the government to ensure that Nepali citizens are not executed elsewhere, say human rights activists.
"As Nepal has shown international commitments, including fundamental guarantees under the Constitution of Nepal, against capital punishment, the government must protect the life and liberty of all its citizens," said Anurag Devkota, a programme coordinator with the Law and Policy Forum for Social Justice, an orgnisation that works for rights of migrant workers. "As such, the government needs to sign a mutual legal agreement against death penalties with destination countries and secure legal protection through bilateral and multilateral agreements. If a little effort could save a life, then why not do so?"
But like in Yadav's case, it is generally individuals and non-governmental organisations that have collected blood money and campaigned to save the lives of Nepalis jailed overseas. Dolma Sherpa, who was on death row for murdering a co-worker in Kuwait in 2007, was able to return home alive because of a massive campaign to save her life.
But rescues largely depend on the human rights record of the destination country and bilateral negotiations between both countries, says Mohna Ansari, a member of the National Human Rights Commission.
"It depends on the context of the crime. If the crime is severe, we do not have much say as it also attracts local law and remains a country-specific matter," said Ansari. "We can raise the matter at international platforms and issue a call to save our citizens' lives, but diplomatic negotiations matter and are more effective."
But for Devkota, the human rights lawyer, the government needs to make all efforts, including paying blood money, to rescue Nepalis and prevent them from being executed.
"You could easily save the lives of at least two Nepalis with the budget for the president's entourage," said Devkota. "It is not a question of money; it is rather a question of commitment to your beliefs."
---
---