For the first time, a Nepali has been deported from the US to serve his sentence
Acting on a red corner notice issued by Interpol, Lila Raj Gautam, who was convicted of rape and murder, was repatriated to Nepal.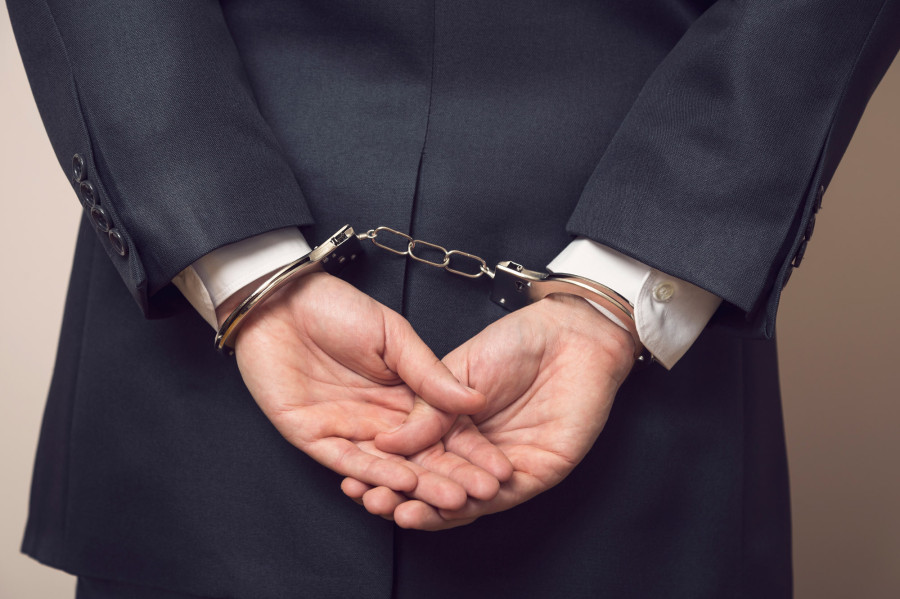 Shutterstock
bookmark
Published at : October 27, 2019
Updated at : October 27, 2019 07:43
Kathmandu
On Wednesday, for the first time, a Nepali convicted of rape and murder in Nepal was deported by US authorities, acting on a red corner notice issued by the Interpol General Secretariat two years ago. The arrest of Lila Raj Gautam, 49, was carried out at the request of Nepal's Interpol National Central Bureau.

Gautam, a permanent resident of Chandragadi in Jhapa, was brought to Nepal via Turkish Air by US police officers and handed over to the Nepal Police.
"Gautam was handed over to the Central Investigation Bureau and later sent to the Dillibazar prison as per the verdict of the Supreme Court," said Superintendent Bel Bahadur Pandey, spokesperson for the Central Bureau of Investigation. "Gautam will now be required to serve a jail sentence of 19 years and two months as he had already been in custody for 10 months earlier."
Gautam, along with Manoj Khadka and Sitaram Basnet, was convicted by the Supreme Court in 2009 of gang-rape and murder of 14-year-old Sandhya Rajbanshi of Chandragadi, Jhapa. In late 2000, the three perpetrators had lured Rajbanshi from her home and strangled her after rape. They had then strung up her body on a nearby tree to make it look like a suicide.
Sandhya's father, Rajkumar Rajbanshi, had lodged a complaint at the Jhapa District Police Office, leading the authorities to take all three into custody. The district court sentenced the three to life in prison on November 6, 2001, but the case was taken to the Appellate Court, which overturned the district court's decision and set them free.
The case, however, reached the Supreme Court and on September 4, 2009, the top court upheld the district court's decision. While the two others were arrested, Gautam fled to India, where he married an Indian woman and eventually made his way to the United States.
Upon learning that Gautam had fled the country, the Central Bureau of Investigation, on October 12, 2017, dispatched a letter to Interpol Nepal to send a request to law enforcement worldwide to arrest Gautam. This is called a red notice, which is a notice issued by the Interpol General Secretariat in Lyon, France alerting law enforcement agencies across the world to locate an individual.
"There are a few regulations to follow before a red notice can be issued. We have to submit supporting data, including a court warrant and other information about the culprit, to the Interpol head office. After they review and verify the case, they will either issue or deny a red notice within 72 hours," said Superintendent Ganga Panta, who is the officer-in-charge of Nepal Police's Interpol section.
On November 28, 2017, a red notice against Gautam was issued by the Interpol General Secretariat to 194 member countries. After a-month-and-a-half, Nepal Police learned that Gautam was residing in the US.
"We then coordinated with Interpol Washington, and learned that he had violated immigration law in the US," said Panta. "We sent all our documents, including the arrest warrant issued by the Supreme Court. Washington police detained him on February 13, 2018, and he has been in the custody of the Department of Homeland Security since then."
Although Gautam was arrested in February 2018, he was held in custody for almost 20 months, as his immigration case was pending at the courts. According to police, Gautam had lied on his US immigration form saying he had not been convicted of any crime in his home country, which is a criminal offence. But he was only sent back to Nepal after the courts decided to deport him, according to Superintendent Rakesh Thapa at Interpol Nepal.
On September 5, 2018, the US Immigration Department gave the go-ahead to deport Gautam. Nepal Police, which was in regular contact with the US authorities, then acted to bring Gautam back to serve his sentence. However, it took another year for legal processes to complete and Gautam to be deported.
"Many have the misconception that a red notice is an international arrest warrant but it is not," said Panta. "Interpol is an international organisation of 194 member states created to enhance worldwide police cooperation. It does not have the power to arrest or detain anybody. "
According to Panta, a red notice simply requests assistance in locating someone and it is voluntary, no state is legally obliged to arrest somebody based on a red notice. If Gautam hadn't violated any laws during his stay in the USA, he might not have been arrested, as this is the first case where Interpol USA has arrested any Nepali criminal due to a red notice and deported them back to Nepal.
On April 26, the National Central Bureau issued a red notice against Sudarshan Gautam who was convicted on charges of trafficking in humans from Nepal to the USA. Gautam has been convicted of being a co-conspirator in human trafficking and swindling three Nepalis in 2016 with promises of providing them safe passage to the US. A red notice was issued after learning that Sudarshan Gautam was living in Canada. However, he has yet to be arrested by the Canadian police and deported as he doesn't have a criminal record in Canada.
Similarly, a red corner notice was issued against Pawan Kumar Karki on January 29, 2012. In a final hearing by the Patan Appellate Court, Pawan was convicted of banking fraud, with a fine amounting to Rs1.2 billion. He was also involved in illegally transferring the earnings of Nepali workers in South Korea to the US. Although police know that Karki has been living in the US since 2011, he has yet to be extradited by the US police.
According to the National Central Bureau, which coordinates between the Nepal Police and Interpol, a total of 30 red notices and 36 diffusion notices—which are less formal versions of a red notice—have been issued against Nepalis wanted either for prosecution or to serve their sentences. Although most red notices are limited to law enforcement, Interpol sometimes makes the notice public when the general public can help in identifying the criminal or if there is a danger of public harm. There are currently 16 public red notices out for Nepali citizens who are sought by the US, India and Nepal for crimes like sexual assault and murder.
Additionally, nine yellow notices have been issued so far, according to the bureau's data. A yellow notice concerns a missing person and is issued in cases of abductions and trafficking.
In coordination with Interpol, Nepal Police bought back nine fugitives in 2018 and four fugitives in 2019 so far.
"Nepali criminals were mostly detained from countries in the Middle East as it is easy to get a visa to those countries and they can also easily hide in the mass of Nepali workers there," said Panta.
Nepal became a member of Interpol in 1967.
---
---