The cow may be Nepal's national animal but few treat it as such
There are thousands of stray cows in Nepal, primarily because it is illegal to kill them and there are no government mechanisms for their care.

Animal rights groups have called on the government to do more to protect stray cows. Anish Regmi/TKP
bookmark
Published at : September 19, 2019
Updated at : September 21, 2019 14:21
Kathmandu
About seven months ago, Kapil Kafle, executive director of Sneha Care, filed a complaint at the Satdobato Police Station against Kedar Ghimire, a dairy farmer, for letting loose a paralysed cow that had stopped producing milk. Acting on Kafle's complaint, the police held Ghimire in custody for five days, after which he was released on bail.

Kafle took the cow in but says the animal didn't survive.
"She had a lot of wounds on her body and she couldn't move," said Kafle. "We tried to help her but it was all in vain. People who own these cows should be accountable as the number of strays are increasing and they are all in a bad condition."
But it's not just the owners who should take responsibility, according to Kafle. It's also the government's duty to make sure there is a proper mechanism to manage stray cows, especially since the cow is the national animal.
The problem of stray cattle is not limited to the Capital. Cows on the street can be seen across the country. News often comes in of mass cattle death from various parts of the country where local governments have tried to control the stray cow population. In January of this year, more than a thousand bovines died of dehydration and starvation in four temporary sheds built by Ghodaghodi Municipality of Kailali district.
"We thought we could look after them and manage the population of stray cows," said current mayor Mamata Prasad Chaudhary, who had overseen the project in 2018.
While Ghodaghodi's intervention didn't pan out, the problem they were trying to address isn't all that uncommon. Hundreds of stray cows die across the country every year, primarily because of road accidents, dehydration, stomach ailments and infections. As cows are considered holy animals and are entitled to protection under the law, it is illegal to kill them for food or otherwise. Dairy farmers have thus been known to free cows after they stop giving milk or grow old.
According to Naresh Prasad Joshi, veterinary officer at the Department of Livestock Services, there are about 7.3 million cows in the country, not counting the stray population, which is estimated to number in the thousands in the core city areas of Kathmandu, Kailali and Kanchanpur. Behind this large number of strays is the fact that in secular Nepal, the cow is still considered a holy animal.
When the 2015 constitution was being drafted, many had argued that the cow should no longer be Nepal's national animal. Janajati activist Ang Kaji Sherpa had even said that by identifying the cow as the national animal, the law prevented Adivasi-Janajatis and other minority groups from eating beef. In the end, the Constituent Assembly decided to go with what was established.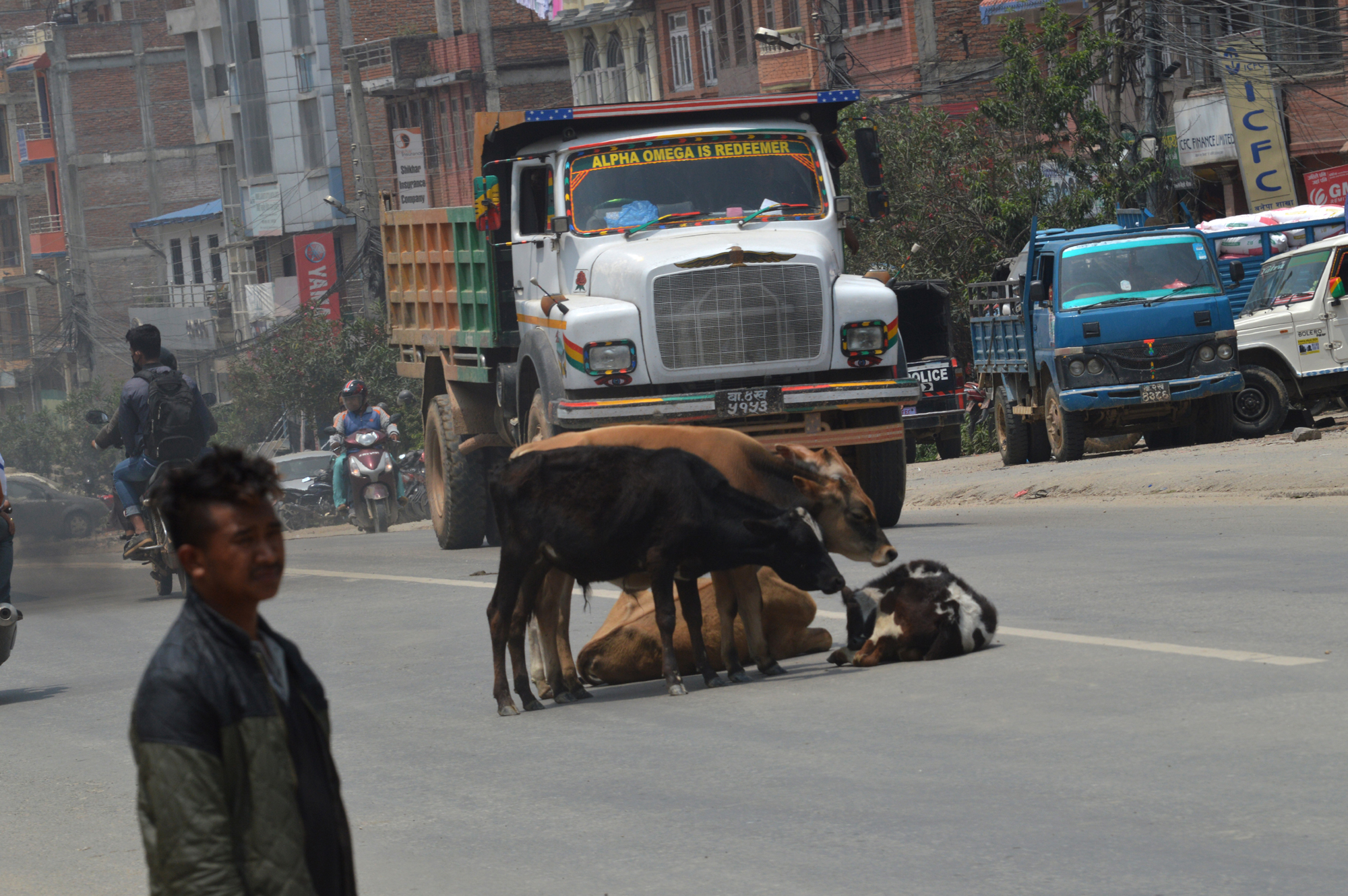 Thousands of cows end up on the streets every year. Surbindra Kumar Pun/TKP
"We decided to go with the cow as the national animal, as cows are revered and closely tied to Nepal's culture," Rewati Raman Bhandari, law commission coordinator for Province 1 and part of a legal committee in the Constituent Assembly, told the Post.
Despite the country's transition into a secular republic, the old Hindu reverence for the cow was continued with, leading to an explicit ban on the killing of cows for meat or any other reason.
"We can't even put the option of exporting or killing cows for beef on the discussion table. Not that I agree with it, but even putting that idea forward will create political upheaval," said Pradip Chandra Bhattarai, senior livestock development officer at the Ministry of Agriculture and Livestock Development.
Nepal might be a majority Hindu country, but it is home to numerous other religious groups, including Buddhists, Muslims, Christians, animists and atheists. These groups have no proscriptions on the eating of beef, which is available in various supermarkets and restaurants in the Capital. This beef, however, is all imported, as according to the Civil Code, the slaughter of cows and any infliction of pain on the animal is considered a "heinous crime".
On June 25, taxi driver Nil Dhoj Ale hit a cow while driving on the Sanepa Ring Road. According to the police report, the cow suddenly stepped onto the road, Ale hit his brakes, but couldn't stop himself from crashing into the animal and killing it.
Ale was taken into custody under Article 289 of the National Civil Code, which states that "No person shall do, or cause to be done, any act with the intention of killing, or causing hurt to, any cow or ox." The penalty for anyone found guilty under this article is a three-year jail term. Ale was released after he paid Rs25,000 bail. The case is currently awaiting a court hearing.
"The law mentions various sentences in case of a cow's death, but they are still very vague, as accidents are usually unintentional," said Tilak Karki, sub-inspector at the Jawalakhel Police Station.
Chapter 5 of Nepal's Civil Code also criminalises the act of expelling domestic animals as strays onto public land. The offender is subject to a prison sentence of three years and a penalty of Rs5,000 if found guilty. But hardly any offenders are ever prosecuted under this section of the civil code.
"There is no way of knowing whose cow it is. Had there been CCTVs maybe we could have done our bit," said Deputy Superintendent Gautam Mishra of the Satdobato Police Station.
Many stray bovines also enter Kailali and Kanchanpur from Uttarakhand and Bihar.
"People say it's because the Modi sarkar has banned the slaughter of cows for beef. And because the strays have no tags, we have no idea if the cows belong to Nepal or are from India," said Joshi.
Despite these regulations and stringent provisions for killing cows, thousands still end up on the streets every year. While their subject of deaths increasingly alarms people, their misery is often forgotten.
According to DSP Sunil Jung Shah of the Putalisadak Metropolitan Traffic Police Office, stray cows make their work more difficult, as they block roadways and they themselves are at risk of road accidents.
"There are many hit-and-run cases, but they go unnoticed because there is no human casualty," said Suprabhat Basnet, programme designer for Abandoned Animals First Aid Act (AAFAA).
Cows are domestic animals and when they are let go, they have difficulties surviving since they have no idea how to find food or how to protect themselves. According to Basnet, cows are hit by vehicles and get injured, or are attacked by stray dogs; many are dehydrated and unable to move.
"They are all sick, as they don't get to eat proper food or drink water. Many also suffer from stomach problems because they eat plastic from the garbage," said Basnet.
Clean Nepal, an organisation that manages the carcass of animals in Kathmandu, reports that in between the months of May and July, they interred about 60 cows from the city's roadways.
"The cause of death of these strays is usually consumption of plastic from litter and polluted water," said Padam Thapa, chairman of Clean Nepal.
Most farmers tend to release their cows at night, according to Dhanpati Sapkota, chief of the Kathmandu Metropolitan City Police. "The abandoned cows are usually old male cows or calves, but today there are even female cows on the road," he said.
Sapkota and his team have been managing stray cows in Kathmandu for years now by gathering them every week at the City Police's barracks in Teku. There, they auction off the cows for as low as Rs100 per cow.
"We have been organising such auctions to control their number," said sub-inspector Bishnu Bogati who coordinates the cow auction. "We take them there as a temporary measure. It's not meant to be a shelter."
The Kathmandu Metropolitan Police has also been taking small steps to identify stray cows and limit their number with AAFAA. Last month, they started tagging stray cows with microchips, but the process has only just begun and an associated mobile app is yet to be developed.
The Ministry of Agriculture and Livestock development, for its part, is revising its animal welfare directives and drafting an animal welfare act to ensure the proper management of stray cows and their health conditions.
"We are breaking down the responsibilities of various government bodies with regards to managing stray animals, especially cows," said the ministry's Bhattarai.
***
What do you think?
Dear reader, we'd like to hear from you. We regularly publish letters to the editor on contemporary issues or direct responses to something the Post has recently published. Please send your letters to tkpoped@kmg.com.np with "Letter to the Editor" in the subject line. Please include your name, location, and a contact address so one of our editors can reach out to you.
---
---