City office installs microchips on 500 domestic cattle to stop abandonment
Each chip, the size of a rice grain, contains a unique identification number that can identify the animal and its owner.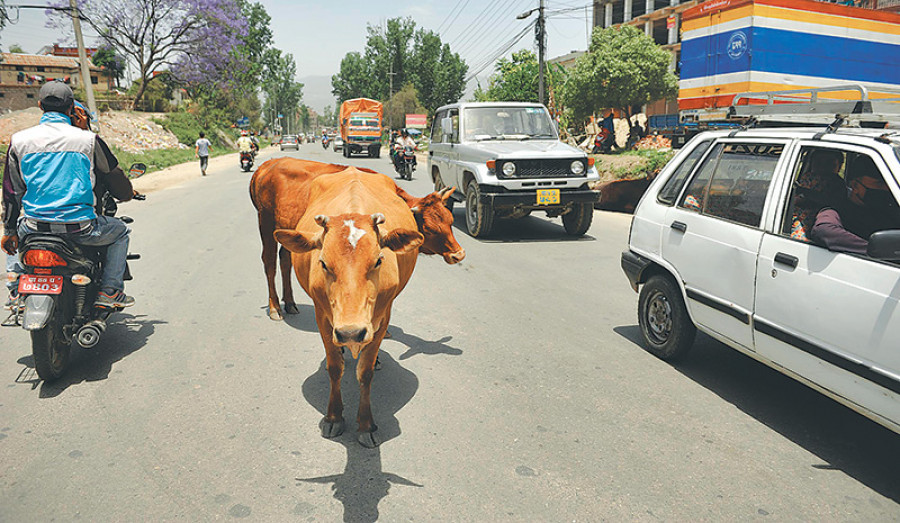 With the latest move, the Kathmandu Metropolitan City expects to address the problem of stray cattle in the Capital. Post File
bookmark
Published at : September 16, 2019
Updated at : September 16, 2019 09:10
Kathmandu
The Kathmandu Metropolitan City has installed 500 microchips on bovines in barns and cow farms in the city.
This first-of-its-kind initiative was made possible with the support of Abandoned Animal First Aid Act, a non-profit that has been rescuing abandoned animals from the streets of Kathmandu Valley. The microchip programme is expected to help the city office keep a record of domestic cattle and curb their abandonment.
"We were impressed by the working model of Abandoned Animal. So we took their technical support," Dhanapati Sapkota, chief of the Implementation Department of the city office, told the Post.
As a pilot project, the city office has launched the microchip programme in Ward No. 8, 31 and 32, at places like Koteshwor, New Baneshwor and Gaushala.
Each microchip, the size of a rice grain, contains a unique identification number that can be tracked by an electronic reader.
"With the help of these microchips, we can identify the animals, their gender, names of their owners and their address," said Sapkota.
This is the latest move from the city office to address the problem of cattle abandonment.
The city authority has been rescuing stray cattle from the streets and auctioning them for over two decades. But the problem of abandonment continues since the city office has no way to identify the owners of discarded cattle, nor does it has a rescue shelter.
The city officials hope that the microchip programme would discourage cattle owners from releasing their old and sick animals on the streets.
The city office spent Rs 500,000 to buy the microchips from India, which has adopted microchip technology to keep track of pet canines and domestic cattle in its various states.
"Microchipping cattle to keep their record is a first for Nepal. As the project is still in the pilot phase, we are still improving and working on the software and an app," said Shova Shakya, coordinator of Abandoned Animal.
---
---