Integrated settlement built in Hyolmo Village
Houses are built using traditional methods of Hyolmo culture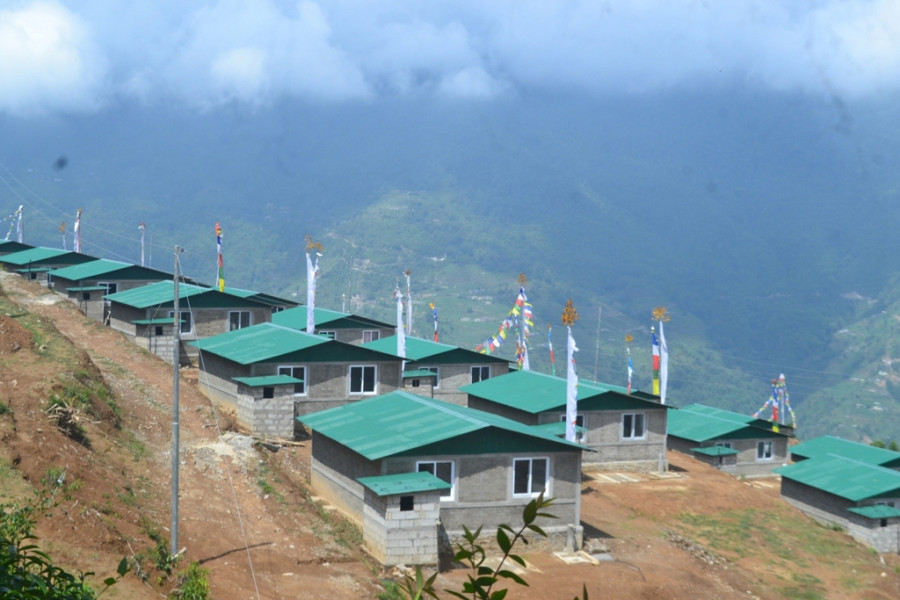 The recently built integrated settlement at Tembathang in Helambu Rural Municipality, Sindhupalchok. Post Photo: Anish Tiwari
bookmark
Published at : June 12, 2019
Updated at : June 12, 2019 10:48
Helambu (sindhupalchok)
Sixty-five-year-old earthquake survivor Chenga Lamini of Helambu Rural Municipality in Sindhupalchok is relieved now that she has a house to live in. She's especially happy because her house is constructed in "Marche Guma" style of the Hyolmo culture.
According to Lamini, her house has been constructed using traditional methods, arts and artefacts.
"We have used artistic windows and doors in our house that reflect the Hyolmo culture. The doors and windows are carved with images of our gods," Lamini said.
An integrated settlement of 40 houses has been built in Tembathang by Janahit Gramin Sewa Samiti in collaboration with the rural municipality.
Rajendra Sharma, chairman of the Gramin Sewa Samiti, said that all the houses in the settlement were constructed in accordance to the Hyolmo culture.
"The village now has a distinct identity to call its own," Sharma said.
Nima Jyangbu Lama, who was involved in the construction of the settlement, said that seven families have already moved into the newly made houses. "Other families are waiting for the official handover ceremony," Lama said.
Nimagyalgen Sherpa, chief of Helambu Rural Municipality, said that the municipality plans to start a homestay service in the new settlement for tourism.
According to the villagers, they will also construct child-friendly gardens, cobbled pathways and other infrastructures to highlight the Hyolmo culture.
The earthquake of April 25, 2015, destroyed the majority of houses in Yambala, Nadang, Setighyang, Thipal, Phadung, Mendung and Tasithang of the district.
---
---