What does Narendra Modi's landslide win mean for Nepal?
At a time of growing major power maneuvers in the region, foreign policy observers are watching with intrigue how India will balance its interests between China and the US actively engaging in Kathmandu.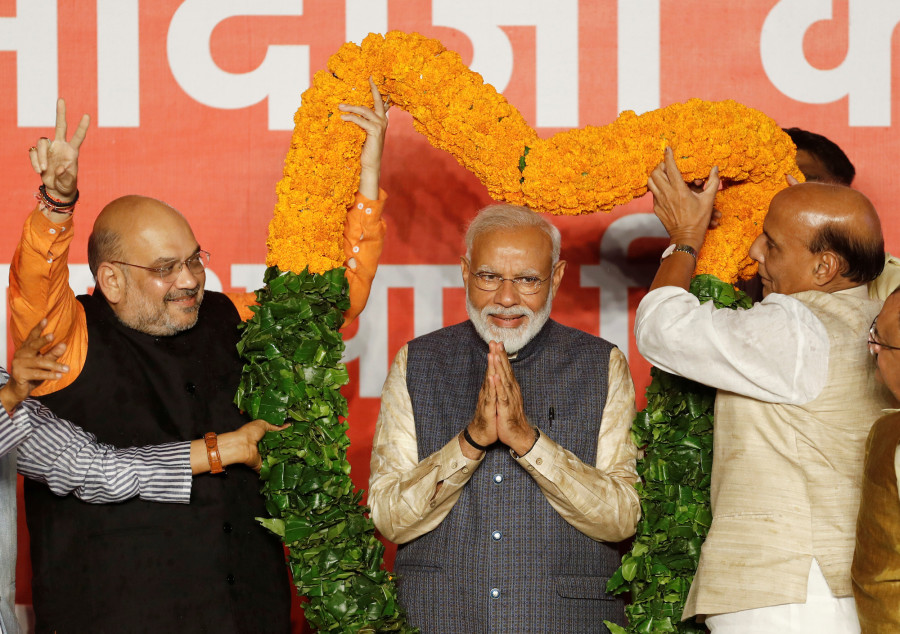 bookmark
Published at : May 23, 2019
Updated at : May 25, 2019 07:28
Kathmandu
With the reelection of the Bharatiya Janata Party and Prime Minister Narendra Modi in neighbouring India, Kathmandu's diplomatic and political circles are certain to spend the coming weeks parsing what this could mean for Nepal.
Discourse in Kathmandu is likely to centre on the future of Nepal-India ties, India's neighbourhood policy, and Kathmandu's attempts at striking a geopolitical balance, especially given increasing major power maneuvers in the region, according to foreign affairs experts and former diplomats.
Hours before final elections results were announced, Prime Minister KP Sharma Oli telephoned Modi to congratulate him, exchanging views on strengthening Nepal-India relations, and expressing his readiness to work closely together.
The landslide win for Modi, who ran on a business-friendly, nationalist plank, is certain to have far-reaching consequences for Nepal, especially given the recent developments between the two nations.
Since Modi first came to power in 2014, the nationalist prime minister has visited Nepal four times, seemingly in line with his much-publicised 'neighbourhood first' policy. However, Nepal-India relations took a frosty turn in September 2015, after the promulgation of the new constitution in Nepal and the subsequent imposition of a blockade by India along the open border.
There have been attempts from both sides to normalise relations since then, but public perception of the BJP administration—and Modi in particular—has yet to reach the highs of 2014.
While some in Kathmandu were cautious about Modi's victory, others have been more optimistic. The rise of Modi has given Nepal an excellent opportunity for economic development, said former minister for foreign affairs Kamal Thapa.
"I am certain that Modi will give continuity to the foreign policy he had adopted in his first term, and apart from the economic blockade, our relations with India are back on track," said Thapa.
Modi's win is likely to spark more geopolitical debates in view of the inroads China has made into Nepal, especially during Oli's tenure.
Through the Belt and Road Initiative, and increased investment in hard and soft powers, Beijing's increasing influence in Kathmandu has become a cause for concern for the Indian establishment. New Delhi has long considered Nepal as part of its 'sphere of influence', with some Indian experts going so far as to call Nepal India's 'backyard'.
Then, there is also the United States, which is actively engaged in Nepal through various soft and hard power initiatives, including the Indo-Pacific Strategy, in which India is a partner.
Recent times have seen both China and the US vying for influence in Kathmandu, as India carefully watches developments. But it is also a matter of intrigue how delicately India will balance its interests between these two global powers in Kathmandu at a time when Modi has played a balancing act with both the US and China.
"Obviously, India will keep a close eye on external forces active in Kathmandu and their manoeuvrings," said Lokraj Baral, a former Nepali ambassador to India. "To serve its interests, India will come in a strong way in Nepal and will try to strengthen its position."
Now that the Bharatiya Janata Party has a resounding majority in parliament, Modi may even revisit his neighbourhood-first policy, opting for a more active and friendly approach, as opposed to the prevailing hostile foreign policy, foreign policy observers closely watching the Indian elections say.
"Modi is pursuing an assertive foreign policy since India is aiming to become a global superpower," said Thapa. "But the kind of relations we have with India depends on our government and our capability."
Though many believe that Nepal-India ties are back to normal, there are several outstanding issues between the two countries, like differences over accepting the report of the Eminent Persons' Group on Nepal-India relations, taking forward the SAARC process, and a number of stalled India-funded projects in Nepal.
"In the past year, our relations have been moving in a positive direction, with both sides committed to further strengthening them," said Rajan Bhattarai, foreign relations adviser to Oli.
All outstanding issues will be discussed during upcoming bilateral engagements, said Bhattarai.
To begin with, Nepal will discuss the implementation of the Eminent Persons' Group report, which India had said it would accept after the general elections.
This will be our first push, said one ruling party leader who did not wish to be identified. "This will be the first test case between Nepal and India in the days to come because the report holds a lot of significance in resuming good ties," the leader said.
There is, however, disagreement in the foreign policy circle in this regard.
"Modi could've arranged 10 minutes time to accept the report but he did not because the Indian establishment has serious reservations about it," said Baral, the former ambassador. "I see little chance of India accepting the report."
There is also the future of the 19th SAARC Summit, given escalating tensions between India and Pakistan.
"The SAARC Summit largely depends on how ties between India and Pakistan progress," said one Nepali diplomat who spoke on condition of anonymity. "Nepal alone cannot make a favourable environment to hold the summit, as India is already backing another regional organisation, BIMSTEC, and sub-regional ones like the BBIN."
The elephant in the room, however, is the Hindutva plank that Modi campaigned on. Some observers are worried that Modi's resounding victory could lead India to push for the restoration of Nepal as a Hindu state, while also emboldening right-wing Hindu outfits in Nepal.
"Some regressive forces in Nepal may be happy over Modi's win in India, but Nepal is unlikely to return to a Hindu state," said Baral.
Thapa agreed with Baral, even though he has been campaigning for restoration of the Hindu state.
"The restoration of Hindu state depends on the Nepali political parties," said Thapa. "But Modi's win is certain to have a psychological impact on the general public."
---
---