Rautahat acid attack victim loses battle for life
Samjhana Kumari Das, the teenage acid attack victim from Rautahat, lost her two-week long painful battle for life at a hospital in Kathmandu on Sunday.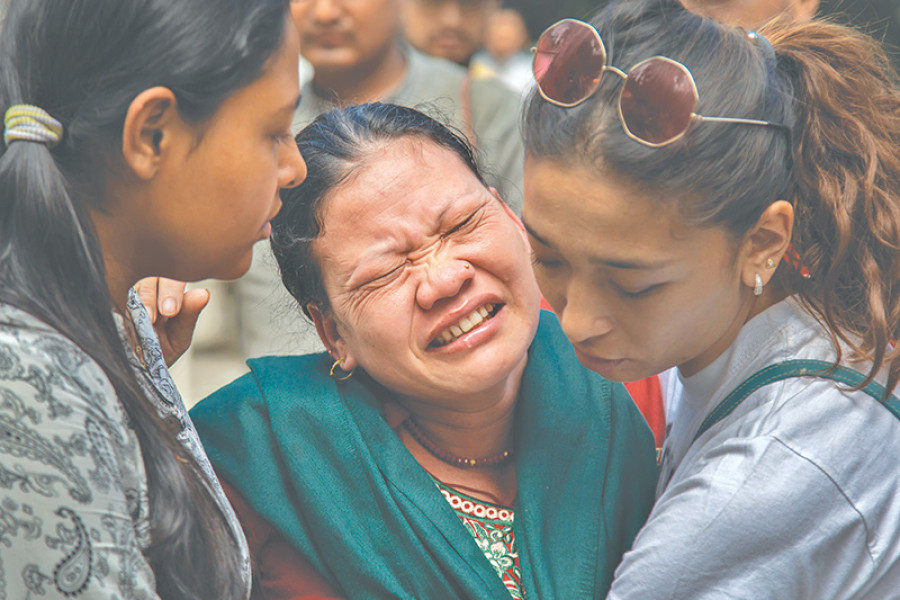 bookmark
Published at : September 25, 2018
Updated at : September 25, 2018 14:59
Samjhana Kumari Das, the teenage acid attack victim from Rautahat, lost her two-week long painful battle for life at a hospital in Kathmandu on Sunday.
Doctors at Kirtipur Hospital, where Samjhana was admitted after a man threw acid on her earlier this month, said the 18-year-old died from infected burn injuries and multiple organ failure.
"Burned parts of her body started getting severely infected. Also, problems were found in her kidney and chest while blood pressure dropped gradually," said Dr Surendra Jung Basnet, deputy head of the Plastic Surgery Department at the hospital.
Samjhana and her sister Sushmita Kumari Das, 15, were attacked with acid on September 12 while they were sleeping at their house in Chandrapur Municipality, Rautahat. Both of them were brought to the Capital the same morning after the incident when the district hospital was unable to treat them.
Samjhana's condition was critical from the day, as she sustained burns on 35 percent of her body surface, which, according to doctors, was highly critical. Her sister got injuries on the right side of her body, including the hand.
"In 40 percent burn cases in Nepal, victims die. Most often, victims get treatment only after travelling for 10-12 hours to a well-equipped facility," Basnet said, adding that the condition of acid attack or burn victim deteriorates after a week, normally leading to their death.
Sushmita, who is recovering, is expected to be discharged later this week. But she says she is haunted by the memory of that night they were attacked. Sushmita did not know about Samjhana's death until her body was taken for an autopsy.
"No one told me that my sister had died," Sushmita told the Post in a brief conversation on Monday. "I miss her. We would often fight, but she loved me a lot."According to Burn Violence Survivors-Nepal, a total of 26 cases of acid attack have been reported since 2010. Most of these involve men resorting to violence after they are rejected by women.
The Das sisters were attacked at midnight by their neighbour Rambabu Paswan, who had tried unsuccessfully to court Samjhana. During investigation, Rautahat Police discovered that Paswan, a 50-year-old married man, had called her nearly 200 times in the past month, making romantic advances. Samjhana had been turning down his overtures.
After the attack, Paswan had quietly accompanied the sisters and the father to Kathmandu, pretending to be caring and helpful. He was arrested five days later from outside the hospital.
Treatment for acid attack is costly in the country. Families with low income can't afford it, according to Pratiksha Giri, executive director of the Burn Violence Survivors-Nepal."Treatment for acid attacks and burns is a prolonged process, which requires constant support, making it unaffordable for poor families like the Dases," said Giri.
Although the Supreme Court has ordered the government to provide immediate financial support for victims of acid attack and burns to cover their expenses, the ruling is poorly implemented. "Families only get support from individuals and organisations, after media covers these issues," Giri said.
---
---